Romesh Ranganathan and Rob Beckett have been friends for 10 years. Now they're travelling the world together to meet a host of international superstars. In this interview they talk about dodgy prawns, the terror of singing, and embarrassing themselves.
You're both well established in the comedy scene now, what made you want to make a show together?
Romesh: I came into this show under a different impression than Rob did. I thought it was two of us doing a show together, but Rob has explained to me that his understanding of it is, that it's a Rob Beckett vehicle that I have been asked to come onto for a number of reasons.
Rob: I think what happened was, people saw Romesh's shows and thought 'he's great but he needs laughs'; so basically they get Beckett in, try and tickle it up, a few funnies as well as the 'ooh look at all these issues I'm looking at'. So, if you like Romesh but you want a laugh when you're watching him, then this is the show for you.
Romesh: Yeah I think I'll go along with that I think that's probably true. We counteract each other. Rob is, I would say the comedy equivalent of one of those Furby toys where it's colourful and loud and then you can't find the off button. I think that what I do is counteract Rob's level of enthusiasm which doesn't seem to be determined by what's happening.
Rob: You'll be emptying batteries in my Furby.
Romesh: Yes he's just relentlessly enthusiastic about whatever it is. He would approach a visit to Disney Land in the same way that he'd approach a visit to Guantanamo. He is equally positive about everything.
Rob: To be fair, the reason we wanted to do a show together was because we're mates and we thought we could get a few free holidays out of this which we have, so it's worked out quite well.
Romesh: We were in the same comedy club year group, so we came through at the same time and then Rob and I became mates at all those open mic gigs when we started out together. We came out mates so the ideal would be to do something with a mate. You don't often get that opportunity because it's a luxury to pick and choose what you do; so when this came up, it was a no brainer.
Rob: And it was no prep. We'll just be ourselves and have a laugh won't we Rom? I would say this is one of the best things I've ever done on telly. It's definitely the best thing Romesh has done. But for me it's one of the best things I've done.
What was it like travelling the world with each other for this series?
Romesh: Rob phoned me up before we left and said, 'do you want to share a room?' I said 'no' because I'm an adult and he went 'no it's going to be a laugh'.
Rob: But separate beds like two double, twins.
Romesh: Rob wanted to share a room, I said 'no' and then Rob said 'what if we get one of those rooms that have conjoining doors so we can pop in on each other?' I again said 'no'.
Rob: I was trying to create a mini stag do.
Romesh: Anyway, we turn up to the hotel, went to check in and the receptionist said 'oh Mr. Beckett I'm really sorry we couldn't sort out your room request for conjoining doors'. He had asked for it anyway even though I had said no!
Rob: I thought it would be nice. So yes, we've travelled together a lot. This year's been quite intense with the travelling, but it's been good. I'm quite a good travel buddy really aren't I? I'm not as bad as you make out.
Was there anything about each other's travel habits that you'd change?
Rob: I think we need to double check in future which tracksuits we're wearing for a flight because there was an occasion where we wore very similar ones and we looked like the worst football team in the world.
Romesh: We looked like a team that's really gone down the toilet.
Rob: All the other players have left and there are two men standing.
Romesh: It's embarrassing because it's one thing to be going through the airport but when you get recognised wearing matching tracksuits, it's a bad look.
Rob: No I think you're a pretty good travel partner, although he never drives and he always forgets his license, so I've done all the driving.
Romesh: I tend not to leave the hotel room unless I absolutely have to, like if there's a fire or something, otherwise I will just stay in the room, but Rob's very much go and explore the city sort of thing so...
Rob: I bully you out of the hotel room. Romesh is a very lazy vegan, well not that he's a lazy vegan he's a vegan that's lazy, because he will always stick to veganism. If we're in a hotel and the only vegan option, like in Nashville, was padron peppers he will, for three nights, eat 40 padron peppers a night. Three nights in a row he did 120 padron peppers. I said 'let's go to this lovely vegan restaurant, let's go and find somewhere,' but no, he just has padron peppers.
There were many highlights from the series such as walking down the catwalk at New York Fashion week to training with the Philadelphia Eagles and walking on stage at The O2 with Shania Twain. What really stands out for you?
Romesh: We had to model underwear in the fashion episode when we were in New York. When we got to Times Square, the image was on a 50 foot billboard, which was terrifying! That was big!
Rob: That was too big that was the problem. It was so big; I was so big, like a soft marshmallow.
Romesh: I think part of the problem with that was, we walked a catwalk in New York after meeting David Gandy. For each show we do something that's quite a big challenge so every show there's a bit of adrenaline. I thought we'd had that moment because we did the catwalk. I thought once you do that bit and you've recorded these episodes, then you can start to chill out because you think, 'ok just do the end of the episode then it's all sweet'. We'd done the catwalk, that had gone fine, we get to New York to have a nice time and then the picture of Rob and I in our underwear was broadcasted across Times Square.
Rob: The biggest image I've ever seen.
Romesh: That was a low point for me.
Rob: It was fine for you, you couldn't even see you! It was just all my body. You were just a head and arms.
Romesh: I know but your body is reflecting badly on me because I'm snuggling up to you so I'm getting deflected criticism. 'That body's disgusting and that man behind him likes it.' You see what I'm saying? It's bad for me.
Rob: It's bad for both of us. We had selfies, people pointing and laughing, honking their horns in the middle of Times Square. Absolute pure huge public humiliation. The worst one for me was performing in Nashville. The country music song we wrote was horrendous because I can't sing. I don't do karaoke, I'm a confident stand-up performer but I've got nothing in the locker for singing. That did my head in. Then the other thing I regretted doing was in Jamaica at the athletics meet, this woman was going around selling prawns in a bag...
Romesh: I'll say one of the things we learnt is, you don't buy a sack of prawns.
Rob: In 35 degrees, no refrigeration anywhere, in the middle of an athletic stadium, this lady is wandering around selling prawns.
Romesh: She was effectively selling dysentery!
Rob: I bought the bag of prawns at the end of the 2000 metres so it had been out the fridge a long time, then I ate them and the locals said 'you're supposed to drink the juice' so I drunk it. I then panicked I'd have a bad belly for a days.
Your show with Anthony Joshua last year proved very popular, what was it like working with him again for this series? Does he now reply to your texts, Rob?
Rob: He sent me one after his last fight which was definitely a send to all.
Romesh: 100% template text... 'thank you brackets name, appreciate your support.'
Rob: He didn't even put my name in. Oh yeah 'thankyou so much, on to the next one, going to relax with the family now, catch up soon'.
Romesh: It was difficult, particularly for Rob, because after the first programme we filmed with AJ, Rob was under the impression that we'd made friends with him. There's a difference between getting on with someone in an interview and actually being their friend. Rob unfortunately, because we had a nice time with AJ, took that to mean that they were buddies.
Rob: Romesh was so needy the first time we met AJ, and this time he went up a few levels of super fan. He wanted to go out with AJ because he said 'I don't really go out much, it would be good to go out'. Alright mate, calm down!
Romesh: Rob your recollection of this...what he just said - there's not even a grain of truth in that. We interviewed AJ and we got on, we had a laugh then obviously I had a second chat with him and then Rob went to...
Rob: I went to Austria to speak to the human robot, anti-banter machine, Wladimir Klitschko.
Romesh: Absolute anti-banter robot. Absolute vortex of charisma, literally sucks all banter out and destroys it. So, Rob thought that we were mates with Anthony Joshua but it ended up being me that got mugged off by him because we got told that if we went down to ringside for the Parker fight, AJ would come over and have a chat. Rob essentially stitched me up. So I stood by the ring and shouted 'AJ' about 15-20 times.
Rob: It was horrendous. It was so embarrassing. Romesh was shouting 'AJ', it's silent in the stadium which is empty and there's about 30 people around a ring with Romesh shouting at the top of his loud teacher voice! Nothing. Everyone in there is looking at Romesh but by this point, the only person not looking at Romesh, is AJ.
Romesh: It was bad, it was so bad that a total stranger tapped me on the shoulder and went 'that was embarrassing'. So yes, it was great meeting AJ, but we're now no longer under the illusion that we're mates with him.
You have great guests lined up for this series including Usain Bolt and David Gandy, what was it like working with them?
Rob: David Gandy's got a lot more banter than he needs to have, considering what he looks like, which was quite nice to see.
Romesh: If I looked as good as him I just wouldn't bother talking. There's absolutely no need. Why do you need to talk if you look like David Gandy? I just don't understand it, but he was great. I think this show has taken us to meet people that I just wouldn't expect our paths to cross with. Everyone's just quite normal aren't they? Usain Bolt is hilarious man - what a bloke.
Rob: Yeah, he just doesn't give a shit does he, he's so chilled out. Genuinely thinks he can be a professional footballer which is worrying.
We also heard you walked Shania Twain to the stage at the O2, can you tell us a bit about that?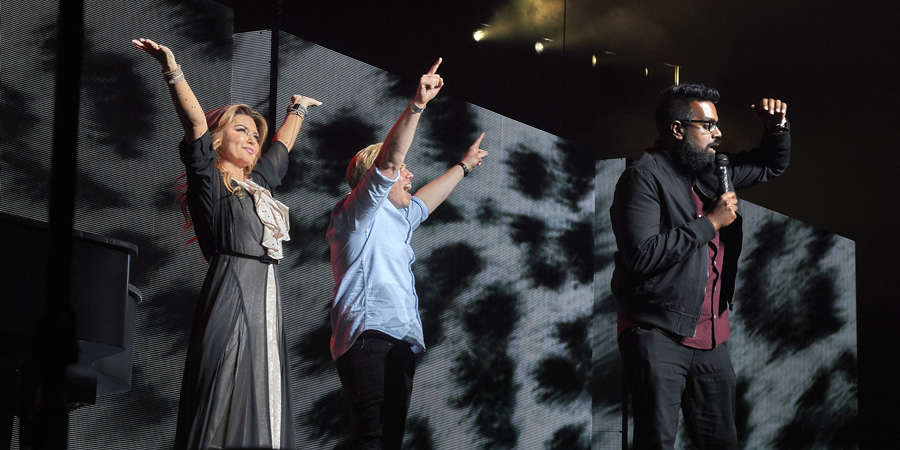 Rob: That was so weird. We went to interview her and she asked 'do you want to walk me to the stage?' We didn't really know what that meant. Next minute, we're walking through the entire O2 onto the stage. Just before she asked us, she had taken two fans with her and serenaded them on stage. They were a happily married gay couple that were obsessed with Shania Twain, so flamboyant and camp about it, but then she asked me and Romesh to go up there with her! We thought 'oh, alright, Shania!'
Romesh: There were lots of people wondering what we were doing and we thought we got away with it! The next day, the Independent reviewed the show and said that it was excellent with the exception of the bizarre decision to bring Rob Beckett and Romesh Ranganathan onstage which turned into a cabaret.
Rob: They had written 'well done to Rob and Romesh's team that have managed to convince Shania Twain that they're much more famous and well known than they really are'.
Were there any challenges you faced during filming?
Rob: Padron peppers were a tough toilet time for you in Nashville.
Romesh: Yeah, shitting through the eye of the needle for four days straight. We went camping and tried to set up a tent in Nashville.
Rob: We also went horse riding and I've never been on a horse.
Romesh: There was a moment when the crew said to us, 'would you go through that field of the most luscious grass that's ever existed on the horses?' and the horses just stopped. They didn't want to do it.
Rob: Yeah 'just go through there,' then they just ate the grass!
Romesh: We are two pricks that have never ridden a horse before trying to get a horse through an area of the most delicious food they've ever seen! Everyone wondered why we couldn't try and get a dramatic walking shot.
Where did you feel most out of your comfort zone?
Romesh: I think for me it was doing the country song in Nashville in a bar full of people.
Rob: It was a really decent bar in Nashville. I nearly had a full breakdown in the hotel room beforehand. We had nine hours from writing the song to performing it without a rehearsal or a sound check.
Romesh: We left the studio thinking we'd got it and then production said, 'you've got half an hour in the hotel to practice and have ten run throughs of the song'. We didn't get one practice right which is then when Rob started to get more worked up.
Rob: I had a full breakdown, like Vanessa Feltz in Big Brother writing on the table.
Romesh: I don't give a shit about being a country performer, so when you're working really hard and getting really nervous about something you couldn't give a shiny shit about, it's really frustrating. We just didn't want to do it. Then you get away with it and the producers say 'are you buzzing?' and you think 'well not really, because I didn't want to do this in the first place.'
Rob: It was awful, I was terrible and I was dressed like an absolute prick. Even people in the bar are thinking 'what are you wearing?'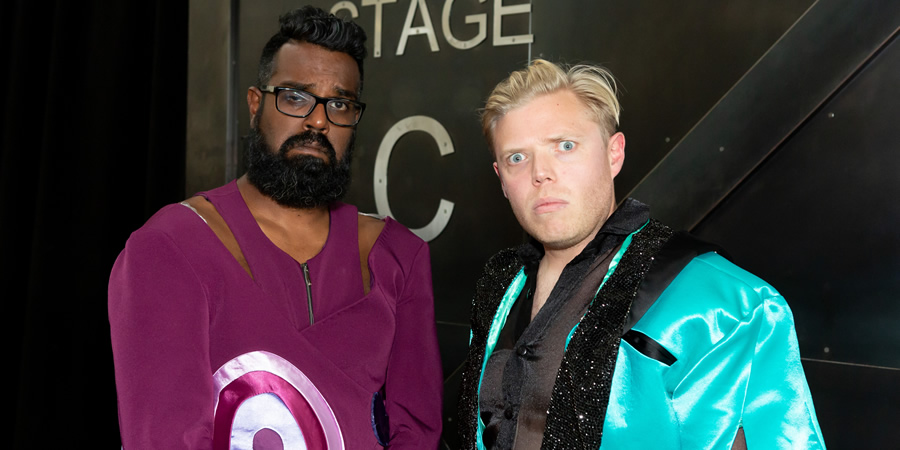 If you were able to delve into other events or industries where would you like to go next?
Rob: I'd like to explore the hip-hop industry further and go to LA to meet rappers, it'd be such a different world and obviously Romesh is quite into it.
Romesh: I thought the fashion industry is not for people with our physiques. They don't want us in that world and then once we went into it, it was really surprising how welcoming everyone was. So I'd choose fashion. I came away from it with an appreciation for how they see it as artwork. I'd like us to do stuff that we're really far removed from.
Rob: Maybe something like high end art.
Romesh: I'd like to run a restaurant with Rob.
Rob: Or would we do rival restaurants?
Romesh: Yeah that's a good idea but you would trash me.
Rob: Yes, 'anyone for some padron peppers as a starter with a little bit of salt? Padron peppers for main? And for dessert padron peppers with sugar?'
Romesh: It's easy, it's a one item menu mate.
Rob: You're Padron Pappa, Pappa Padron. But yeah food would be good, but high end, Michelin star.
Romesh: On occasion I take my wife to high end restaurants and the portion sizes are just...I just can't. I know there's a lot of craft in it but...
Rob: But you're not eating to be full up are you.
Romesh: The scary stuff is good because when we did the episode with Usain Bolt and went to Jamaica, we went and performed in a dance tournament, we joined a dance hall crew called Ravers Clavers.
Rob: In Jamaica everyone is so relaxed and chilled out; it's the culture of the place. Everyone walks slowly and it was so hot they just wanted to chill. If you go too fast you get all sweaty and horrible. After a week there I was walking really slowly, I just got into the chilled vibes of being Jamaican. It is my spirit nation, Jamaica. When I come home I nearly got trampled on the tube because I was trying to walk down the tube with all these angry stressed people. But yeah that dance was awful wasn't it?
Romesh: It was terrifying. It was this big televised event in Jamaica, it was like their X Factor wasn't it?
Rob: It was like the live final of X Factor in a big cricket ground.
If you had to pick one of the industries you've explored in this series to work in, which would it be?
Rob: Well we're going to have to rule out NFL, running, boxing and horse riding. What do you think, Romesh?
Romesh: The thing about fashion is actually everyone is slightly talking bollocks but if you're definitive about it and you've got a clear opinion, it doesn't actually matter what that opinion is. If you say something like, 'what I really liked about that is it was just such fresh lines and the colour palette is something that is very, very now'. If you say something with enough confidence you look like you're displaying real insight.
Rob: Yes, I think we could both blag that. Not now because they know we know nothing but if we came in fresh to the scene.
Romesh: I could happily go to a fashion show and then write down stuff.
Rob: If I was really hard, I'd be able to be a boxer, because I think I'd be the best at press conferences. I'd be so annoying. Imagine if I was rock hard, how annoying I'd be to another boxer. I'd be so good at the mind games. But I'm not hard enough or fit enough to be a boxer.
Romesh: I mean you're lucky you're a comedian because if you were how you are in normal life then you'd have to become one [a boxer], because you're so punchable.