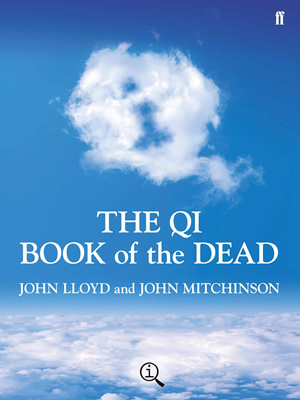 The latest book related to the world's cleverest panel game may appear, on the surface, to be all morbid. In fact, it is somewhat calming.
Following on from The Book of General Ignorance (the fourth bestselling book in the history of Amazon.com), The Book of Animal Ignorance and Advanced Banter: The QI Book of Quotations, John Lloyd and John Mitchinson's latest trip into publishing looks at some of the quite interesting people who are no longer around.
The QI Book of the Dead looks at the quite interesting lives of 68 of the approximately 90 billion Homo sapiens sapiens that have lived. The subjects featured range from famous people we've all heard of (like Oliver Cromwell, who was kidnapped by a monkey when he was a baby), to lesser known individuals like James Barry (whose birth name was Margaret Ann Bulkley. She convinced everyone around her she was a man, even after her death).
As is the way with anything relating to QI, the book attempts to be a bit more interesting in its methods. As a result, rather dividing people in the usual manner of occupations or other such systems, the ten chapters of this book organises people into the following categories: those with an unhappy childhood, the eternally cheerful, the highly motivated, the sex mad, those with an odd diet, the pain ridden, people with pet monkeys, impostors, those who died penniless, and those concerned about life after death.
As a result of this categorisation, the book throws up some wonderful pairings. For example, in the sex mad chapter, it talks about a meeting between Giacomo Casanova, the greatest lover of women in history, and Catherine the Great, a woman who liked a bit of hanky-panky too, but is now remembered for an entirely apocryphal tale about her dying whilst having sex with a horse - she in fact had a stroke while on the lavatory and died some hours later in bed (much more dignified). So, what happened when these two lovers met? They talked about bringing the Russian calendar into line with the rest of Europe.
An example of a more obscure entry is General Antonio de Santa Anna, a one-legged Mexican who is the only person in history to have been head of state of the same nation on eleven separate occasions (one lasting less than two weeks). Then there is Elizabeth, Empress of Austria, who was determined to always have a 16-inch waist. Plus there's the story of Jack Parsons, an American rocket pioneer who had a rather keen interest in Satan and later declared himself the Antichrist.
There are also people who will probably be always remembered for the wrong reason. Francis Galton is the man who transformed statistics into a proper science, but he will no doubt be remembered by most as the father of eugenics. Meanwhile, Dr. John Dee, a brilliant mathematician during his time and, at one point, the world's biggest book collector, is now seen as an occultist magician.
This book, like the previous three QI books, is entertaining and informative. It's also gloriously quirky. How many other books are there that mention that H. G. Wells slept with Nick Clegg's great-aunt, or that Salvador Dali spent most of his childhood deliberately annoying his father?
It should be pointed out that this book is not perfect though. When reading through it, a couple of errors jumped out - most of which were grammatical or simply typos. However, there was one error which particularly caught the eye. In the section covering the life of philosopher and reformer Jeremy Bentham (who, amongst other things, had a pet teapot!), the authors talk about "Lord Shellburne (1737-1805), the Whig Home Secretary and Prime Minister". However if you watch Series C, Episode 3 of QI (titled "Common Knowledge") you'll see Stephen Fry state that the first leader to use the title "Prime Minister" was Henry Campbell-Bannerman... a century after Shellburne died. Before that, the leader of the country was called "First Lord of the Treasury", although the term "Prime Minister" was sometimes used as an insult. Come on QI, we're covering old ground here!
However, apart from those minor points of pedantry, The QI Book of the Dead is definitely an enjoyable read, and makes for a great gift idea. For one thing, it allows us to look back and learn on the mistakes of our ancestors. Amongst those ancestors are Confucius and Nefertiti, whom everyone in the world is related to... interesting, isn't it!
The QI Book of the Dead is out now. Buy from Amazon