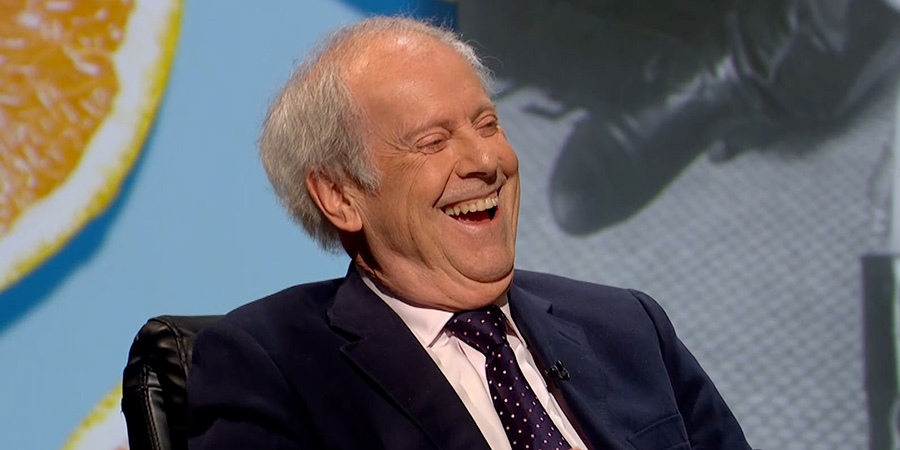 Series S, Episode 4 - Sideshows, Stunts & Scavenger Hunts
Further details
Topics
- The panel are shown a picture of a woman and are asked how she picked up men. The answer is physically, because she was a strongwoman. Katie Brumbach, aka the Great Sandwina, was the world's first female bodybuilder, and her act involved picking up her 5'6" husband and twirling him around over her head. Born in Vienna to a strongman and a strongwoman in the circus, the second of sixteen children, she was part of Barnum and Bailey Circus, and Vice President of the circus's suffrage movement. Legend has it she met her husband Max when he tried to wrestle her to win 100 marks, and when she threw him to the ground they realised they loved each other. Brumbach got the name "Sandwina" from the world's first professional bodybuilder, Eugen Sandow - who just happens to be Gyles' great great uncle's godfather. The Mr. Olympia trophy is a statue of him. Legend has it that Brumbach and Sandow has a competition of lift a 300lb weight and she won.
- Tangent: Growing up in Germany in the 1940s, Gyles parents employed some strongpeople circus performers to act as a nanny/governess. These people taught Gyles tightrope walking, to stand on his head, and to be a strong baby. If you put your hand on your head, and try to lift it off your head with your other hand, you cannot do it due to the mechanics.
- There are many ways to win a nonstop speaking competition. In 1928, the Noun and Verb Rodeo took four days, and you could speak on any subject so long as you did it for 22.5 hours a day. Repetition was allowed, with one woman repeatedly reciting the part of Lady Macbeth until he passed out. Another used his words to propose to a fellow player, and she used her time explain why she was not interested. Yet another competitor said something so offensive that they were arrested for loose talking.
- Tangent: The question is illustrated with a picture of Gyles breaking the record for world's longest speech. The one shown sees him attempt a 3.5 hour long speech, but he would break it multiple times, with speeches lasting 7 hours, 8 hours, 11 hours (shared with Nicholas Parsons) and finally 12.5 hours, non-stop. The speech had to be done without notes, without repetition, keeping the audience in the room, and staying in the room yourself throughout the night, meaning he had to wear an appliance to help when nature called.
- Tangent: As far as Sandi knows, the longest speech ever was a filibuster in the US Senate by Strom Thurmond of South Carolina, speaking for 24 hours and 18 minutes in 1957 against the Civil Rights Act. Sandi says: "Don't speak ill of the dead, apart from him." Rosie says she can beat the record because she speaks so slowly she would only need to speak four sentences to break it.
- Tangent: In the United States, other competitive crazes included a 1930s craze of swallowing live goldfish. One man, Harvard freshman Lothrop Withington, reportedly settled his stomach with mash potato before swallowing the fish. Sandi looked into his later life, and Withington was interviewed about his collection of antique spoon moulds. Another similar after at the time was the Hadji Ali, the Great Regurgitator, billed as the Egyptian Engima, who was Judy Garland's favourite Vaudeville act. Ali would swallow increasingly improbably things and then reproduce in an order specified by the audience. He could swallow 50 hazelnuts and an almond and bring up the almond at the moment requested by the audience. His greatest trick was to swallow kerosene, then water, then would regurgitate the kerosene, set it on fire, then regurgitate the water from six feet away to put the fire out.
- Tangent: One of Gyles' other records was for the longest screened kiss. It was held for many years by Regis Toomey and Jane Wyman, who kissed in the film You're In The Army Now for about two-and-a-half minutes. Gyles decided to beat the record on TV-am by kissing Anne Diamond on Valentine's Day. However, their attempt failed as the show had to cut to live coverage of President Brezhnev's funeral. He did break the record the following year, kissing Cheryl Baker.
- Between getting a sonic boom out of a potato, unboiling an egg and eating our own umbilical cord, the hardest of them depends on your circumstances. These are all things that have formed part of the University of Chicago's scavenger hunt, possibly the most challenging such hunt in the world. Other challenges in the hunt have included building a nuclear reactor and getting yourself circumcised. To make it even harder, participants are not told what the list is, you have to find it, and there are around 300 items on it.
- Tangent: Brian Blessed once cut an umbilical cord with his own teeth. While out walking one day he came across a woman giving birth in some discomfort. He helped the woman give birth, and as he was the only other person there, he had to cut the umbilical cord himself, which he did by biting into it.
- Tangent: The panel are challenged with turning a pair of balloons into slippers. What you do you get someone else to blow them, then you press your feet into them while the other person slowly lets the air out. As this happens the rubber of the balloons will enclose around the feet.
- Tangent: Modern scavenger hunt were created by hostess Elsa Maxwell. The first one was in Paris in 1927, with items including a black swan from the Bois de Boulogne park, a shoe from music hall star Mistinguett, and a pompom from a sailor's hat. This led to riotous scenes in Paris, and when the police came to interview Maxwell, she revealed that among her party guests where the chief of police's nephew and the mayor's son, so charges were dropped.
- The panel are asked how a fight between a submarine and a stallion would go. In 1915, a British submarine thought and lost a battle to Turkish cavalry. The submarine was led by Lieutenant-Commander Martin Dunbar-Nasmith, who was born on 1st April 1883, won the Victoria Cross, and whom Gyles knows, because he lived in the house Dunbar-Nasmith was born in. Despite this defeat, Dunbar-Nasmith did once capture a Turkish sailing vessel, and they tied to the sub's conning tower to act as camouflage. He would also present boxes of chocolates to any women on ships he captured. Submarines also transported horses in 1915 to the Battle of Gallipoli.
General Ignorance
- Ponchos come from Peru. The earliest ponchos have been found in mummy bundles in the Paracas Peninsula and are 2,500 years old. (Forfeit: Mexico)
- The highest British mountain, or so Britain claims, is Mount Hope in the British Antarctic Territory at 3,239 metres above sea level. However, only four other countries recognise the region as British. There is also Mount Paget in South Georgia, which is twice the height of Ben Nevis, standing at 2,935 metres above sea level. If you rule of the British Antarctic Territory, South Georgia and Saint Helena have so many mountains that Ben Nevis would not make the top ten. (Forfeit: Ben Nevis)
- Tangent: In 2006, some volunteers were clearing rubbish from Ben Nevis when they found a church organ quite near the summit. A local Highlad Games athlete called Kenny Campbell claimed he took the organ up the mountain for charity in 1971. It took him four days to take it up, when he did he played Scotland The Brave on it, but he couldn't be bothered to take it back down again.
- The biggest fire in the Solar System is on Earth. The Sun and all other stars produce energy via a nuclear reaction rather than a chemical reaction which is what fire is. Oxygen is what is needed to start a fire, which the Earth has plenty of due to photosynthesis, with it forming 21% of the atmosphere. If it was 25% oxygen, even wet plants would burn. In the Late Palaeozoic era, the oxygen levels were 30-35%, so fires were rampant. (Forfeit: The Sun)
Scores
- Rosie Jones: 6 points
- Alan Davies: -5 points
- Gyles Brandreth: -8 points
- Nish Kumar: -16 points
Broadcast details
This episode is currently available on BBC iPlayer
Date

Thursday 30th September 2021

Time

10pm

Channel

Length

30 minutes
Cast & crew
Supporters and subscribers get more
Additional content and tools are available across the site for Supporters and BCG Pro subscribers. On this page you can:
Already a donor or Pro user? Sign in