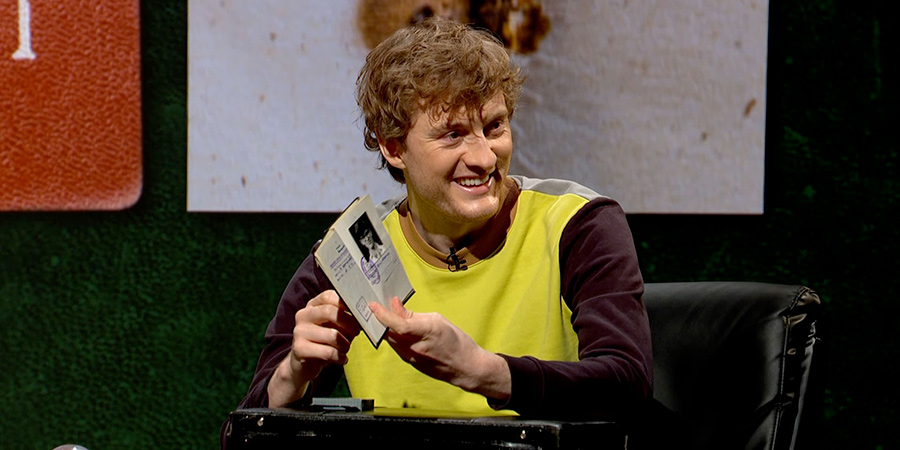 Series S, Episode 2 - Secrets, Spies & Sleuths
Further details
Themes
- Sandi is dressed in the style of James Bond villain Blofeld, complete with white cat. She also has a red telephone on her desk.
Topics
- There are many ways you may suspect that someone is a spy. Each of the panel are given a briefcase inside of which is something that has genuinely given away a spy's identity, although James has trouble opening his so Sandi has to do it for him.
- Daliso - A Fitbit: In 2018, tracking data from Fitbits made it possible to show where soldiers in American military bases had been jogging. Data from the company Strava is used by Fitbits and smartphones to log exercise, releasing heat maps of activity. The US Army gave 2,500 Fitbits to their soldiers to help keep them fit, but in Afghanistan and Syria these Fitbits gave away their positions.
- Cariad - A fake moustache: In 2008, an MI6 officer appeared on The One Show to talk about recruitment, wearing a false moustache to disguise himself, but under the hot studio lights the glue melted and the moustache came off. This bit was edited out and obscured in the final programme so viewers did not know about it at the time.
- James - A passport and staples: For many years, the Soviet Union was able to catch spies due to the staples in passports. US stapes are made out of stainless steel, but the Soviet ones were not, meaning the Soviet staples rusted. Thus, official Soviet passports had brown stains around the staples, whereas the forged American passports did not have this stain.
- Alan - Laundry: During World War One, Frieda Lawrence, the German wife of D. H. Lawrence, who lived with him on the Cornish coast, was suspected of spying because she was rather exacting about hanging her laundry out. People thought she was hanging it on the line in a way that could give messages out to U-boats. Eventually the couple were given a military exclusion order and made to leave the area. In another case, during the American Civil War an African-American called Dabney got a job as a cook at the Union HQ, while at the same time his wife worked as a laundress for a Confederate general. She would listen to the Confederate plans and then would hang the laundry out in such a way to act as code, detailing the Confederate plans to her husband.
- Tangent: Daliso has met a spy. His father is a politician in Malawi, who a few years ago was arrested, had his office blown up, and in a panic asked Daliso and his brother to help him find a spy. This resulted in them meeting a spy in Wetherspoons, who Daliso claims looked like a heavy metal drummer.
- Sandi's red telephone rings, leading her to ask who would use a secure telephone like this, the correct answer being the UK. The one most people think of, the hotline between the USA and Russia, was neither red nor a telephone. Following the Cuban Missile Crisis of June 1963, it previously took 12 hours to get messages across. Thus they agreed to set up a direct form of communication using teletype machines; four in Moscow, and four in the Soviet embassy in Washington, with messages sent along a 10,000 mile long transatlantic cable. The first message sent by the Americans in August 1963 was: "The quick brown fox jumped over the lazy dog's back. 1, 2, 3, 4, 5, 6, 7, 8, 9, 0." This was because it uses every letter and digit in English. The 1971 system updated the use of a satellite connection, and most recently they have updated to a fibre optic link allowing both email and talking. The UK's red telephones were introduced in the 1950s, and the one Sandi used is a genuine example of one, lent to the show by GCHQ. It was used between Harold Macmillan and President Kennedy, and included ciphers to make it more secure. The British Army also hired operators with strong regional accents to confuse the enemy.
- Tangent: Daliso's family needed a secure phone because they were always bugged. He knows this because in Kenya, the Malwai ambassador happened to be a high-school friend of Daliso's mother, and she gave away to her a bunch of her husband's secrets.
- Tangent: In the studio is another secure telephone. Called Brahms, this was a heavy but portable secure line that comes in a suitcase. It was used by Margaret Thatcher during the Falklands War. They talk virtually to Dr. David Abrutat, GCHQ's Departmental Historian, and one of the very few GCHQ employees who are avowed, i.e. to be publically known, to talk about the history of these devices. During World War Two, there was a secret line called Sigsaly, which weighed 50 tonnes, was developed by Bell Laboratories in the US and was visited by Alan Turing. It was nicknamed the Green Hornet because it made an irritating buzzing noise on the line. The first Sigsaly was installed in the Pentagon, and the second in the basement of Selfridges in Oxford Street.
- Complete this sentence: "If you're invited to a penetration party, it's best to practise safe..." The correct conclusion is "...cracking". Penetration parties are all-night events where safecrackers practice opening safes. It was invented by accident be Dave McOmie, editor of International Safecracker magazine, who was attending a convention in Philadelphia. A fellow attendee mentioned that he had a warehouse containing about 80 unopened safes that all needed opening, so they decided to run a safecracking masterclass, opening them all.
- Tangent: Alan has twice moved house to find large safes he could not open. The second time it happened, he decided to get rid of the safe, and it took six men to remove it.
- Tangent: The best way to open a safe is if the mechanism has slipped a bit, you can work on the dial. The easiest thing however is to just drill a hole. Alternatively, you can use a sledgehammer.
- Tangent: Regarding breaking into buildings, in 1971 an activist group called the Citizens' Commission To Investigate The FBI targeted a draft board in Delaware. To gain access, they simply left a note on the door that read: "Please don't lock this door tonight." It worked completely, they stole everything they needed, and revealed evidence of massive wrongdoing, spying and criminal activity by Edgar Hoover's FBI which they sent to journalists. Despite 200 agents going on a manhunt, no-one was caught.
- You kick-start a Spitfire by crowdfunding. If you raised a certain amount you were allowed to name the plane. Thus there were Spitfires called All The Fun Of The Fair, which was funded by people working in carnivals and circuses; The Dogfighter, funded by the Kennel Club; and Unshackled Spirit, funded by British POWs who were being held in Germany using a series of coded letters sent in and out of prison, who instructed that their pay be redirected to the Swedish Red Cross, who in turn sent it to the Spitfire fund.
- Tangent: The Spitfire project as a whole owes everything to a little-known woman named Lady Lucy Houston. She knew Britain would need a strong air force following World War One, but the government refused to pay for the development of aircraft, so she paid for it instead. She donated the money needed for Rolls-Royce and Vickers Supermarine to create the engine and the aircraft that became the Spitfire. She would never know of her impact however, as she died in 1936.
- Tangent: Another woman important in the history of the Spitfire was Hazel Hill. When she was 13, her father Fred worked for the Air Ministry and she helped him do the calculations that eventually showed a Spitfire could be armed with eight machine guns rather than just four. In later life, she had her life saved by a Spitfire she had helped to create. There was a German plane overhead, and when she turned to look a Spitfire was chasing it off.
General Ignorance
- The first "S" in the boat abbreviation "SS" stands for "Screw". They used to distinguish between screw / propeller-propelled and paddle-propelled ships. When paddle ships started to be phased out, the SS remained. However, there are two ships today normally referred to today as the SS Great Western and the SS Great Eastern which both have paddles, but the prefix has only been attached in modern times. (Forfeit: Steam)
- Sudoku come from the USA. There were invented in a US puzzle magazine in 1979, where the puzzles were originally called "Number Place". Japanese game manufacturer Maki Kaji brought them to Japan and wanted to give them a new name. However, Kaji wanted to go horse racing so created a name quickly in about 25 seconds. Sudoku is an abbreviation of: "Suuji was dokushin ni kagiru", meaning: "Numbers should be single, unmarried". (Forfeit: Japan)
- Tangent: There are now Rubik's cube Sudoku being sold.
- Martini cocktails should not be shaken. A drink like daiquiris should be shaken as the ice dilutes the sweetness, but Martinis are not sweet, so should not be shaken and should be served as concentrated as possible. It is impossible to drink the Martinis that James Bond drank as one of the ingredients in the recipe is no longer available. The Vesper Martini, named after the first Bond girl, Vesper Lynd, contains gin, vodka and a now no-longer made ingredient called Kina Lillet. (Forfeit: Shaken, not stirred)
- Tangent: "Vespa" is the Italian for "wasp", with Vespa scooters so named because of the buzzing they make.
- Tangent: Dick Van Dyke was once asked by Cubby Broccoli if he wanted to take over from Sean Connery in the role of Bond, but when Van Dyke reminded him of his British accent as it appeared in Mary Poppins, the idea was scrapped.
Scores
- Alan Davies: 9 points (Alan's 40th victory)
- James Acaster: 8 points
- Daliso Chaponda: -2 points
- Cariad Lloyd: -15 points
Broadcast details
Date

Thursday 16th September 2021

Time

10pm

Channel

Length

30 minutes
Cast & crew
Supporters and subscribers get more
Additional content and tools are available across the site for Supporters and BCG Pro subscribers. On this page you can:
Already a donor or Pro user? Sign in