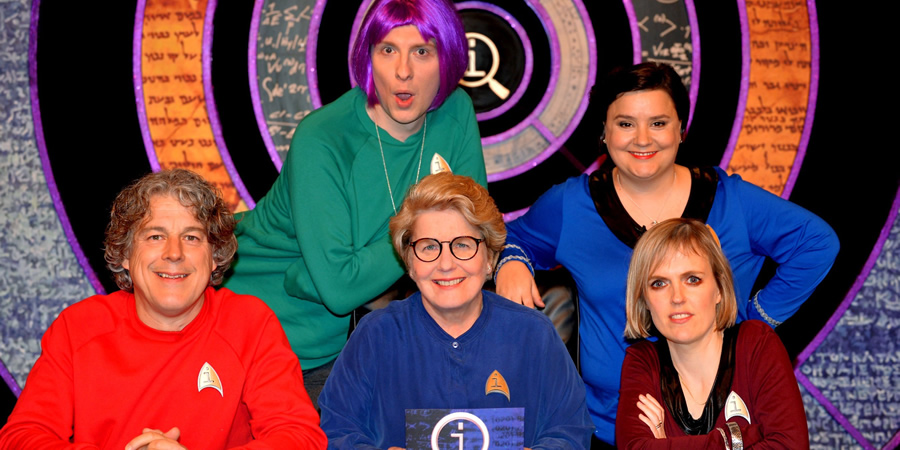 Series Q, Episode 7 - Quests: Part II
Further details
Themes
- The show has a sci-fi theme, with the panel dressed in Star Trek-like outfits, with Alan being a red shirt - typically the characters in that series which ended up being killed. Also, like in Star Trek the guests are introduced to the set via teleporting. Susan's buzzer is the theme to Doctor Who, for Joe The Hitchhiker's Guide to the Galaxy, for Holly Star Trek: The Motion Picture, and Alan the song Star Trekkin' by The Firm.
Topics
- We should not get going to the next star yet. If you are going into interstellar space, it is not strictly speaking true that the earlier you start the earlier you will get there. This is because developments in technology might mean after you set off, a more advanced and faster space ship might be developed which will overtake the first crew. The furthest space craft from Earth is Voyager 1, launched in 1977. However, 40 years later Prof. Stephen Hawking proposed an interstellar craft that would theoretically use energy from the sun to reach much faster speeds and result in it overtaking Voyager in a few months. The best time to set off is using the "wait calculation", a complicated mathematical sum. QI thus advise to not set off on an interstellar mission if it will take 50 years or more to reach your destination. Currently, space probes can travel at around 50,000mph, so it is worth visiting a place that is less than 20 billion miles away, but the nearest star to us is 25 trillion miles away. (Forfeit: Yes)
- Tangent: The first person to leave the solar system will most like by Clyde W. Tombaugh, the man who discovered Pluto, whose ashes are on the New Horizon probe, which took photos of Pluto.
- Tangent: In the USA, there is a company that turns your ashes into glassware, to which Holly claims that Sandi's ashes would just form a shot glass. A friend of Sandi's had someone's ashes turned into an egg timer. Susan says she would like her ashes scattered in the petite section of Marks & Spencer's.
- When Apollo 11 first landed, NASA was worried it might sink, because they thought that the moon might be made out of quicksand. They were worried that the lunar module might be swallowed whole, so they fitted the module with flat, broad feet. In the 1960s, one in every 35 films featured quicksand. The term comes from Middle English meaning "living sand". Quicksand however will not kill you. What it does is trap you in areas where the tide is currently low, and you find yourself unable to escape, and thus you drown when the tide comes in. To demonstrate how quicksand works, a short film by the British Geological Survey is shown, featuring plastic toys representing Sandi and Alan. It is true that the more you struggle, that harder it is to get out of quicksand, but due to the difference in density you will float, and most quicksand is only a few feet deep. (Forfeit: Cheese)
- Tangent: Octopuses can create their own quicksand in order to escape from danger. They make the sand particles drift apart by making kind of mooshy mixture by firing water at the sand.
- When house-hunting on the moon you should watch out for moonquakes. While the moon does not have tectonic plates, quakes are caused by the strain of changes in temperature, meteorites hitting it, or by Earth's tidal forces. Moonquakes are both violent and lengthy. The initial quake is ten minutes long and then tails off, lasting for hours, and the quakes happen every month or so.
- In space, you can hear someone scream. Sound is caused by the vibration of molecules, so it would be impossible to hear anything if you are not wearing a spacesuit. However, astronauts can talk by touch helmets. Sound vibrations travel through the air inside the spacesuits and inside the glass, enough for them to be able to communicate with raised voices. NASA teaches this to astronauts as a back-up system in case radio communication fails. Susan and Holly test this out by wearing large space helmets, but they claim it doesn't work, although Holly says she can't understand Susan at the best of times. (Forfeit: Scream)
- The panel are shown a picture of a robot and are asked what you would do if you spotted him on the side of the road. It is the HitchBOT, a robot hitchhiker, so you should pick it up. A pair of them were created in 2014 by David Harris Smith of McMaster University and Frauke Zeller of Ryerson University. The aim was to see how far human kindness would take a mechanical hitchhiker. The robots travelled through Canada, Germany and the Netherlands, relying entirely on friendly humans taking them from town to town. At one stage, in less than a month one HitchBOT hitched a total of 19 rides, travelling over 10,000km. However, in 2015 the robots were then sent to the USA, and when they reached Philadelphia after 17 days into the start of their journey, a HitchBOT was found beaten up and dismembered in a ditch. The robots are fitted with a voice-box to explain where it would like to go to, explain it could not move of its own accord, had solar panels to help charge it, and had cameras to take photos. The robots could be tracked through 3G and GPS.
- Tangent: Susan says she has a fear of the sentient nature of robots. Sandi then toys with Susan by get out a toy robot and making it walk towards her.
- Tangent: Marvin the Paranoid Android from The Hitchhiker's Guide to the Galaxy appears on the set. Sandi asks how he is to which he says: "I think you ought to know I'm feeling very depressed." Sandi asks why someone would want to murder him, to which he replies: "I'm 50,000 times more intelligent than you, and even I don't know the answer. It gives me a headache just trying to think down to your level." When Sandi thanks him for appearing Marvin miserably replies: "You don't have to pretend to be interested in me, you know. I know perfectly well I'm only a menial robot." Sandi still gives Marvin 42 points. This version of Marvin was voiced by Stephen Moore, designed by Dirk Maggs, the producer of the last four H2G2 radio series, and operated by Dirk's son Tom. Dirk had just flown in from New York to appear on the show. QI's creator John Lloyd voiced The Book in the sixth series.
- The panel are shown a photo of people at a Laser Quest and are asked what they are firing with. The answer is infrared beams, as lasers are too dangerous to use. These infrared beams normally have a coloured light sent out at the same time to make it look more like a laser. A laser is a way of focusing light in a single direction, so even a weak laser pointer can cause retinal damage. You cannot see laser beams side on at all because the light is so concentrated. You can only see it if some of the light is travelling towards you eye, which can happen if the light travels through dust or fog.
- Tangent: When Holly was about 12, her parents used to have a shop near a Laser Quest, so her parents would give Holly the entrance fee and she would just play there for hours. She would sometimes just go on her own, and saying that one sad experience was being a 13-year-old shooting at 8-year-olds, knowing the terrain like the back of her hand.
General Ignorance
- The panel are shown a close up image of what looks like the moon and are asked what it is. When you pull out, the picture is actually an artist's impression of a moon-moon - a moon that is orbiting another moon. In 2018, astronomers Juna Kollmeier and Sean Raymond published a paper based on a question by one of Kollmeier's children: can a moon have a moon? A moon-moon is mathematically possible. It would have to be no more than six miles in diameter, because if it was any bigger it would be pulled towards the planet due to gravity and it would be ripped apart. Scientists have calculated that Titan and Callisto are possible candidates to have moon-moons. It is also possible to have moon-moon-moons. (Forfeit: The moon)
- There is nothing that dangerous about flying through an asteroid field, as the asteroids are much further apart than they are depicted in sci-fi films. The average distance between asteroids is about 600,000 miles, and most are about the size of a tennis ball. So far, 12 space craft have through our solar system's asteroid belt, and none of them has ever come close to colliding with an asteroid. The chances of being hit by an asteroid in the asteroid belt are about one in a billion. (Forfeit: Getting hit by an asteroid)
- Tangent: Susan starts singing
The Eve of the War
from Jeff Wayne's
The War of the Worlds
. Susan says it was the only tape in the car during her childhood summer holidays. Holly says the only tape in her car during summer holidays was
Joseph and his Amazing Technicolor Dreamcoat
, and both of them start singing
Any Dream Will Do
, getting the audience to sing along. This results in Sandi, Alan and Joe all leaving the set in annoyance. Susan then sits in Sandi's chair and starts reading the autocue, until Sandi returns and gets rid of her.
- The miniskirt gets its name from the Mini Cooper. Mary Quant, the woman who popularised it, said that the skirt shared many of the qualities of the car: optimistic, exuberant, young and flirty. Quant never made any mention of the fact it was small. (Forfeit: Because it's small)
Scores
- Marvin the Paranoid Android: 42 points
- Holly Walsh: No score given
- Joe Lycett: No score given
- Susan Calman: -3 points
- Alan Davies: -56 points
Notes
This episode was broadcast in the same week as the death of Stephen Moore, the man who voiced Marvin and whose voice appears in this episode. The QI Twitter feed posted this message paying tribute to Moore.
Broadcast details
This episode is currently available on BBC iPlayer
Date

Friday 18th October 2019

Time

10pm

Channel

Length

30 minutes
Cast & crew
Supporters and subscribers get more
Additional content and tools are available across the site for Supporters and BCG Pro subscribers. On this page you can:
Details of when and where this episode was recorded
Already a donor or Pro user? Sign in