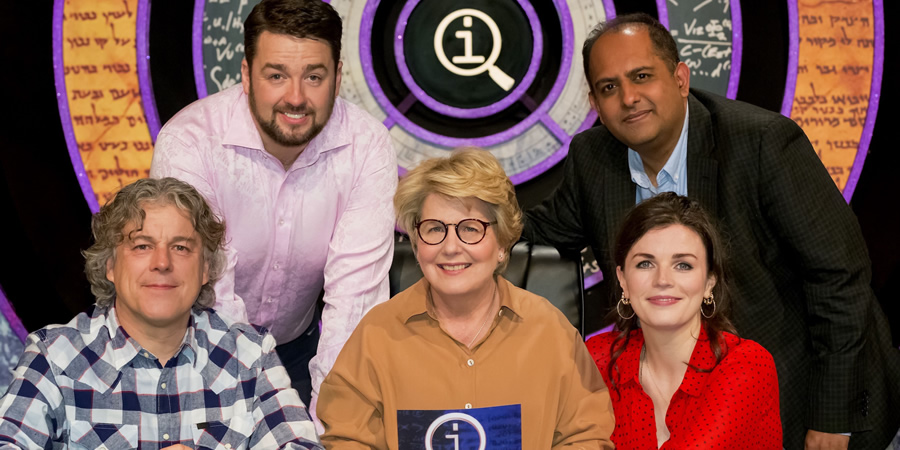 Series Q, Episode 3 - Quarrels
Further details
Topics
- When you quarrel with the bellower you were likely to find yourself taking part in a duel. James Quin, nicknamed "The Bellower", was the leading actor in London in the first half of the 18th century, and he killed two people in duels who he had argued with, as well as wounding other duelists. Quin had one of the loudest voices in show business, did excessive gesticulation, and left extremely long pauses, which were all hallmarks of great actors at the time. Would-be actors were schooled in three different pauses: moderate, longer and grand. The first man Quin killed was an actor who mispronounced "kato" as "keto" on stage - Quin mocked this actor in front of the audience, the actor challenged him and lost the duel. Quin was charged with manslaughter. Quin was also a womaniser, and once invited a married woman to his boudoir, but forgot his key so took her to a brothel instead, only for the woman's husband to walk in on them during the act. Quin and the husband had a fight where Quin stabbed him in the leg. Quin's big rival was David Garrick, the first actor to move towards acting as we see it today and the man after whom the Garrick Theatre is named. Quin and Garrick were friends, with Garrick writing the epitaph on Quin's tomb in Bath Abbey.
- Tangent: Anuvab says that when the English have quarrels the language works at two levels. Thus, when someone says: "Anuvab, I have a slight issue", they really mean that Auuvab has killed their whole family.
- Tangent: The panel act out some quarrelling scenes in the style of Quin and other actors of the time. Jason and Anuvab act from Shakespeare's Titus Andronicus, from a scene which includes an early example of a, "your mum" joke. Alan, Aisling and Sandi perform a scene in the style of EastEnders. Shakespeare coined the word "quarrelsome", and it is the only known word beginning with "Q" coined by him. The word appears in As You Like It and The Taming of the Shrew.
- The panel all take part in a duel, putting their hands on their heads and being the fast to press their buzzer. Jason ends up the fastest. They are then asked if they could beat a Victorian at the same task, to which the answer is that they probably wouldn't, as Victorians had faster reaction times than people today. In the 1880s and 1890s, Francis Galton tested thousands of people to see how quickly they could react to lights and sound, and studies show we have consistently got slower over time, about 10% over the past century, and we don't know why. Reasons given include modern pollutants effecting the brain, and people getting taller and thus nerve impulses take longer to travel in the body. Boys also tend to be faster than girls, but over the past 40 years the gap between the genders is decreasing. Left-handed people are generally speaking faster than right-handed people, because most right-handed people are extremely right-handed, while left-handed people are more mixed, and thus the hemispheres of the brain are more balanced.
- A question about queuing: the best way to board a plane in a real-life situation is to seat people at random. The most common way of boarding, starting with the back row and building up towards the front is the least efficient way of doing it. Astrophysicist Dr. Jason Steffen made a computer model, and then teamed up with a TV producer to get people to act out boarding planes in different ways. The slowest is the current method known as "block boarding", where you seat one group of people, then the next group, then the next group and so on. The absolute best way is board even-numbered window seats first, then odd-numbered window seats, repeat with the middle seats, and repeat with the aisle seats. However, as this method is rather complicated, Steffen recommends just seating people at random.
- Tangent: Jason was on a flight from Aberdeen to Shetland with his large tour manager. During the flight one of the crew asked them to sit on opposite halves of the plane to help distribute the weight.
- Tangent: Anuvab was boarding a plane, when a woman announcer said: "We are boarding everyone not in zone F. And also not in zone A, B, C, D, E. ... We're just not boarding."
- Tangent: The panel talk about if they think they could fly a plane in an emergency, to which Aisling thinks she would be good in any emergency, saying that she can't speak Spanish now, but in an emergency she feels like she could. Sandi asks what kind of emergency needs you to suddenly speak Spanish.
- Tangent: Danish economists concluded the very best method of serving a queue is to serve the last person first, because if that happened no-one would stand in a queue in the first place.
- Tangent: Steve, a friend of Jason's in Manchester went to use a cash machine. When he got there, there was a man already using it and a woman was waiting her turn six foot behind him. When Steve asked if she was queuing, the woman said: "I'm Nigerian, and my religious beliefs are that because I don't know this man, and we're not related, this is the distance that I feel safe and respectful to what I believe in." Steve respected this and he stood six foot behind the woman. The queue moved forward, and then another man moved Steve, asking if he was queuing for the machine, to which Steve accidently replied: "I am, yeah, but I'm standing here because she's Nigerian."
- You should put a mirror next to a lift because people like looking at themselves, as opposed to waiting in line.
- Tangent: The above question is illustrated with a photo of a man taking a photo in a lift full of mirrors, with his reflection appearing several times in shot. The screens on the back then do a similar trick, with them showing the panel in several shots going back into the distance. When they move, the images quickly move too in a ripple pattern.
- The person responsible for generating about 25,000 quarrels a year was John Malemont. Between the 10th and 15th centuries, the quarrel was the bolt that was fired from a crossbow, and Malemont was England's chief quarrel maker in the 13th century. He made 100 a day, which was about 25,000 a year. Early crossbows were really difficult to operate because the string was so tight, so you had to get on your back and use the strength of both legs, back and both arms to pull the mechanism backwards. Later a "crossbow stirrup" was invented so you could use one foot to pull the string back. When guns superseded crossbows, crossbows became reserved for recreational use. (Forfeit: Piers Morgan; Donald Trump; Katie Hopkins)
- Tangent: According to legend, the Amazons would cut off their one breast in order to make it easier to use bows and arrows.
General Ignorance
- The panel are shown an ocean liner and asked what the most dangerous part of it is. The answer is the lifeboats. A study by the Marine Accident Investigation Branch in 2001 showed that lifeboats killed more people than they saved in the UK and Australia over a ten-year period. Lifeboats were the most common cause of death on board ship, accounting for 16% of all lives lost. Almost all the accidents happened during training or maintenance. In the same time period, no lifeboats were actually used in an evacuation, so they didn't save a single life.
- The panel are given lifejackets and as asked to put them on correctly as if they were in a plane crash-landing on water. As far as we know, no-one has ever been saved by a plane lifejacket in modern commercial airlines. During the Hudson River plane crash, only 33 of the 150 passengers had even managed to get hold of their lifejackets, and out of the 33 only four were wearing them correctly. They are only intended for planned water landings, so when you have advanced warning that you will land on water, and this hasn't happened in decades. Cynthia McLean, the principal cabin safety investigator at the Federal Aviation Authority, says the best thing to do is to leave the lifejacket behind, and if you land in the water you should just get off the plane. (Forfeit: Brace, Brace, Brace)
- The Great Fire of London started in modern-day Monument Street. The fire started when baker Thomas Farriner left his fuel out too close to the oven, but recently discovered planning documents from 1673 uncovered by Dorian Gerhold revealed the real location for when the fire started, which is 60 feet east of Pudding Lane. The monument that was built to remember the fire was erected in 1677, and is 202 feet tall. It is this height because it was supposed to be 202 feet from where the fire started, but these recent discoveries mean that the moment should be a lot smaller. (Forfeit: Pudding Lane)
- When holding a car steering wheel your hands should be at the 9 to 3 position. If your hands are at the 10 to 2 position, there is an increased risk of injury from the airbag. Airbags inflate at up to 250mph, and injuries include broken hands, hands needing to be amputated, and one injury known as "de-gloving". At 9 to 3, the airbag has space to come up. (Forfeit: 10 and 2 position)
- Tangent: The British diving test was changed in 2018, getting rid of the turn in the road manoeuvre and reversing around the corner. Aisling failed her test three times in 2018, while Jason failed his practical six times, including one time when he got to a junction and asked the examiner: "All right your side?" Alan failed his test because he accidently drove backwards instead of forwards.
- Tangent: In 2015, a survey revealed the most common reason people failed their driving tests. Unusual reasons for failing included the following; "I thought a line of parked cars was a line of traffic so waited behind it", "I went too far forward at a zebra crossing and bumped the bumper on a pedestrian, and then argued it wasn't my fault as his outfit had made him blend in with the stripes", and: "A good-looking man on a motorbike caught my attention, and, without realising, I started to drive directly towards him. The instructor had to enforce an emergency stop because I nearly crashed straight into him." When Anuvab met his driving instructor he sat Anuvab down and said: "I don't think you're going to make it."
Scores
- Anuvab Pal: 4 points
- The Audience: -9 points
- Aisling Bea: -17 points
- Jason Manford: -25 points
- Alan Davies: -37 points
Broadcast details
This episode is currently available on BBC iPlayer
Date

Friday 20th September 2019

Time

10pm

Channel

Length

30 minutes
Cast & crew
Supporters and subscribers get more
Additional content and tools are available across the site for Supporters and BCG Pro subscribers. On this page you can:
Details of when and where this episode was recorded
Already a donor or Pro user? Sign in