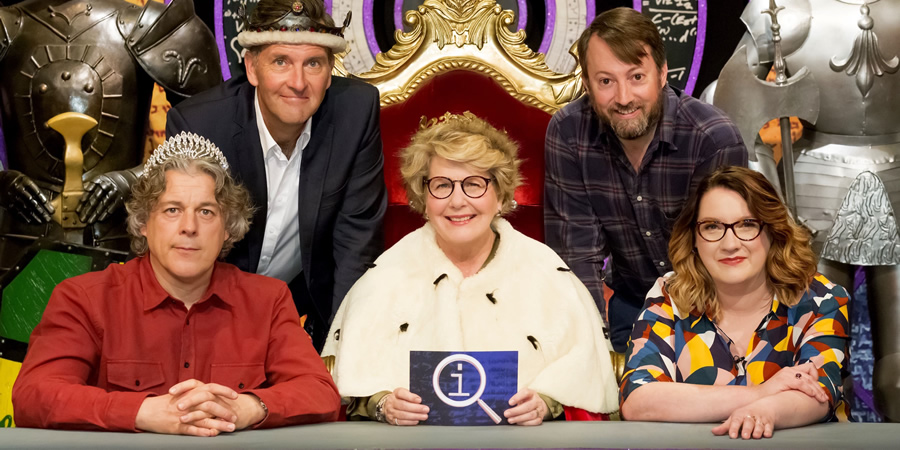 Series Q, Episode 14 - Queens
Further details
Topics
- The royal "we", as in the majestic pronoun, is an example of a nosism. It dates back to Henry II, and the royal we originally meant, "God and I". Henry II's successor, Richard I, introduced the royal motto "Dieu et mon droit", meaning, "God and my right". Elizabeth II doesn't use the pronoun "one" as often as people think. Analysis of all of her speeches since 1952 revealed that she uses "I" six times more often than "one". (Forfeit: It doesn't smell)
- Tangent: There is a belief that as well as being insane George III had problems with his urine.
- In a hive, the queen's food is chewed by worker bees. They pre-digest the food because the queen doesn't have the required glands to digest it herself. The workers also have the power to put her on a crash diet. When the bees want to swarm, which happens once a year, the queen is put on a diet so she loses a third of her body weight, otherwise the queen is too heavy to fly. We don't know how this decision is made. When a new queen is chosen, the rest of the bees appear to randomly select a bee at the larva stage and this queen is given a special diet different from all of the workers. Most larvae are fed honey and pollen by the worker bees, but sometimes one is only fed royal jelly, and this one becomes the queen. However, we now believe that it is the fact the queen is not fed pollen and honey is what makes her queen, as it makes her ovaries grow large. When the queen no longer produces any babies, the workers kill her by balling her, which involves swarming over the queen, and raising her body temperature until she overheats. (Forfeit: Beefeaters)
- Tangent: In Aristotle's time, it was always assumed that the head of the hive was a king bee. However in the 1670s Dutch scientist Jan Swammerdam dissected a "king" bee and examined it under a microscope, where he discovered that the bee had ovaries that make up a quarter of the queen's body weight. Swammerdam also discovered that if you remove the queen from the hive on a stick, all the other bees will follow you. In the 18th century, a beekeeper called Daniel Wildman used this promote his London honey shop by riding horses, standing up while wearing a beard of bees. Elsewhere, Patty Jones, wife of Philip Astley the inventor of the modern circus, performed horse riding stunts while having a swarm of bees on her hand imitating a muff.
- The thing that has sex for 15 years and gets licked to death by their own children is a queen termite. Like with bees, the queen termite is the only fertile female in the colony, but unlike other insect she mates for life - literally. After choosing a king, the queen spends 15 years incessantly mating to produce the nest colony, creating one egg every three seconds, totalling 250,000,000 in her life time. The queen's egg-producing organ becomes so massive she can't leave the cell, becoming 100 times the size of the other termites. The queen has about 5-10 kings in her lifetime. Her babies tend to her, feed her, clean her, drink the secretion she sweats, and when she has outlived her usefulness the children surround the queen and lick her to death, sucking the fluids and fats from her body.
- The panel are shown a portrait of a queen and are asked what is wrong with her. The problem is that she is dead. Ines de Castro, was the mistress of the future Peter I of Portugal in the 14th century. When Peter's wife Constance died, he moved Ines into his home and they had three illegitimate children. His father, Alfonso IV, was so angry that he has Ines killed. In retaliation Peter caught two of the killers and had their hearts torn out and pulverised before him while he ate dinner. Six years later Peter became king, announced that he had secretly married Ines, had her dug up, placed Ines on the throne, and forced the court to swear allegiance to her and kiss her hand.
- Tangent: In 1667, 230 years after Henry V's queen consort Catherine of Valois had died, her tomb was disturbed while Westminster Abbey was being renovated. Afterwards, if you paid a little bit extra to your tour guide, you were taken to see the corpse. Samuel Pepys took his wife and daughters to see it and wrote in his diary: "I did kiss her mouth, reflecting upon it that I did kiss a Queen, that this was my birthday, 36 years old, that I did first kiss a Queen."
- The first queen to get a Brazilian was Queen Carlota of Portugal. Crown Prince, Dom Joao, Carlota, and his entire court went to Brazil as Napoleon was advancing on their country. They went in a convoy of ships from Lisbon to Brazil, with 10,000 people travelling with them. However, the ships were so overcrowded and unhygienic that an infestation of lice broke out. To get rid of the lice, everyone shaved their heads, throw away their powdered wigs and covered their heads in pig fat. Just before they landed in Brazil at Guanabara Bay, Carlota and the other women decided to cover their baldness with improvised turbans. Reportedly, the local Brazilians thought that these turbans were the height of European fashion and copied them. However, as Brazil was full of an African-Brazilian population, it is possible that turbans originally came from Africa.
- Tangent: There is a long history of commoners imitating royals. In the 16th century, Guglielmo, Duke of Mantua was a hunchback and all his courtiers put humps on to compliment him. Louis XIV of France had a fashion that courtiers should have one long fingernail, because he refused to let people knock on his door, so courtiers would gently scratch the door with one finger. Thus, having a long fingernail was seen has having the ear of the king. Alan however suggests that the long fingernail was used for probing Louis's anus. Sarah says her husband, Gary Delaney, has one special toenail which he uses to scratch his eczema. He only told her about this recently and they have been together for nearly 15 years.
- Your best chance of seeing the Queen's Ass in the 18th century was in Buckingham Gate stables. Queen Charlotte, wife of George III, had a zebra that was known as the "Queen's Ass" which was given to her as a wedding present by the Governor of the Cape in South Africa in 1761. A male and a female were sent to her, but the male died en route and the female arrived a year late. The zebra was placed in these stables and became a tourist attraction. Painter George Stubbs painted the zebra, and Charlotte bred the zebra with a donkey by having stripes painting on the backside of a male donkey. The offspring of a donkey and a zebra is a zebroid.
- Tangent: Race horses are bred with a similar technique, because some stallions will only mate with mares of a particular colour.
- If you have a dog collar, a hound tether, a game noose (an item you wear on a belt to carry pheasants around their necks) and a horn, the game you can play is one with cards. These are the suits in the world's oldest full set of playing cards from around 1740. The deck is called the Hofjager Hunting Pack and it is on display at the Metropolitan Museum in New York City. No rule were written until the 17th century so we don't know what games would have been played, but we do know that this would have been one of the first packs to have had a queen, as before then they had a cavalier on horseback instead.
- Tangent: In chess, the queen was originally a vizier, with the board being a battlefield before turning into a royal court. As well as a vizier the original versions of chess had pieces for infantry, cavalry, elephants and chariots.
- Tangent: The tokens from Monopoly originally came from the charm bracelet of the inventor's wife.
General Ignorance
- The oldest object in the Crown Jewels is a spoon. From the late 12th century, a ten-and-a-half-inch-long anointing spoon is one of only four items in the Crown Jewels that predate the Restoration, with the other three items being 17th century swords. The original crown jewels date to Edward the Confessor, but after the Civil War the new republican Commonwealth government melted most of the jewels down. However, a man named Mr. Kynnersley, Yeoman of Charles I's wardrobe, bought the spoon for 16 shillings, which was about 11 days' wages at the time. When the monarchy was restored, he returned the spoon for free. (Forfeit: The Queen)
- The Queensberry Rules were written by John Graham Chambers of Wales. The Marquess of Queensberry endorsed the rules, but did not write them. Chambers founded the Amateur Athletic Club and is most famous for the fact that he rode beside Matthew Webb, the first person recorded to swim the English Channel. (Forfeit: Marquess of Queensberry)
- Tangent: The oddest use of the Queensberry Rules was in a sport called horse boxing, which involved boxing on horseback. Invented by a man from Berlin and an African-American boxer called Bobby Dobbs, in 1912 it was demonstrated at a tournament in Germany. The Germans thought of putting this sport into the army's proper officer training, saying: "The new sport will be valuable for the soldier on horseback in time of war as, when he loses his weapons, he will have to fall back on his natural means of defence." However, horse boxing failed because the horses would not stand still.
Scores
- Sarah Millican: 8 points
- David Mitchell: -1 point
- Colin Lane: -7 points
- Alan Davies: -25 points
Broadcast details
This episode is currently available on BBC iPlayer
Date

Friday 31st January 2020

Time

9:30pm

Channel

Length

30 minutes
Repeats
Saturday 29th February 2020 at 9:00pm on BBC2 (45 minute version)
Saturday 29th February 2020 at 9:30pm on BBC2 Wales (45 minute version)
Cast & crew
Video
Elves Andy, Emily and Jack discuss Victorian burn books and play Queen or Drag Queen!
Supporters and subscribers get more
Additional content and tools are available across the site for Supporters and BCG Pro subscribers. On this page you can:
Details of when and where this episode was recorded
Already a donor or Pro user? Sign in