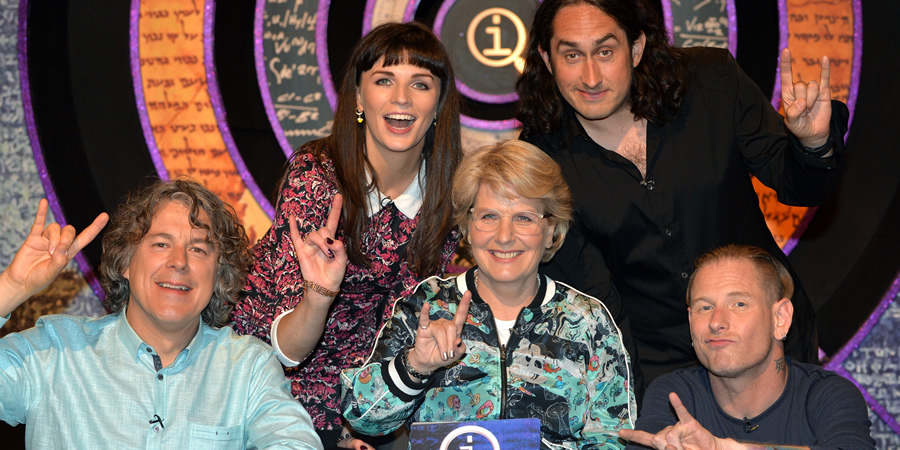 Series N, Episode 3 - Nosey Noisy
Further details
Themes
- The buzzers are the panellists favourite sounds. Aisling's buzzer is of a baby giggling, although not her own as she is not a mother. Ross's buzzer is of his two daughters quoting Indiana Jones, with his youngest daughter Willow mispronouncing the letter "s" as "r" so "I hate snakes" becomes "I hate rakes", and eldest daughter Elfie saying: "I am Mola Ram!" Corey's buzzer is of a Slipknot track. Alan's buzzer is the klaxon. (Forfeit: Klaxon)
Topics
- The loudest thing anyone has ever shouted is the word: "Quiet!" Anneliese Flanagan, a primary school teacher from Belfast, is in the Guinness Book of Records for having the loudest voice. In 1994 she entered a shouting competition and her record has never been broken. She logged 121 decibels, which is exactly the same as a chainsaw, or 32 times louder than a vacuum cleaner, and she can shout twice as loud as the human pain threshold.
- XL Tangent: Aisling went to see the film "Magic Mike" in the cinema. At the start of the film the title character gets on his knees and slides down a catwalk, so on the giant cinema screen his crotch comes flying towards the audience. When Aisling saw this she shrieked, which she claims is the loudest noise she has ever made. Luckily for her, the film was not shown in 3D.
- Tangent: In comparison to Flanagan's shouting and the chainsaw, a Slipknot concert is quieter, as they top out at 109db.
- Tangent: The record for the loudest burp is currently being fought out between two men. The original record holder was set by Paul Hunn of Essex at 109.9db in February 2016. Immediately after this Neville Sharp of Humptydoo, Australia broke the record. Ross saw Sharp on Australian TV trying to burp, but he needed a build up and thus couldn't burp on demand, so many people doubted Sharp's claims. The day after Sharp broke Hunn's record, Hunn came back with a burp of 117.9db, which is louder than a Deep Purple concert in 1972, which broke the record for the world's loudest band and left three audience members unconscious. The record for the loudest band has since been broken by Motörhead.
- Tangent: Humptydoo's biggest tourist attraction is of a statue of a boxing crocodile, and they are famous for the Humptydoo Virus in kangaroos.
- XL Tangent: Sharp said about burping: "Breaking the record as been a bit of a personal goal for me since my sister taught me to burp when we were children."
- Tangent: The loudest cracking of finger knuckles is 83.2db, which is as loud as a food blender. It is caused by bubbles of gas popping out of the fluid between your joints, hence you cannot crack a knuckle twice in succession.
- The panel are given a musical instrument and are asked how to play them. The answer is that you play them with your nose, because they are nose flutes. The first patent for them was in 1892 for a version called the Nasalette, and the idea was that it left your hands free to play other instruments if you strapped elastic around them. However, they are much older, having been played in Southeast Asia, the Pacific Islands and the Congo. In Fiji couples would seduce each other with them. It was also tradition to put tobacco on the nose flue so you got a hint of nicotine when playing them. A photo in a 1909 copy of Tatler shows a man from India playing the nose flute and the bagpipes simultaneously. One musicologist described this as, "a peak of woodwind virtuosity."
- Tangent: Alan is given a double-ended nose picker, a device shaped like a finger at both ends so you can pick your nose without using your hands. It was patented in 1998 but not manufactured for general sale. Alan says it doesn't work because you've got no hooking action. A study in 2001 showed that only 80% of teenagers pick their nose with their fingers. The rest use the end of pencils or tweezers. 11% of teenagers pick their nose for "cosmetic reasons" and another 11% for pleasure.
- XL Tangent: Aisling claims that a vacuum cleaner would work better than tweezers for picking your nose, but it is pointed out that this is more dangerous. Alan talks about all the strange excuses people give for things like vacuum cleaners being stuck in or on parts of the body they shouldn't go. For example, dressing gowns falling open and then the person falling onto the suction. Rhinotrichotillomania is the condition of compulsively pulling out your nasal hairs.
- If you put a frog on helium, it makes no change to the noise. In 1993 scientists made three different species of frog inhale helium and it had no effect because frogs don't use the resonance of the air inside their vocal tract like humans do when speaking, they create resonance using their skin. (Forfeit: Ribbit [said in a higher timbre])
- If a dinosaur sucked on a party balloon full of helium, their voices would change the same way as a human's does. In 2015 Austrian scientists gave helium to a Chinese alligator, the closest living relative to the dinosaurs, and proved that the timbre changes, making their voices sound lower. Helium does not make your voice higher, it just changes some of the higher frequencies in the voice to be amplified so you can hear them more. As the Chinese alligator is related to the dinosaurs, the same must be true of them.
- XL Tangent: In 2015 scientists discovered that giraffes hum, but we don't know what for.
- XL Tangent: Sandi spent part of her childhood in east Africa, and she had some neighbours who had a Mini that they had brought all the way from England. One day the neighbours didn't return home, worrying everyone. What had happened was that a giraffe had tried to hump the Mini with the neighbours inside it, and they couldn't drive away, nor could the giraffe get off the Mini.
- The panel are given some horns and are asked what they are used for. They are used to hear foetal heartbeats. It is a Pinard horn, invented in 1895 by French obstetrician Adolf Pinard, and the design has never been improved upon.
- Tangent: The original stethoscope was invented by Dr. Rene Laennec so he didn't need to ask women to disrobe so that he could hear their heartbeat. Conversation tubes were invented in the 1600s also because of to avoid embarrassment when having conversations. These tubes were the basis for the first commercial hearing aids in the 1800s. The panel are given their own hearing trumpets to test out, with Sandi using one made in 1880 out of silver that may have been used by Queen Victoria. It is leant by Dr. Laurie Slater, a GP who collects medical oddities.
- XL Tangent: Other examples of 19th century hearing aids include one that fitted around a man's beard, one built into a walking stick, and one shaped like a vase.
- The panel are played a recording of hot water being poured into a bowl and a recording of cold water being poured into a bowl, and are asked which recording is which. The first is the hot water, and on average 96% of people can tell the difference between hot and cold water from the sound. Hot water is slightly less sticky, and when it hits the surface it breaks up into smaller particles and makes a higher pitched splash.
- XL: You would want a falcon nose on a plane to prevent the engines from being damaged. Falcon beaks are shaped to make them more aerodynamic. Aeroplane engines used to have a problem when they reached a certain speed, because the air in front created a wall of resistance that caused the engine to choke. While falcons can fly at 200mph, each nostril has a cone-shaped passage in it which directs the air into their nasal passages. Thus engineers created a similar cone on the front of jet engines that allow the air to enter the engines, even at supersonic speeds.
- XL Tangent: Another example of birds being used as inspiration for engineering solutions was kingfishers helping bullet trains. In the 1990s, when bullet trains left a tunnel they made extremely loud booming noises, which is caused by a cushion of air that is built up in front of the speeding train while it is inside the tunnel, and the noise disturbed residents and wildlife. An engineer then saw a kingfisher dive into some water and noticed that there was almost no splash. This is due to the shape of the kingfisher's beak, so he redesigned the front of the bullet train to have a long, pointy nose, which reduces the noise, is more aerodynamic, and 15% more energy efficient.
General Ignorance
- XL: Sandi gives the panel a mystery artefact to identify, lent by the Horniman Museum. It is a sperm whale's eardrum.
- Out of a VW Beetle, a male gorilla, a four-poster bed and an elephant, a blue whales heart is closest in weight to the gorilla. While many people though it was the same weight as a Beetle, no-one had ever actually checked until recently. It weighs at 28.5 stone, which is 22% the weight of the Beetle. (Forfeit: The Beetle)
- XL Tangent: The blue whale's heart is also the same size as a two-person dodgem car. The aorta is not big enough for a human to swim down, but you could stick your head in it.
- XL Tangent: Human intestines do not have the same surface area as a football pitch. Swedish scientists have discovered using new techniques that the intestines surface area is around the size of half a badminton court.
- If Sandi was in a car and she tooted her horn and flashed her lights at the same time, the one you would see first depends on how far away she was. The brain processes sound faster than light, so if you are close enough you will hear the horn first, but if the car was far away the light will be processed first because light travels faster. Human hearing can detect frequencies between 20 to over 20,000 hertz, but human sight only detects a much smaller frequency.
- XL Tangent: Ross suggests that if Sandi is flashing her lights and tooting her horn she is in fact dogging. Corey, being American, doesn't know what it is a reference to, so the rest of the panel try to explain. Corey asks what is wrong with British people, but Ross says that if it was American it would be people having sex and firing guns at the same time.
- The vitamin that can stop you from getting a runny nose is Vitamin D. There is hardly any evidence to show that Vitamin C relieves the symptoms of a cold. Vitamin D however helps prevent colds in the first place. One Vitamin C tablet contains 10 times the recommended daily allowance of the vitamin. (Forfeit: C)
- If you put a duck in an echo chamber the chances are that nothing will happen as most ducks don't quack at all. The ducks that do quack are female mallards, and their quacks do echo. Other ducks whistle, coo, yodel and some are silent. (Forfeit: Ducks' quacks don't echo)
- XL Tangent: Alan once went to Kew Gardens and witnessed some of the disturbing goings on between ducks, whose sex lives are rather violent. He met a woman giving out guide maps who said: "The ducks' behaviour at the moment is despicable."
Scores
- Alan Davies: 8 points (Alan's 29th victory)
- Aisling Bea: -2 points
- Ross Noble: -4 points
- Corey Taylor: -9 points
Broadcast details
Date

Friday 4th November 2016

Time

10pm

Channel

Length

30 minutes
Repeats
Friday 22nd January 2021 at 9:00pm on Dave (60 minute version)
Saturday 23rd January 2021 at 2:30am on Dave (50 minute version)
Cast & crew
Supporters and subscribers get more
Additional content and tools are available across the site for Supporters and BCG Pro subscribers. On this page you can:
Broadcast details of 17 further repeats of this episode
Details of when and where this episode was recorded
This episode's inital overnight ratings
Already a donor or Pro user? Sign in