Steve Pemberton and Reece Shearsmith created a large number of spin-off websites to support Psychoville. They're packed with extra background information and comedy content. We've listed them below...
---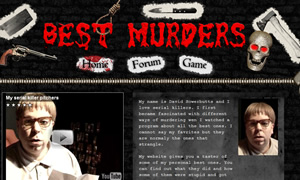 A website setup by David Sowerbutts listing all his favourite murders. It'll be a creepy website featuring lots of spelling mistakes. There's a game on the website, and a place where you can ask David questions.
---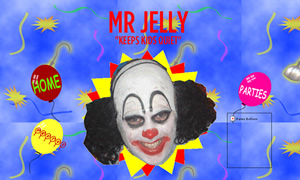 A website made by the kids entertainer who promises to "keep kids quiet". It's a rather amateur home-made affair. The website contains more information about Jelly's background, pictures of his hands and more.
---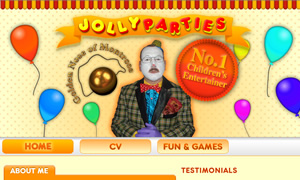 A much more professional and family-friendly website created by Dr Stuart Strachen, aka Mr Jolly, to promote his entertainment services. The website features a medical joke generator, balloon modelling pictures, and games.
---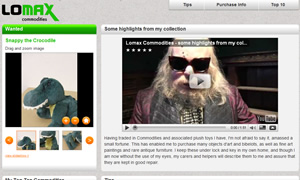 A website run my Mr Lomax and Tealeaf. It features more details on Lomax's 'commodities', including a list of his top 10. There is also tips for buyers looking to make a purchase.
---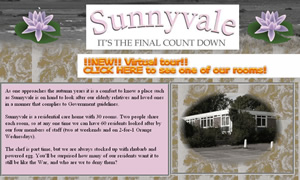 The website for the care home that Claudia Wren lives in. It features details on the exciting days out residents can expect, plus a new virtual tour of one of the rooms.
---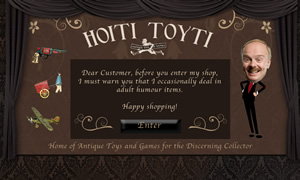 Visit the online store of Peter Bishop, the owner of Hoiti Toyti's - the home of antique toys and games for the discerning collector. Play online games and use Peter's valuation booth. There's also a special 'members section'... featuring Peter's other interest.
---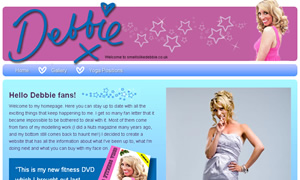 The website of actress Debbie Hart. Read her blog, see her picture gallery, get tips on the best yoga positions, and see a preview video of her new fitness DVD.
---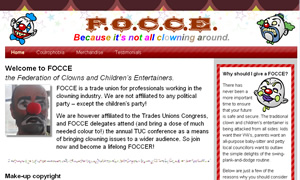 FOCCE is a trade union for professionals working in the clowning industry. Visit their website to create your unique clown face, and play their game to cure coulrophobia (the fear of clowns).
---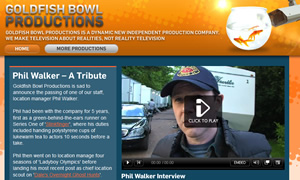 A website launched in October 2010 to link in with the Halloween special. It's connected to Phil Walker, the TV location manager who died in the explosion at the hospital.
---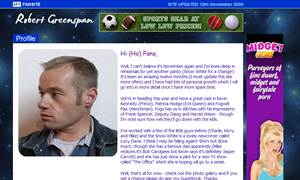 The homemade website of Robert Greenspan which he hasn't updated for a number of years. It features a biography, an out-of-date guestbook, and some old pictures.
---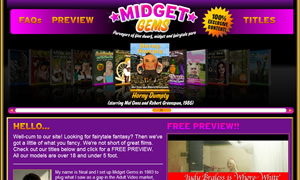 A website for the company that distributes the adult fairytale movies that Robert starred in. It features a video preview, background on the company, and a list of the videos released by Midget Gems.
---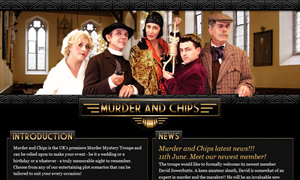 A website for the "UK's Premiere Mystery Troupe". This is the amateur dramatics group who have, unfortunately for them, managed to get themselves mixed up in the world of David Sowerbutts. Their website contains the sad news of the deaths of some of their members.
---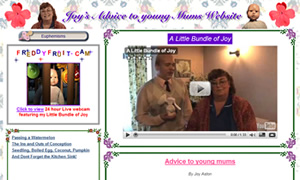 A website via which Joy shares her knowledge and gives advice to young mums. It includes a live Freddy web cam, conception advice and some euphemisms.
---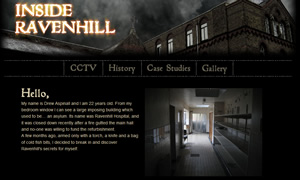 A website featuring disturbing pictures taken by a local resident who had broken into the derelict institution to see what was inside.
---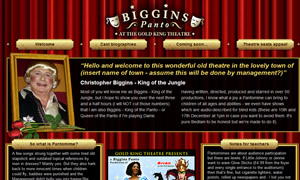 Biggins Panto
A website for the pantomime company putting on Snow White at the Gold King Theatre. Written by the pantomime's director Christopher Biggins, the website features more information on the panto, cast biographies and details of future productions.
This website is no longer online, but it used to exist at bigginspanto.co.uk