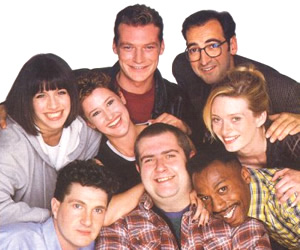 All Quiet on the Preston Front was inspired by writer Tim Firth's experiences living in a small Northern town similar to Roker Bridge. An old teacher of his was a member of the Territorial Army and Firth decided that this would be the perfect basis for his comedy drama. He based the large group of characters on aspects of himself and friends who he had known, and these inspirations led to the first series being very well received when it was first broadcast in 1994.
Another series was then commissioned for the following year, this time with the name shortened to Preston Front, but production on this second series was not without difficulty. Stephen Tompkinson decided not to reprise his role as Spock due to other commitments and so Alistair McGowan was hired in his place. Two new directors were also required to replace Brian Farnham who had been at the helm for series one.
Despite this, the second batch of episodes proved a huge success with viewers again, and the show was also rewarded with several award nominations and wins. It won the Best Comedy Drama category at the British Comedy Awards and Best Drama at the Royal Television Society. It was also nominated for Best Drama at the BAFTAs. The show also received a gong at the San Francisco Television Festival, indicating that it was now beginning to receive attention from overseas.
The BBC was understandably keen for the show to return but it would be two full years before this could happen. Tim Firth wished to retain the role of sole writer and was too busy with other projects to pen a new series until 1997. The format of the show altered with seven episodes made instead of the usual six, and the running time shortened to forty minutes. Its popularity was also highlighted by two novels, written by Ed Jones, which were published to coincide with the third series.
Tim Firth had decided by this point that Preston Front would not return again and so all energy was expended on producing series three to ensure that the show would go out on a high. This it duly did, being again nominated for British Comedy Awards and winning the Writer's Guild of Great Britain Best Drama Award.
The success of the show has led to all three series being issued on DVD, with one featuring a short reunion documentary about the cast and crew's experiences.