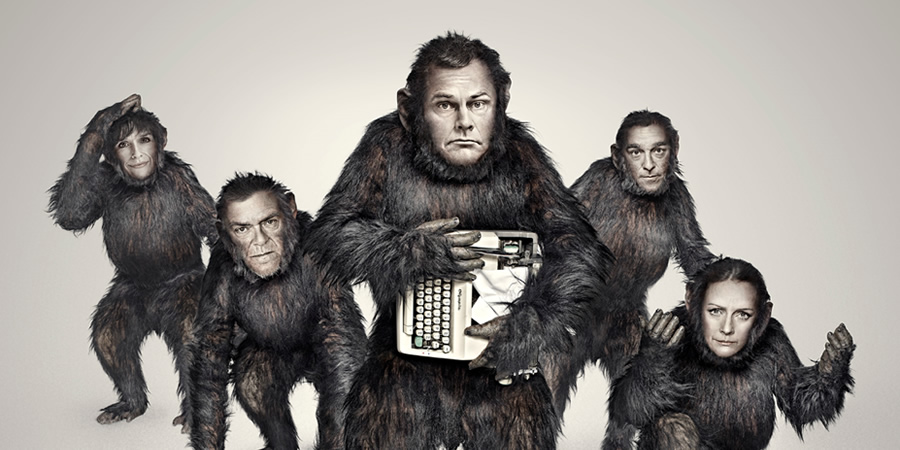 Genre

Sitcom

Broadcast

Channel

Episodes

Creators

Starring

Jack Dee, Claire Skinner, Liz Kingsman, Anthony Calf, Kevin McNally, Andy Nyman, Gwyneth Keyworth, Archie Panjabi and others

Writers

Directors

Producer
Following the success of 2015 election comedy Ballot Monkeys, Channel 4 returns to the political world with Power Monkeys.
The series looks past parochial party politics to cover the EU referendum, as well as taking audiences behind the scenes at the Trump Presidential campaign and into the Kremlin.
Led by the real world news agenda, and written again by Andy Hamilton and Guy Jenkin, the topical political comedy is filmed as close to transmission as possible to ensure it mirrors real world political events. And like its predecessor, Power Monkeys will "delight in showing the absurd panic and machinations of all the backstage teams involved in last-minute political shenanigans for 2016".
The sitcom lampoons the fictional communications and social media 'experts' on both sides of the EU referendum, as well as taking audiences a few doors down from the Kremlin and into the imagined world of Donald Trump's campaign plane.
At the Conservative HQ's Unity Unit is Oliver, a volatile ex-hack who regularly enjoys winding up his sensitive colleague Sarah, who employs laboured metaphors in, what her colleagues might unkindly term, her 'psychobabble'. Also at the HQ is Tony, a fence-sitter and veteran 'survivor' of Tory party politics. The Unity Unit's assistant is Ruby - who returns to play the same privileged and not-very-bright character as in Ballot Monkeys - a PA impervious to being fired since she's the daughter of a prestigious party donor.
On the cross-party Brexit Roadshow bus are Spencer, a disenchanted former UKIP-er now hopelessly in love with an Eastern European, and Gerry, the Roadshow's production manager. Gerry is busy prepping for any potential disasters, while at the same time dealing with some very personal family issues - namely his father's funeral combined with some nightmare relatives. The team is flanked by Jackie, an idealistic left-wing student and staunch Corbynista.
Meanwhile Preeya, a careerist Conservative, flits between being pro and anti-Brexit, depending on who she wants to impress within the party.
Looking to global politics, over on Trump's campaign plane, moderate Republican Lauren has been drafted in specifically to help the controversial presidential hopeful win women's votes. But she clashes with fervent colleagues Bea and Brett who both hero worship their boss, Donald Trump, and Lauren starts to question if she's really the right person for the job.
At the Kremlin, Oleg and Alexi are apparatchiks jostling for Putin's favour and monitoring the news of the day from the Western media.
Production company
Broadcast details
First broadcast

Wednesday 8th June 2016 on Channel 4 at 10pm

Last new broadcast

Wednesday 6th July 2016 on Channel 4 at 10pm

Length of episodes

30 minutes

Last repeat

Saturday 9th July 2016 at 2:00am