After the 2016 special's success, Porridge returns for a full series. We talked to writers Dick Clement and Ian La Frenais, plus stars Kevin Bishop (Fletch), Mark Bonnar (Meekie), and Dominic Coleman (Braithwaite), about the comedy.
Kevin, when that original special was broadcast you said how nervous you were about it, about the public reaction. After it was received well you're back again with a full series: how does it feel now?
Kevin: Still nervewracking if I'm honest. Big shoes to fill. It's Ronnie Barker. My favourite sitcom of all time, Porridge - closely followed by Only Fools And Horses. It's something that I've always really loved. When they initially said they were thinking of remaking it, I thought that may not be a good idea because it's the closest thing to a perfect sitcom that I know. I wasn't really sure even throughout the rehearsal process of the pilot whether it would be a success or not - you don't know until you get in front of that studio audience.
I think it's something that people hold very close to their hearts. If you see something so good, that you remember so fondly, revived and it isn't so good - that's why I was hesitant at first, because as an audience member I'd completely slate it. But we've pulled it off, I think.
But also - Dick and Ian. It's the original writers. That's what swung it for me. If you like Porridge then you should like this Porridge.
Were you in any way reticent about revisiting the series or did you immediately have a few ideas?
Dick: Yeah, of course we were. But we started, and it was great fun. It's the plots that drive you crazy: once you've got the plots it's great fun. And we've got a great cast here. Everybody was working together, and that's why we felt very confident about it. The audience in Manchester told us a lot. They seemed to like it, which is reassuring.
When you were making the special, were you already thinking that this could be another series? Did you have loads of ideas?
Ian: No. It was a one-off. And so that's how we approached it. We knew it was going to be one of a selection of specials, so we just wanted to make sure that ours was the best. It was just pure ego! Then when we saw it, when we saw the cast, then we started thinking about a potential series very seriously. They were so exceptional, all of them.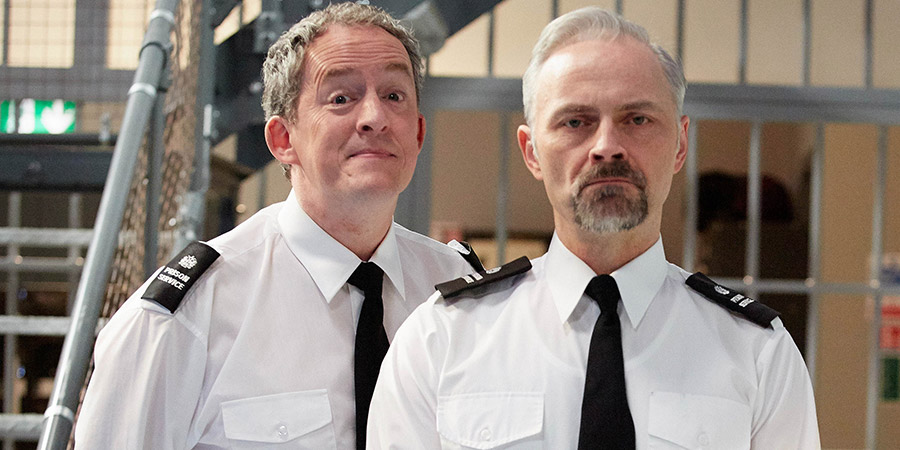 Mark and Dominic, for a lot of people the joy is in how similar your characters are to the original. How did you approach that? How did you make them the same but different?
Mark: I don't know about Dom, but I was kind of brought up on Porridge. I said to my agent, that theme tune makes me want to go to bed, even now. I was allowed to stay up to watch it, so that closing theme tune signifies my bed time! So it's in my DNA, as is Fulton Mackay's performance [as Mr Mackay]. So you approach it with equal amounts joy, reverence, and fear. You just try to not let go of what is a massive institution, really, of British sitcom, but imbue it with 'you'. Whatever you can bring to the role.
There are several Mackayisms - Fultonisms - that are sort of nicked. A little tip of the hat to what Fulton did, because he did such a marvellous job in that role. I think that familiarity is what people love, and it's why we are here.
Dominic: Yes, it's just taking that spirit of what's there already and putting your own spin on it, having your own take on it.
Did you re-watch the original before filming?
Dominic: I started to watch clips, then panicked slightly and thought "ooh, no".
Kevin, your Fletch is younger but has the same general optimism about life. What's your take on him?
Kevin: Well. The good thing about this as a premise is that it's the perfect sitcom, in the sense that the central character is trapped. There's nothing that serves that better than literal incarceration. The way it's written, very well, by Dick and Ian; but in every episode there's a moment where it's not all jokes and you realise that being in prison is not fun. It's a tragic waste of life. I think that's something that helps the audience identify with the central character a bit.
Very much in the original Porridge, Ronnie Barker is the eyes and the ears of the audience. He plays it in such a way that he's you if you were in prison. That's how it feels. And that's what I've tried to do in this, make him feel - well, like an every man, almost, who's stuck in a place he shouldn't be. That's what I wanted to do with Fletcher, make it feel like he's sticking out and isn't supposed to be there.
There are certain aspects to your Fletch - speech patterns, mannerisms - that are quite similar to Ronnie Barker's. Did you base your portrayal on him?
Kevin: I think a lot of it was quite subliminal. I was such a fan of the show. I do impressions obviously, and it's very tempting to do an impression, but I think it would have been a mistake to do an impression of Ronnie Barker playing Fletch. The wonderful thing about that character, a gift from Ronnie Barker, is that he must have known that person. He must have based that on someone he knew because it's such a well-layered character performance. So really he'd given me that frame to work from.
I notice in my children, they've got certain mannerisms and things that their grandparents had, or an aunt or uncle. It's something in the lineage, just there in the DNA. You notice that: and that's how I wanted it to feel, familiar but not an impersonation. I think the lads have done the same thing with Braithwaite and Meekie. There's a nod there, a familiarity, but it's not an impression. Hopefully that'll work and settle people in.
The only thing I wanted to achieve from this really was, a) if Ronnie Barker watched it, would he think it was done well; and b) would Dick and Ian like it. And that's... well, did you like it?!
Ian: We haven't really discussed it...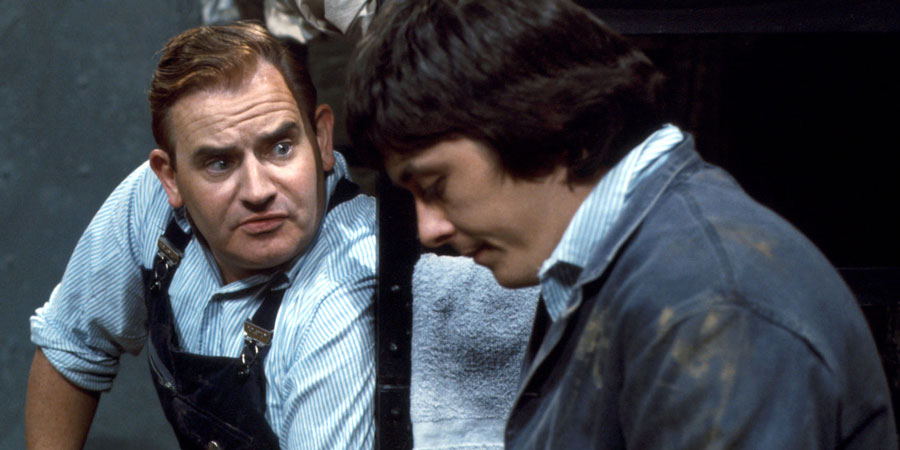 Dick and Ian, this time round Fletch is the younger cellmate with an older lag to advise him. What do you think that new relationship brings to this version?
Ian: Well the older guy is to give us a connection to the original series. In the special, he says "I was in prison with your grandfather". That's the DNA, the connecting strand. Yes, it's a reversal of the old Fletcher and the young Godber. Now it's the younger Fletcher and the older Joe. That appealed to us enormously. But the main reason Joe had to be the age he is, is that he could connect to the original series.
Studio sitcoms are so popular and special - Mark, you've done a lot of comedy that isn't studio, like Catastrophe. How does it compare when you're performing in this kind of environment?
Mark: It's completely different. When you're on set doing a single camera shoot, you're isolated, it's more intense. Whereas this is a perfect meld of theatre and television. You've got the audience there and they let you know when they're bored, and they encourage you - sometimes with catastrophic effect - when they're enjoying themselves, or when you're enjoying yourself.
It's fantastic, I love it. I'd never done any of that at all before the pilot and was absolutely terrified, but I watched Kev swan out there like an old pro and kind of thought "oh just enjoy yourself", and I did. It's joyous, really.
Dominic, was there much corpsing on set?
Dominic: There's the odd... moment! You can see it very clearly on screen a couple of times where I've pushed [Kevin] over the limit; at one point I suddenly realised it was the first time I'd said the line in front of an audience and they were miles ahead of us and started laughing. I enjoyed that a lot, and maybe stayed on the bike a little bit too long! But also Kevin has a very good way of hyping up... he whips up a sense of hysteria in rehearsal, so once we're on set we're much more calmed down. There's usually about an hour of Kevin mucking around before someone - who I won't mention, Ricky Grover - threatens him with violence and then he stops. That's how it works.
Ian: It's really embarrassing, because every time you leave a room or a bar, you know that Kevin is impersonating you. We've introduced Kevin to friends of ours and he's impersonated them within two minutes.
Why do you do this, come on?
Kevin: It's a tic. It's a vicious tic.
Ian: It's Tourette's.
Kevin: It is like Tourette's, yes. And it was very much a curse until I made a living out of it. I've upset lots of people! The problem is that if I can do an impression of a person, if I'm telling a story I have to do them. It's impossible for me not to. And the amount of times it comes back to me because the person wasn't there, and later on they're saying "I hear you do an impression of me..." And I'm like "err, who told you that?"
But I think it's weirdly cathartic [for the cast] isn't it, before we go on, to be completely destroyed - humiliated - and then we go on in front of an audience. I find that really helps us.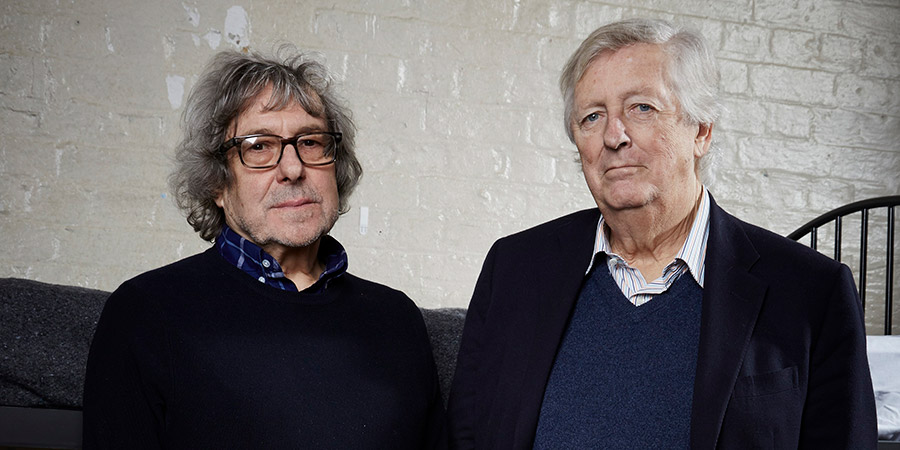 Dick and Ian, you've had experience of reviving things really successfully, like Auf Wiedersehen, Pet. Did you draw any lessons from that experience for Porridge?
Dick: Well it worked before, which was encouraging! We brought back The Likely Lads for Whatever Happened To The Likely Lads? - that was a long time ago. Yeah, once it fell into place we thought "yeah, this can work", but it's only the audience that really tells you. It seems to be a success so far. And it's wonderful to tap into something that people still remember.
Do you think we could see another Going Straight...?
Dick: Probably not - but let's do Porridge first!
Going back to the classic sitcom set-up of being trapped, how much of that is a help and how much a hindrance?
Dick: It's always a great help. Most of the great sitcoms have some kind of sense they were trapped. Steptoe & Son certainly had that. Even The Likely Lads had some of it.
Ian: In Only Fools And Horses they were trapped. I think everything we've done, the characters have been trapped. The Commitments were trapped. In Auf Wiedersehen, Pet they were trapped. Whatever Happened To The Likely Lads? saw them trapped in a certain environment.
I think someone noticed that years ago in our career, Gay Times I think, they were talking about us always writing about trapped men. Since then we've always enjoyed that label! The ultimate trap of course is prison. Interestingly, I don't think when doing this version of Porridge that either Dick or I ever compared it to any previous episode or situation or scene or exchange, ever. That never entered our heads. That's credit to the cast.
Would you revisit any of your other shows in the way you've revisited Porridge here?
Ian: There's none left! Errrrm. Maybe we could revisit Lovejoy?
Dick: Don't know what he'd be up to now. No, I think The Likely Lads would now be older than us. Which is old enough, God knows, so we wouldn't want to do that! I think this is it. This in a way is a revisit and a rebooting, which is why we liked it. We wanted to do some work on it. We had to bring it up to date.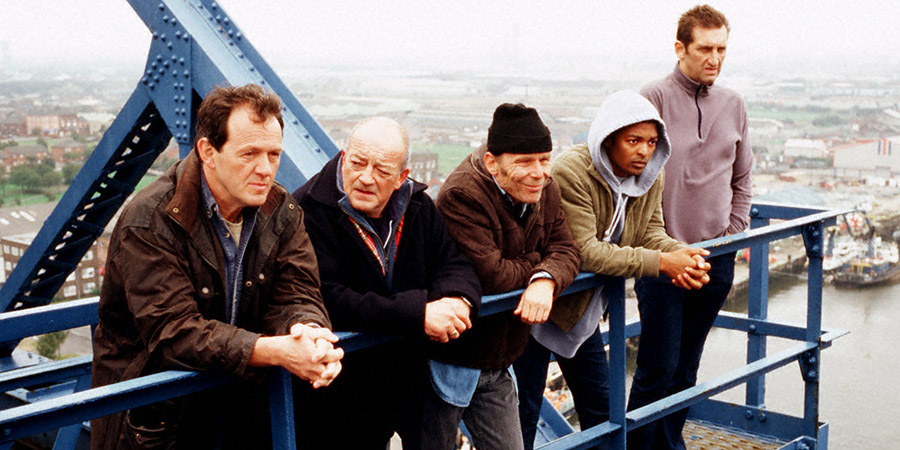 Ian: Yeah, this is a reboot in many ways. The others were bringing back the original cast. I'd do another Auf Wiedersehen, Pet, but I don't know if they might be too old to lay bricks! Actually we do revisit them every two years, because we do this charity gig in Newcastle for fans, where we always do an Auf Wiedersehen, Pet sketch. They've got more and more bizarre, but we do bring at least four or five of the cast back for those - we're never leaving them. But they do get increasingly strange. The last one, we had them commissioned to build the Trojan horse; before that they were building a Roman wall...
Do you recreate any of the great set-pieces from the original series, like the peeing into a cup?
Dick: I think we'd be pilloried if we reproduced that one! There is a line from the movie in Episode 2, I believe it is, about the prison officers forming a club called 'The Prison Officers' Club'. We own up to that one. But that's about all.
Ian: Actually the peeing joke has been used three times. We used it in Porridge, we used it in a James Bond with Sean Connery - Ronnie's was funnier - and we did an American version of Porridge, it was in that. That's recycling whole. Or just sheer fucking laziness.
---