See Also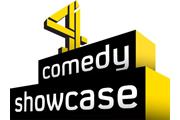 Channel 4 broadcast six new comedy pilots in 2007 under the 'comedy showcase' heading.
A sitcom following Howard Steel, a man who manages to get into all kind of embarrasing scrapes.
A dark and poignant romantic sitcom following a 'will they, won't they' couple. Stars Stephen Mangan, Sharon Horgan and Anthony Head.
Sitcom starring Rafe Spall as a struggling sports writer. His life is analysed and discussed by two sports commentators.