Blackadder star Tony Robinson has gone back in time again. This time he's guest starring as a character called Daedalus Graeco in Plebs. Let's find out more...
How did you joining the world of Plebs come about?
You never really know what's around the corner, do you? You're phoned up and asked if you would like to do something a bit daft, and you think, "Oh, I'm too old for all this silliness", but I didn't feel that at all with this script, I was quite happy to do it, it was such a nice part. Such a funny part, and so central to the action. I knew I had to do it or I would regret it.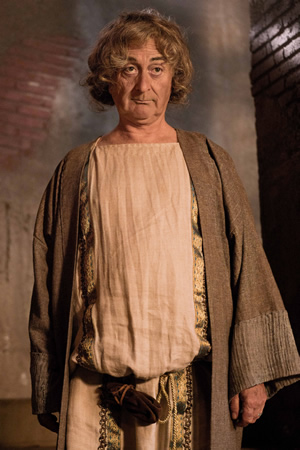 The writers and the cast are huge fans of yours and have been desperate to get you on the show for years...
I wasn't aware of that, but I guess they are that generation of writers and comedians who were brought up on Blackadder. It was touching that they thought of me for this part.
Had you seen Plebs before you went out to film?
I have watched a couple of episodes and it's so clearly influenced by shows like Blackadder and Maid Marian And Her Merry Men, so as soon as I had the script in my hand I felt very much at home, if you know what I mean. It was territory I was familiar with.
Yeah, did it bring back memories from your Blackadder days then?
It brings back memories of working with other actors like Rowan and Rik on comic timing, and when you've got those old costumes on you know there's humour to be mined.
It's an emotional memory rather than memories of a particular time, memories of how it felt when you're on the set, in an old fashioned costume, doing that kind of dialogue, working with good actors.
Those three lads - Tom, Ryan and Jon - give such good performances. They're not like those characters in everyday life which you might assume because they give such naturalistic performances. They're just good actors.
When Plebs first launched there was comparisons with Blackadder, can you see why?
Oh yes, of course. It's lovely to know that Blackadder was so influential to them as kids and it's deep in their DNA somehow. To be able to still be there, kicking the ball around with them, as it were, all those years later is absolutely terrific. And also, I was working with Maureen Lipman too, who is one of our finest comedy actors, so that felt good. It didn't feel like we were making rubbish, which occasionally it can in our business!
The lads, particularly Tom Rosenthal, were nervous about having someone as legendary as you on set...
Really? He didn't show it. They took everything in their stride. But look, I'm not that kind of guy. What you see is what you get, and it was just fun working with them. I know what I did they found funny, which was very reassuring. I mean, even if you've been in the business for 60 years like I have, it is still really comforting to get reassurance from your peers.
Do you get nervous when you're stepping into a new character?
Yes, but also I've learnt that nervousness is an indulgence. It just gets in the way. You just have to be very kind to that goblin of nervousness who's sitting on your shoulder and say, "Thank you for pumping up my adrenaline a little. That's very helpful. Now, go back to your room." By and large the goblin tends to do as it's told.
Is that a technique you've used throughout your career?
Oh yes, for years. I picked it up while learning to scuba dive, believe it or not! The first time I went down in the deep end of the swimming pool with a weight belt on, it was scary because you're not used to that. I came back up and said that I had felt really frightened and the instructor said, "Yeah, but that's a good thing. Human beings aren't meant to be underwater for a long time."
He switched a light on for me about what you've got to do when you feel those nerves. You thank the goblin for the warning and be mindful of it, but don't let it take over. It's a lovely metaphor I've constantly tried to use. It's helped me a lot throughout my career, it really has.
Who do you play?
He's called Daedalus Graeco and one hysterical thing about me playing him is that he's a professor of archeology! I fronted an archeology series for 20 years although I was nothing like Daedalus.
It's not in any way a parody of Time Team. Had it been, I don't think I would have been very interested in it. He's a completely different character to me and any of the other people in Time Team. Although having said that, my wig does look a little bit like Professor Mick Aston's hair from Time Team, but apart from that it's just a very nice nod to my world.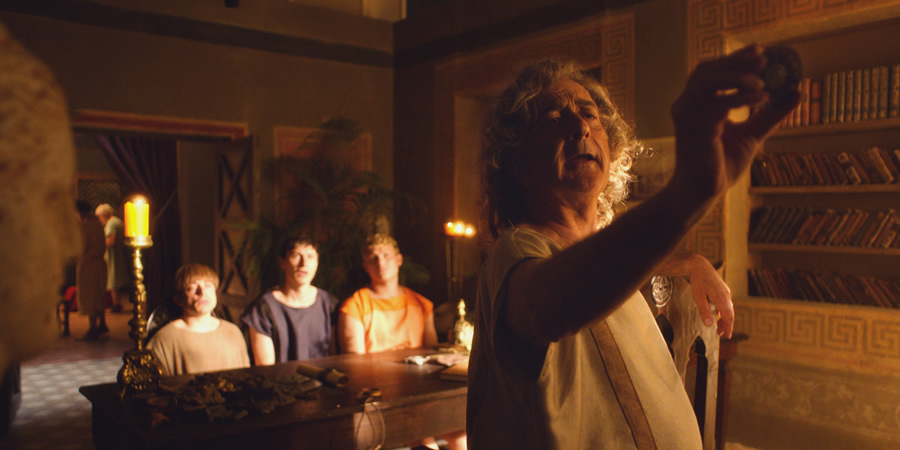 So how does he come to meet the Plebs?
The guys find this incredibly valuable brooch down the toilet! As you do in Plebs! So they take it to this professor of archeology and from there the plot unfolds, so my character is the one on who the plot hangs.
I don't want to give too much away about whether he's a goodie or a baddie, you'll have to wait and see. But he's an authority figure and that's fun for me to play because for so much of my life, I've been playing people who have no control over events. He's shrewd, and a bit teacher-like in that he won't stand for any messing around from the Plebs. He knows what he wants and he's good at his job.
Did you enjoy filming out in Bulgaria?
It was fantastic, honestly! The studios in which we shoot it, A) are in Bulgaria, but B) they look like the Warner Brothers back lot in the 1940s, 1950s. It's huge and covered in old sets from a whole variety of different periods. You see people walking in all day just like in the movies. Like the actors at MGM or Warner Brothers we were walking around in old-fashioned costumes. The only other large production that was taking place, which was in the studio right next to ours, was a Christmas show for Sky starring Celia Imrie, Tom Courtenay and David Walliams [Cinderella: After Ever After]. So it was just gossipy, gossipy, gossipy all day and at night too! We would all go out for dinner together. It was fun!
That must have been fun!
I think it was more fun for the British tourists we bumped into in Sofia, who came face to face with a whole bunch of people they know off the telly! It was so strange when we were all on set together though because we'd meet up during our breaks for a coffee and a gossip but we're all stood there in our different costumes, it was very surreal!
The Plebs set is incredible, how does it compare to Blackadder?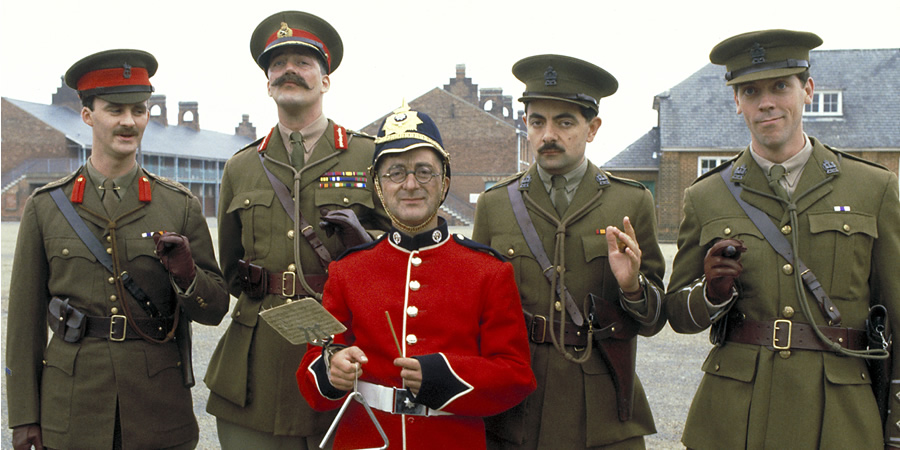 Oh, theirs isn't nearly as wobbly as ours was for a start! We very nearly didn't get the second series of the Adder because it was so expensive.
In the first series there were lots of specially built sets, location shoots and all that sort of thing. We weren't given a second series until about two years later, on the promise that it would be half as expensive as the first series, which meant we had to do it all in studio and with sets which were quickly mocked up and taken down again.
They were beautifully designed but we suffered from the limitations of budget, whereas in Bulgaria, things are just half the price. So they could afford a much bigger investment in the show than would have been possible in England. So it was great working in those sets and with loads more extras than we'd ever get in a British-based sitcom.
Filming can be long days, do you find it harder as you got older?
The only time I find it harder is if I've been on the lash the night before. I can't do that the way that the younger ones can! I was only out there for a very short time but I had some lovely dinners with Maureen Lipman and David Walliams, we tried to meet every evening. It didn't always work out because schedules are different. But when we could, we did.
It was reported while you were out filming Plebs that Richard Curtis wants to bring back Blackadder, would you be up for that?
News like that seems to break about once every nine months. This great bubble arises out of nowhere. It usually happens from an interview when someone might say to me, "Is there going to be another Blackadder?" And I say, "No, I really doubt it." And they say, "If there was one, what would it be?" And we talk about it and the next thing I know it's in the paper with me saying Blackadder is coming back!
I've actually phoned Rowan Atkinson and the others and have had to say, "This isn't what I said. I got stitched up, I swear." It's testament to the show that everyone gets so excited about the possibility. But we've always stood firm about not doing any more. I say firm but it's mostly that it's impossible to get that group of people back together. Half of them are on the other side of the Atlantic most of their time.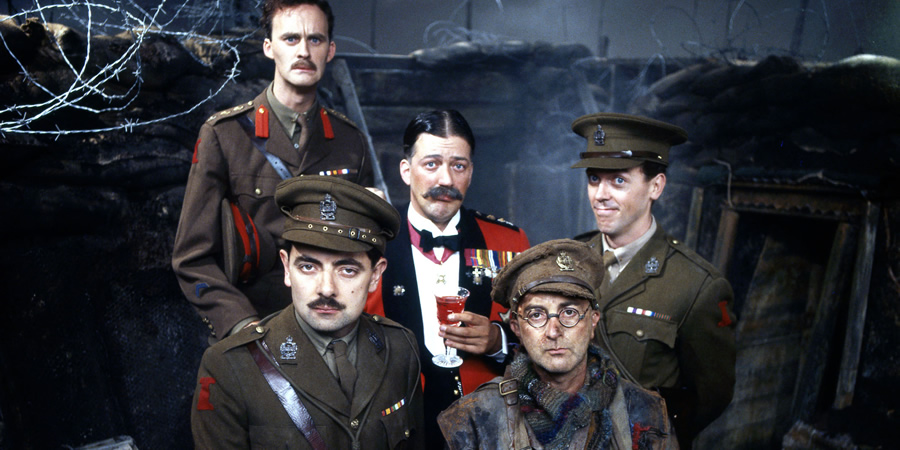 Why do you think that show has stood the test of time?
Well, a lot of it is because of the old fashioned costumes, even though it's about present-day sensitivities. The same is true with Shakespeare. He was actually writing about his modern day experiences in late 16th century England. But you wouldn't know it from the nice costumes.
Do you think comedy has lost its bite?
I think you're watching the wrong channels! I don't think the young generation of comics would think that at all. Although, having said that, to do edgy comedy in today's more puritanical environment, you are taking a risk that simply wasn't around a number of years ago.
In case you offend people?
Yes, exactly. It is possible to say things nowadays which press a button amongst people that it simply wouldn't have done even five years ago. Yes, of course. If you're an actor and you're on TV being seen by lots of people, the likelihood is that you're earning slightly more than the majority of people in this country, so, you know, if they get resentful or censorious, you've got to take it on the chin.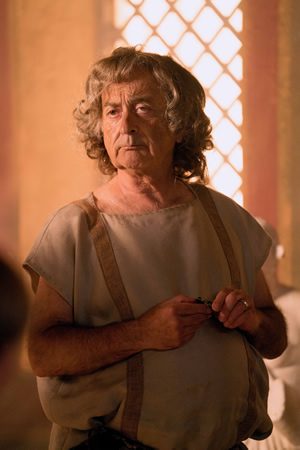 So how do you decide what roles you're going to take?
I'm not really inundated with job offers where comedy is concerned. Why aren't I being offered more comedy? I have no idea.
Documentaries is another matter, everyday somebody pitches something to me. But not as far as comedy is concerned. I really don't know why that is. People don't have that perception of me as a comic actor anymore, I'm much better known for making documentaries. But what was nice about working on Plebs is I felt so at ease slotting back into that comedy field. I don't think I let the side down.
So would you like to do more acting?
Oh yes, absolutely. There isn't a particular role I'm looking for. For me it's more about what projects come in, you never really know you want something until it's put in front of you.
Would you consider TV, movies and theatre?
Yeah, I want to do it all! It's always the next thing as far as I'm concerned, I don't want the next thing to be like the thing I did before. People might say, "Yeah, but you did Time Team for twenty years", and that's true, but each episode was shot two or three weeks apart, so there was plenty of room to do other things, and indeed, each dig was very different, whereas if you did nine months in a soap, the challenges would be very similar all the time.
That's what I want, a variety of different challenges whether they are on the stage or writing scripts or writing a novel or doing comedy, or doing serious stuff.
Would you like to go to Hollywood?
I'd happily do a job swap for a while with one of the American stars who come over here to work in a West End theatre! I'd love to do a job swap and a house swap for a few months. Going to the US is not something I've done whereas the likes of Rowan Atkinson, Rik Mayall and Hugh Laurie, they've all had kind of a weighty part in a big movie. I haven't had that. It's not something I lay awake at night worrying about but it would be nice if something like that came in one day.
Would you do a reality show like Strictly Come Dancing?
No, dancing is my weakest thing. I can sing, but any dancing has to be really rudimentary. I have been asked to do those kind of shows but it just doesn't excite me. I watch them, but I don't want to be in them. Maybe I might have a crack at Love Island one day! Can you imagine?! I'd go down the gym for weeks before I did it so I'd be really toned up!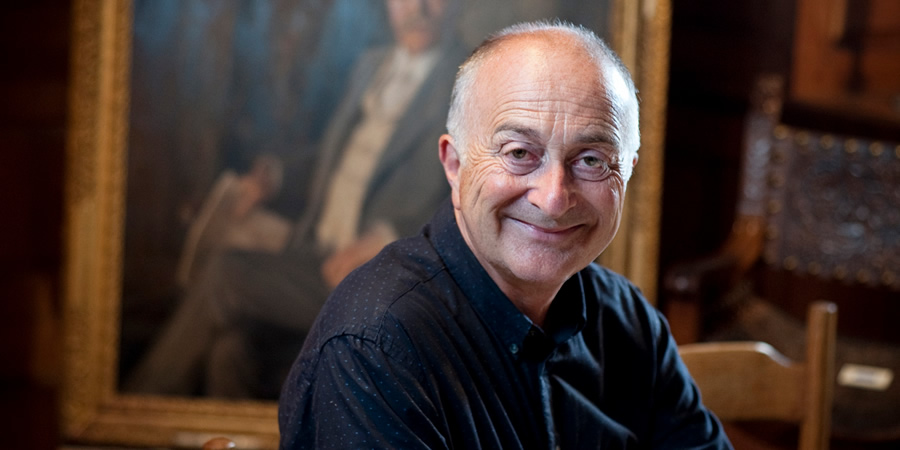 You're so well known, do you ever get fed up with being recognised and not having anonymity?
No I don't. Other people who are with me often do. It can be really quite tyrannical if you're out with mates and you're doing something all together, and they're constantly being asked if they would take a photo of me and some random person.
For me, I just switch into work mode with those people because it's part of my job, you need to give people their money's worth because without them, you wouldn't be earning your living. So I don't mind, but my mates often do. The big problem is that anyone over the age of 30 doesn't know how to work a camera phone and it often takes longer to get a selfie than it used to sign an autograph!
Has being knighted made any difference?
No, none, sadly! I thought the rest of my life would be full of upgrades, fabulous stuff which I would be gifted, and always getting a table at a restaurant. It doesn't work like that. I assumed people would bow! Seriously it was so wonderful to get that initial recognition because it meant the nation's Honours Committee had sat down and decided that I'd made a contribution to my country. That's pretty bloody nice, what a lovely thing to say and now that's permanently recorded in history.
It sounds like you have loads of plans so no sense of you retiring any time soon?
I doubt it. I've no desire to at all, no. You know, I suppose you fall over and do your hip, and that's it. That's it. But hopefully that will be 15 years away!
What keeps you excited about your career?
Constantly taking on new challenges and constantly trying to be better at what I do. It's about keeping the drive going, regardless of age. Age is irrelevant, totally irrelevant. My job gives me a buzz. You're going to be as good as you possibly can for as long as it's possible. It's a real privilege to do a job where you feel like that. So many people out there are counting the clock til lunch and home time. I'm lucky enough to love what I do, so why would I ever want to give that up if I don't have to?
---
Tony Robinson guest starred in Series 5, Episode 6 of Plebs. Episode guide