Series 3, Episode 5 - Hair Today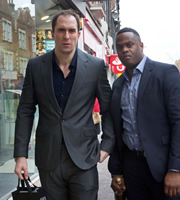 As a new shop opens on the high street, Jerwayne and Ashley believe they're witnessing the green shoots of recovery in their love life. Meanwhile Janine is making Lance look fabulous, and Christopher is... Hang on. Where is Christopher?
Broadcast details
Date

Thursday 22nd August 2013

Time

10pm

Channel

E4

Length

30 minutes
Repeats
Saturday 24th August 2013 at 00.20
Saturday 24th August 2013 at 23.05
Wednesday 28th August 2013 at 01.45
Saturday 22nd February 2014 at 01.35
Tuesday 25th March 2014 at 22.40 on 4Music
Wednesday 2nd April 2014 at 23.40 on 4Music
Monday 28th July 2014 at 23.50 on 4Music
Friday 14th November 2014 at 02.25
Saturday 15th November 2014 at 02.00
Sunday 13th September 2015 at 21.00 on London Live
Tuesday 15th September 2015 at 00.30 on London Live
Sunday 20th September 2015 at 02.00 on London Live
Sunday 27th December 2015 at 21.30 on London Live
Tuesday 29th December 2015 at 02.40 on London Live
Wednesday 3rd August 2016 at 21.30 on London Live
Friday 5th August 2016 at 02.25 on London Live
Saturday 6th August 2016 at 01.55 on London Live
Videos
Roll out the red carpet, the boys are doing their welcoming ting.