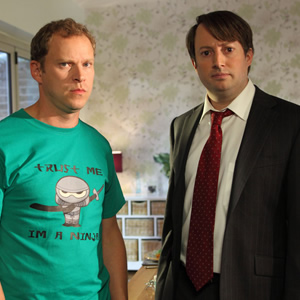 With Channel 4 sitcom Peep Show now ten years old, it seems a good time to focus on this first-person-view comedy...
Who would have dreamed, when Mark and Jez first walked into our lives, that ten years on Peep Show would not only still be going, but would be the longest running sitcom in Channel 4 history?
Little about Peep Show's success makes sense. Many sitcoms start small - but Peep Show has stayed that way, attaining rave critical reviews but continually meagre viewing figures. Stars David Mitchell and Robert Webb were relative unknowns on 19th September 2003. The Footlights graduates were perhaps more renowned as writers for Armstrong & Miller than anything else, with obscure satellite channel Play UK's The Mitchell And Webb Situation their only major TV roles at that time.
However, the duo are now undeniably huge successes, rarely off our screens for long and generally household names. Peep Show, meanwhile, remains a little-watched, cult series. Under normal circumstances, Mitchell & Webb would have ditched it years ago, having moved on to bigger things. That they haven't provides credence to a widely-held belief amongst Peep Show fans: that the series it is the best thing the duo have ever been in. Peep Show is not only one of the longest running British sitcoms in years, but arguably one of the finest sitcoms ever produced.
What is it?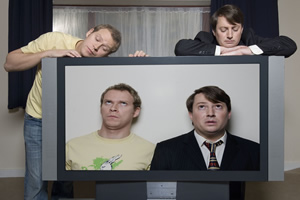 Part of the reason why Peep Show has never obtained a mass following might be its slightly odd format. The series had a strange inception: the Peep Show we know today is an amalgamation of writers Sam Bain and Jesse Armstrong's idea for a series called All Day Breakfast about two characters called Otto and Phil; and a slightly Beavis and Butt-head-type idea from Mitchell & Webb themselves, a show entirely based around two characters commenting on the TV screen in front of them, called POV.
The opening titles, in which sensibly dressed ("tight-fisted cockmuncher") Mark Corrigan (Mitchell) and his flatmate ("work-shy freeloader") Jeremy Usborne (Webb) look into their own images projected onto a TV screen, only hints at the show's premise and almost unique presentation style.
We, the audience, get to hear snatches of Mark and Jez's inner monologue. Indeed, much of the camera work is directly as if we are in their heads, seeing through their eyes, talking to - and being talked at by - the other characters. Early series often included sequences showing kissing or sex, reportedly a nightmare to film.
Eight series on, it's easy to forget that this idea is essentially what stops the show from being another Odd Couple/Likely Lads/Men Behaving Badly-style sitcom because, this act of genius aside, the set-up (two 20-to-30-something male flatmates) is very straightforward.
Very ordinary weirdos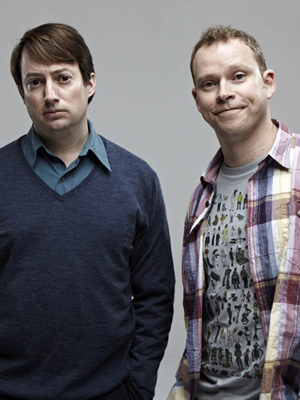 Few of us would socially survive having our innermost thoughts exposed in public. Even allowing for this, Mark and Jeremy's description as "very ordinary weirdos" in the initial publicity still seems remarkably apt.
From the start, Mark Corrigan is a straight-laced twenty-something manager for (fictional) company JLB Savings and Loans in Croydon. His interior monologue reveals an obsession with the Second World War and a love of order, both of which are completely unsettled by the apparently recent arrival of his ex-university 'friend', Jeremy 'Jez' Usborne, who has recently split up with his girlfriend, Big Suze (who is referred to from Episode 1, although she does not actually appear until the third series). He has no work ethic beyond rather romantic and unpromising ambitions towards a musical career.
Both Mark and Jez are, it would be fair to say, a mixed bag of emotions.
Mark is sometimes horrible. He is over the moon to learn that his work colleague - the admittedly horrible Jeff - has cheated on Sophie ("Oh. My. God. I've hit the motherlode. I can really fuck him with this!") and rushes off to tell Sophie with no real regard for her feelings (he walks off smiling). Later, he is too cowardly to confront her about the fact he doesn't want to marry her, humiliating her at the altar. He is similarly cowardly with his next girlfriend, totally failing to defend Dobby (Isy Suttie) from the horrendous attacks of his father at Christmas dinner. ("Could you not slip a muzzle on your woman, please Mark?")
Indeed, Mark's father (who, to date, we have only met once) seems to be the root of many of his issues. Mark is often quite a sad figure, for example revealing to an old school friend that the day recreating The Hitchhiker's Guide To The Galaxy at school was "probably the happiest day of my life", and on befriending Daryl (who subsequently turns out to be horrendously racist), exclaiming "I've got a friend! I've made a friend! Maybe there's nothing wrong with me and I'm just a normal human being!"
He does, however, seem fundamentally decent and particularly at ease with older people, such as Jeremy's potential father-in-law (who he almost agrees to write the memoirs of); ailing uncle; and mother, who Jez himself is monstrously rude to ("Mummy! Coffee! Fucking hurry upp-y!").
Jez is equally more than capable of total shittiness, revealing himself to have been a terrible bully to old school companion Gog (who, in fairness, now gives as good as he gets back), siding instinctively against his old friend Mark when he goes up against his old school nemesis at a reunion party, and locking a sick Mark in his bedroom to prevent him interrupting his own "shroom" party in the flat.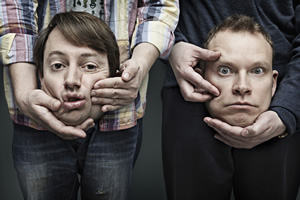 He is also totally ruled by his libido, with no thought for the consequences. In turn, he shags the accused in a trial which he is supposed to be on the jury for; Mark's prospective mother-in-law (admittedly after she comes on very strongly to him); Mark's sister; and Sophie, Mark's fiancée, herself (off camera). Guilt over the last act does at least push Jez to the point that (in one of the series' more farfetched plot developments) he joins a cult.
Mark too suffers a near breakdown, being caught urinating over some office paperwork after Sophie gets a promotion he expected to receive: "This is a good idea! It couldn't possibly be a bad idea!". The parallels don't end there...
Both also experience doubts over their sexuality: Jez doing "the bad thing" with Super Hans and later becoming strangely drawn to Big Suze's new boyfriend, Stu. Mark, meanwhile, becomes somewhat mesmerised by dynamic work colleague Alan Johnson.
Both men have unsuccessful experiences with marriage. Jez weds American free-spirit Nancy, with whom he is desperately in love, although she only needs him for visa reasons; while Mark jilts long-term love interest Sophie at the altar.
Ten years on and Mark has a baby with Sophie, whilst JLB has gone bust. But little else has changed, and there has certainly not been any perceptible maturing. As Jez graphically puts it when moving back in after a brief spell away from the flat: "You're my mummy again now!" (And in his head): "And I'm going to have to suck on your dry teat forever!"
Friends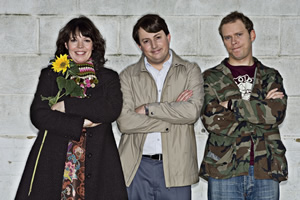 It's not just Mark and Jez though. Few characters in Peep Show are normal. Randoms like Jez's stepfather's daughter (who rapes Mark) and the two girls they meet on a canal boat holiday with a dog named 'Mummy' are decidedly average examples of the oddballs the duo regularly encounter.
Sophie, played by Olivia Colman, is at least normal to start with. Then, following a move to Bristol, she becomes very bohemian; then intense and controlling over her engagement; a total daddy's girl on visiting home; before finally being something of a mess post-baby and post-jilting. Perhaps understandably.
Colman has now left the show, enjoying huge success since in TV dramas and critically acclaimed motion pictures such as Broadchurch and Tyrannosaur.
One must also question why Jez's menacing and unreliable friend Super Hans (Matt King) is "super"? A mysterious character (he at one point suddenly reveals that he has twins and seems to have some secret back story which is never revealed), his name is perhaps the least odd thing about him.
Along with the career obsessed Johnson, confused new-ager Nancy, Eastern European temptress Elena and Mark's geeky love rival Gerard, perhaps it's just as well we don't get access to any other characters' internal dialogue.
A rocky path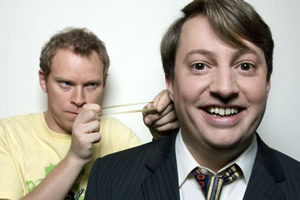 In the early years, Peep Show remained under constant threat of cancellation by Channel 4. However, everything changed in 2006. Not because Peep Show took off: it didn't, despite a good fourth series which included the all time classic 'dog killing' episode. Nor was it a publicity boost from Mitchell & Webb's film debut Magicians, despite a script also from Bain & Armstrong.
No, the difference came with the duo's casting in a series of high profile TV ads for Apple Mac computers, plus their new BBC television sketch show, That Mitchell And Webb Look. Although it rarely received the same acclaim as Peep Show, the sketch series - which featured a cast almost entirely recognisable from Peep Show - immeasurably boosted the duo's profile, making the pair mainstream comedy stars. Then Mitchell revealed a talent for radio and TV panel shows.
With the duo changed into the indisputably famous, Channel 4 feared they would be poached permanently by another broadcaster and commissioned two further series of the cult sitcom. To a minority of fans the series was spoiled. The duo were now 'Mitchell & Webb' not Mark & Jez - but the practical upshot of their new-found fame was the saving of Peep Show.


Show's over?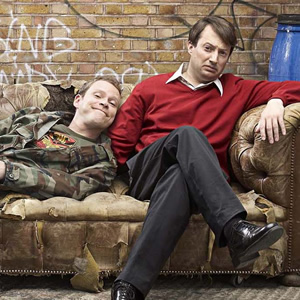 In the past, Robert Webb has hinted that Peep Show is the sort of thing he and David Mitchell could do "forever". More recently, however, he has publicly alluded to growing feeling that the next series - Series 9 - will probably be the last.
In a forthcoming interview, due to be published on this website next week, David Mitchell makes much the same intimation.
Perhaps it is for the best. Writers Bain & Armstrong have enjoyed success elsewhere with the likes of Fresh Meat and The Thick Of It and have other projects on the horizon like Babylon. Meanwhile, Mitchell & Webb are returning to Radio 4 for a new run of sketch show That Mitchell & Webb Sound and the pair will soon star in new BBC Two comedy Our Men. Perhaps it is time for Peep Show to reach its natural conclusion?
Whatever happens, it is almost certain that Peep Show has a permanent seat in the pantheon of great British comedies.
Three select quotes

"Jeremy, there are many things I would do to help you, but digging a hole in the wintry earth with my bare hands so that you can bury the corpse of a dog you've killed is not one of them." - Mark Corrigan
"Brilliant, Mark. My mate and your woman have just gone off to fuck each other. What are we going to do now? Go and make a tent in the living room and eat Dairylea? Is that what you want? Because that's what's going to happen!" - Jez
"Yeah, right; when was the last time I got off with someone at a party? - Well, there was Carol Banana-Face... but that was just a macabre charade." - Mark Corrigan
Published: Thursday 19th September 2013