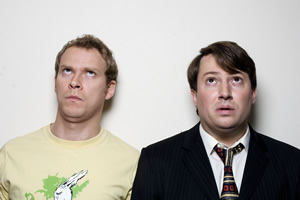 Written by Jesse Armstrong and Sam Bain, Peep Show is an award-winning and critically acclaimed British sitcom starring David Mitchell and Robert Webb. This Channel 4 comedy follows the private world of Mark (Mitchell) and Jeremy (Webb), two flat-mates living in south London.
Mark is the sensible one, a professional brogue wearer with a slightly disconcerting interest in World War Two. Jeremy is the loose cannon, a lazy waster with dodgy friends who dreams of becoming a musician but can never get his act together, or even get up in the morning.
Peep Show starts just after Jeremy (aka 'Jez') is thrown out by his ex 'Big Suze'. He moves in with Mark, his old college friend, despite the fact Mark's no-pain-no-gain view of the world isn't a view he holds. Socially dysfunctional in their different ways, Mark and Jeremy soon form an unhealthy reliance on one another - a dependence that can turn to frustration. To further complicate their existence, Mark - in his cack-handed way - is in pursuit of the love of his life, co-worker Sophie, while Jeremy lives in awe of his idiotic and manipulative mate Super Hans and their beautiful but brittle neighbour Toni.
After two series, Mark finally got together with his beloved Sophie but soon became distraught when she's relocated to Bristol. He tries everything to maintain their relationship, from mild stalking to a botched session of phone sex. Meanwhile, Jeremy's beautiful ex-girlfriend, Big Suze, steps back into his life. However, this doesn't stop Jez from embarking on a series of totally misjudged relationships. Along the way he falls for a troublesome defendant while he's on jury duty, and, horror of horrors, Mark's younger sister. Mark and Jeremy also deal with intimidating plumbers, get friends sectioned, and face up to scary teenage muggers in the 2005 series.
By the end of the third series Mark and Sophie's relationship had stagnated, to a point where Mark no longer wanted to get married. However in the last episode of the season he 'accidentally' proposed to her (she had found a ring he'd bought earlier) and, being too embarrassed to admit the truth, kept quiet.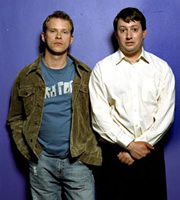 The fourth series, which arrived fifteen months later in 2007, started with Mark having to face up to this horror of actually having to go through with the wedding he didn't want... Meanwhile Nancy, Jeremy's beautiful ex 'visa wife' unexpectedly turns up again and Jez makes an attempt to win her back. The six episodes also see Mark spent a horrific weekend with Sophie's argumentative parents, trying to get his gym instructor sacked, and getting involved in a spot of arson. Meanwhile, Jeremy performed some 'handy work' for a male pop star, did something pretty unspeakable to a dog and, worst of all, slept with Sophie's mother.
The final episode in that series saw Mark finally have to make a decision as to whether to own up to Sophie that he didn't love her, or hold his tounge and go through with the wedding to avoid the embarrasment and problems associated with cancelling it all at the last moment.
Series 5 found Mark and Jeremy still sharing the same flat, but both entering their 30s with failed marriages behind them, few prospects, and a sense of impending crisis. Time appeared to be running out for them to sort out their lives. Mark faced the horror of having to face his estranged wife at work. Meanwhile Jeremy had a rude awakening when the money he's been subsisting on finally ran out and he was forced to try and find a new source of income.
Jeremy's mother appears on the scene during series five too, and it soon becomes clear why he's ended up as he is. The comedy also sees Mark go speed dating and discovering in the process that money can buy you love; Jeremy and Superhans playing at a Christian rock festival and the boys having to endure their worst night out ever... an evening at the theatre - oh the humanity!
In Series 6, having discovered that Sophie is pregnant, Mark and Jeremy have to face up to the possibility that either one of them might be the father. How will this affect Mark's pursuit of Dobby, the attractive IT worker at JLB Credit where Mark works?
In Series 7 we observe as Mark gets to grips with the fact he has become a father. Burdened with a new and frightening responsibility, he finds that he can't get a decent job and is forced to continue to work as a waiter. Jeremy, on the other hand, stumbles upon a new and exciting source of income, power and responsibility. Miraculously walking away from the wreckage of his affair with Elena, Jeremy also meets a new love interest.
In Series 8, which arrived in November 2012, the story picked up where it was left at the end of Series 7 when, on New Year's Eve, Mark asked his girlfriend Dobby to move in with him. She agreed, and Jeremy was faced with the prospect of moving out to make way. It's a month or so later, and Mark is still waiting for Jeremy to leave. In the meantime, Mark is becoming increasingly jealous of Gerrard, his rival for Dobby's affections. But because Gerrard is so sickly, Dobby constantly visits his flat to look after him, and Mark is beginning to worry that she'll move in with his rival instead. Meanwhile Jeremy, realising that his life to date has amounted to very little, decides to visit a therapist. When Mark gets himself a job in a bathroom fittings shop, and Jeremy finds therapy beneficial, things begin to take a positive turn - until, that is, an unforeseen tragic event hits them both like a bolt from the blue.
The final Series 9 begins some time after Series 8: last time we saw Mark and Jeremy they had just been mildly electrocuted in a field, abandoned by Dobby despite their declarations of love. It looked like the end of the El Dude Brothers. But time has passed, and while Jez has some rather constrictive new living quarters, and Mark has a new flatmate and has landed a bank job, it seems that the wounds have not yet healed. Jeremy is reluctant to apologise, at least until the right time is right. Mark on the other hand - content thanks to Napoleon's correspondence - is determined not to show any emotional scars. The pair have to put their differences aside however in order to celebrate with a newly clean and healthy Super Hans. But despite his best efforts a good detox can only last so long. When Jeremy goes cap in hand to ask for a loan it appears Mark might have his chance for revenge...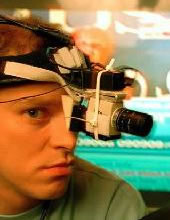 To achieve the effect of watching the lives of Mark and Jeremy through their own eyes, Peep Show's producers utilised new filming technology. Much of the filming in the first series and part of the second series was carried out with the actors wearing head cameras (like the one pictured). The viewers did not see this apparatus because the actors obviously do not wear their head gear whilst they were in front of camera. This process made for a time consuming production schedule and the quality of the filmed footage was poor, so in the later series the head cameras have been used less - instead the actors talk directly into a normal camera (as, according to Webb, this produces the same effect but is easier to do, and the picture quality is better).
Whilst the camera work makes for interesting viewing it is the embarrassing situations, excruciating faux pas and the character's tactless and offensive inner monologues that make this sitcom the cult classic that it is.
Since first being broadcast in 2003, the show has picked up a number of accolades - most notably the Golden Rose at The Lucerne Television Festival 2004 for Best European Sitcom, the 2006 British Comedy Award for Best TV Comedy, and the 2008 BAFTA for TV Sitcom.
A number of comedians are said to be fans - a few years ago Ricky Gervais told a magazine that he thought thought that Peep Show, and not his own Christmas episode of The Office, should have won the 2004 BAFTA for Best Situation Comedy.
Despite the praise and publicity, and a now fairly substantial dedicated cult fan base this programme has never been a big hit in terms of audience figures. Peep Show's ratings have, to date, remained modest at best. In fact in early 2006 it looked like the show was heading for the axe when Channel 4 announced they were disappointed with the ratings of the third series. However, thankfully 'the suits' at Channel 4 realised just in time they were about to terminate a modern classic and so changed their minds. As a result, a fourth series was indeed filmed and, in what represented a major U-turn for the broadcaster, in early 2007 the network shocked the industry by announcing they'd commissioned the fifth season before the fourth had even aired. A very bold move which demonstrates the network had thankfully fully re-gained their faith in this great comedy.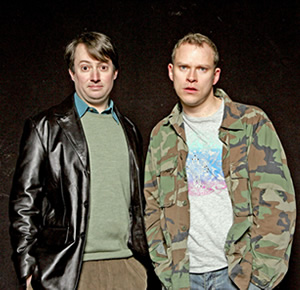 News finally came in 2010 of the show's conclusion, with just two final series to follow. In April 2008 Webb had said: We would like to keep going for as long as we possibly can because it's rare to find something that works like this. There's lots of ideas for sitcoms but not many of them work. We've always wanted to keep going. Mitchell added: I think it's a lot harder to come up with an idea for a sitcom that works than keep one going. Also look at people's careers. No-one has done eight great sitcoms. The great people have two or three, most people have done none. When you've got something that works, use it, or you'll regret.
Interestingly the initial premise of Peep Show was somewhat different than the show we see in front of us now. David Mitchell explains: The original idea was for the show to be based around two people watching television, and it being shot from their chairs, so you see the screen from their point of view, and the channel-hopping crap they watch, and you hear them comment on it. And then we thought, 'wouldn't it be nice if you could find out a bit about the lives of the guys watching' - and then the more we thought about these lives, the more we thought 'well let's just see their days, in the same way that we're seeing the television', so we see their days through their eyes, and hear their thoughts and reactions to it as their day progresses. As the idea developed, the watching-TV element became smaller and smaller, and the following-their-day element became larger and larger.
Robert Webb describes Jeremy, his character, as vain, idle, delusional, but basically a nice bloke. So how much of Robert Webb does he put into the character he plays? Jez has difficulty walking past the mirror without having a quick look, and I suppose there's a bit of that in me. And I can be a bit unmotivated sometimes - that's why I've got David there. But I suppose the main difference is that Jeremy is totally deluded about the extent of his own artistic abilities, and I've got a fairly realistic idea of my own limits.
Even David is prepared to admit to sharing the odd trait with the astonishingly tragic Mark. I think both Mark and Jeremy have elements of me and Robert, and elements of Sam and Jesse, the writers. The bad side of all of us, I hope. Definitely the obsessive self-hating side of Mark is something that I can recognise in myself some of the time - but hopefully not as much as him!
Witnessing Mark and Jeremy's attempts to impress members of the opposite sex is almost unbearably painful. One can only pray that Robert and David aren't drawing on personal experience in their portrayals?...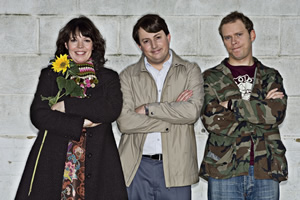 My problem has always been being too scared to do anything about things, reveals David. I've just been miserable and alone for a lot of my life, rather than actually having the gumption to become very embarrassing. So in a way, Mark is more courageous than I am. Having said that, in the few short weeks of his life that the show encapsulates, there's enough eye-watering embarrassment to last a lifetime from my point of view. So maybe lacking gumption isn't such a bad thing - at least I've not had to share any of those experiences.
Robert, too, insists he's been spared the nightmare of abject humiliation. I've been turned down a couple of times, but that wasn't so much embarrassing as baffling... he jokes. I've been with someone for eight years, and so I'm not really in practice. It only just finished, so I'm still thinking about getting back on the saddle... or whatever you call it. The bike? The horse? Whatever word doesn't sound like I'm calling someone a horse!
In a case of life imitating art, like Jez and Mark, Robert and David met at University. We met eight years ago, explains Robert. We both did comedy as students, and were both in a revue group called Footlights. We went on to do a show, just the two of us, and that went really well. Then, when we left, we did fringe shows around London and in Edinburgh. From there, we got an agent and started meeting producers, and started writing and acting.
It immediately becomes clear that these two take little seriously, including themselves and their success. They are about as far as you can get from the comedic archetype of the funnyman who is serious, dour and miserable away from the cameras. Their answers are peppered with jokes, usually at their own expense, and they interrupt each other constantly, with the confidence and familiarity of old friends who have been working together since they met at Cambridge nearly ten years ago. Little did they know then, as members of the infamous Cambridge Footlights, that they'd be following in the footsteps of some of the society's more celebrated alumni.
It's been unbelievable, says Robert. We never expected to get nominations and awards and all of that stuff. We always thought it was a funny script but we just felt like it was 'our little show' and no one was really going to watch it. They began to sense that things might go their way when the initial reviews came out in the papers. We were optimistic but frightened, says David. I avoided opening the paper until someone rang up and said there was something good.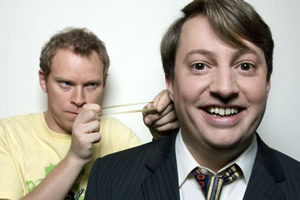 Do Robert and David ever get accused of being total losers by people who think they are as sad as their characters? It's not really a problem, answers Robert. We don't have too many old dears watching the show who get confused between fiction and reality. I think the Peep Show audience likes to think they're pretty sophisticated and indeed they are! The one mistake people make is that they assume we write it. So if we're feeling generous, we correct them.
Although Robert and David are involved in general plot development and story ideas it is Jesse Armstrong and Sam Bain who write the scripts. We get to do all the nice bits while the writers do all the hard work, Robert explains. They might come to us wanting help with a few lines after the script is written. We give them suggestions, which they then ignore. David adds: [/q]On set occasionally we refuse to say something, and there's nothing anyone can do, and people stand around for hours and eventually start crying. It's brilliant.[/q]
So it wasn't Robert's idea to set up his character with Nancy, the incredibly beautiful American girl? [/q]I really, really mustn't grumble, but it wasn't especially my idea, no. Of course, with the nature of the point-of-view filming, I'm basically having sex with a cameraman for most of the series, so it's not quite the cushy deal it seems.[/q]
Talking of all the sex, what were their families first impressions of the series? I think my parents thought it was good, but they didn't exactly enjoy it. We do a Radio 4 show (That Mitchell and Webb Sound); I think that's a little more up their street, says David.
There was a really horrific moment where I made the fatal error of being at home in Lincolnshire, where I come from, and my younger sister was there with her two teenage friends, cringes Robert. They'd taped the previous night's episode, and I was just ambushed, and they decided they were going to watch it while I was there. It was episode two... where I do the nude walk by Mark's bedroom. I had to hide behind a cushion!
Still, that's a better one to see than the one where you're being sucked off by Super Hans, shouts David happily. Yeah, I suppose. And I'd rather they saw that than us snogging each other, counters Robert. I'm still in therapy!