Derek Trotter has written his autobiography, 'He Who Dares'. In this extract from the book, Del talks about when Rodney was in charge of finances at Trotters Independent Traders and some of the deals they did then...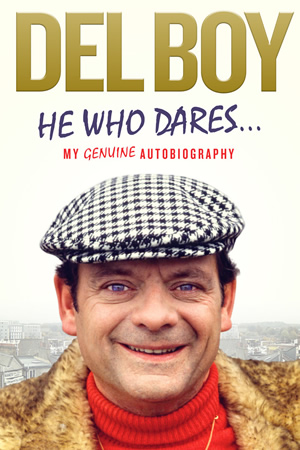 The key to success when you're a man of business is following your gut. You look at some gear and know whether it'll sell or not. You look at your pitch and know if it's the right spot. It's an animal instinct, like when a lion looks at a pack of gazettes and knows deep down which one it has the best chance of giving a right good chew. That's me: the lion of business, keeping the flies off and getting the charcoal lit on the barbecue for another piece of deer steak. I'm not perfect of course, sometimes even I make the wrong decision. I'll give you an example: the day I made Rodney my financial advisor.
Right off the bat he started trying to mess my system up by introducing things like order and morals into the equation. He even started keeping receipts! Then he started whinging that I was cheating him somehow. Well, it hurt. I explained to him that as brothers everything between us was split straight down the middle, 60/40, and then he gave me a lecture on the bleedin' government. I couldn't believe it. Here I was paying him a wage to advise me financially and all I was getting was a load of verbal. Still, it didn't go too badly, in the first week he only set me back two hundred quid.
I'd decided that it was time for Trotters Independent Traders to expand. Flogging at the market was all well and good but I wanted to build empires! I wanted to start moving into a wide range of bespoke, high-end retail opportunities. Class goods aimed at an exclusive clientele. So I bought a second-hand Cortina off Boycie. Vintage automobiles would be the first of Trotters Independent Traders' new commercial ventures.
I'd seen worse cars. I owned one. But with a bit of TLC and a lot of wax I reckoned we could make ourselves a killing. In fact, Rodney nearly did exactly that driving it back to the estate. Apparently the brakes were a bit soft, but then so was he, so it's hard to say where the blame really lay.
It had its faults (windows, gearbox, brakes, exhaust pipe, upholstery and engine), but it was at least a challenge, and there's nothing Derek Trotter likes more than a challenge. So I set my refurbishment team on the task and, after a day of moaning, he'd got it scrubbed up a treat.
Priced at a highly competitive figure, it wasn't long before it was snapped up by a connoisseur of vintage vehicles. It wasn't long before he crashed it either, but I can't be blamed for that, he was Australian, he was probably driving upside down or something.
I must admit it took the wind out of my sails a bit.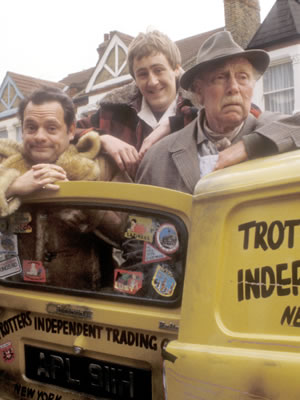 Then I struck lucky during a high-powered business meeting down the Nag's Head. That's the other important rule about business, know an opportunity when you're looking at one and grab it. So, when I heard a very important local business leader, Crinkle-Cut Billings, moaning about how hard it was to hire a nightwatchman for the local bus depot, I knew I could help. Business ain't just about taking, sometimes you have to put yourself out a bit too, you have to be generous and think of others. So I bought him 'alf a mild and told him Rodney would be there by six o'clock the following evening.
Even better, I didn't do the deal for cash, I did a trade! He got a security guard, a man with extensive military experience (Rodders had been soppy for Action Men when he was a kid. I say Action Men, they were actually knock-off Barbies I'd painted beards on, but he loved 'em, even if they were a bit confusing). In return I got the use of a double-decker bus for my next brilliant plan: Trotters Ethnic Tours.
If I had to pick the best of the brilliant ideas I've had over the years I couldn't. I've had too many. Don't get me wrong, I'm not being vain (although I've probably got every right to be), it's just I'm the kind of bloke who has several industry-revolutionising ideas before he's finished his Weetabix. If I'd only had the time and the financial backing I could have changed the world. Trotters Ethnic Tours was definitely a corker though, way ahead of its time, that's the reason it didn't work. Well, that and the fact I trusted Grandad to do something properly.
You look at holidays nowadays and they're all about adventure, getting your flip-flops lost in mud pits or breaking your guts open on deep-fried grasshoppers (if you wanna challenge your guts then pop down the Star of Bengal and try one of their specials, that'll keep your holes busy for forty-eight hours). Not that I was being as adventurous as all that, I just wanted to show people the alternative London. Your average tourist was fed up with all that Houses of Parliament, Buck House and National Galleries guff.
Once you've seen one Rubens, you've seen 'em all, ain't you? I was going to offer them the romantic places they'd only heard of in fairy tales, like the Lea Valley Viaduct, the glow of Lower Edmonton at dusk, the excitement of a walkabout in Croydon.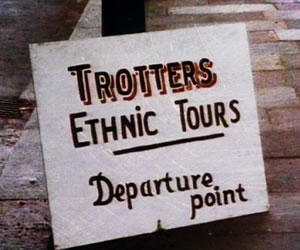 Of course, my new financial advisor was slow to see the potential, even having a pop at my brilliant new leaflets.
'What's all this squiggly stuff and the Chinese?' he asked. I explained to him that the squiggly stuff was Arabic and that the Chinese was actually Japanese. It's a well-known fact that ninety per cent of all foreign tourists come from abroad, and we weren't gonna get anywhere if we didn't try and speak their lingo. Mind you, if Rodney was hard to convince, Grandad was worse, the saucy old goat actually bet me fifty quid that nobody would turn up. Course, I took him up on it 'cos I knew I was onto a winner. And I was. But you just can't rely on people, can you?
I'd planned a whole day of exciting events, taking the punters to see the house where Sherlock Holmes was born, the cemetery where Jack the Ripper was buried, the summit of Mount Pleasant... What I ended up doing was standing on a bus all day with a pair of divs, 'cos instead of handing all the leaflets out to hotels and B&Bs like he was supposed to, Grandad went and dumped the lot down the rubbish chute. What a way to win a bet, eh.
'He Who Dares', printed by Peckham Press, is in shops now. Buy from Amazon
Published: Thursday 29th October 2015