Del Boy - You Know It Makes Sense: Lessons From The Derek Trotter School Of Business (And Life)
Au Revois!
The name's Trotter, Derek Trotter, and the world of business is my speciality. When it comes to the art of closing deals I've been around the track more times than a lurcher. Not only have I been there, done it and bought the t-shirt, I've gone back round to do it again, printed my own t-shirts, knocked 'em out at ridiculously low prices and cut the competition out of the market.
But the commodities game ain't all champagne and skittles. It's a rocky road full of potholes, speed cameras, people who don't indicate, mouthy cyclists, and all sorts of obstacles designed to get on your tits. You Know It Makes Sense is the definitive business guide, designed pacifically to help steer you in the right direction. Packed full of insider knowledge, tips and warnings, think of it as your personal stat-nav on the corporate highway.
And whether you're a director, middle management, a junior staff hotshot, or the one that fetches the sandwiches, it will help you get to where you're going.
First published: Thursday 1st November 2018
Publisher: Ebury Press
Pages: 320
Catalogue: 9781785037627
Buy and sell old and new items
Search for this product on eBay
It looks like you're in the US? Fear not! Almost everything can still be ordered.
Amazon UK
deliver internationally,
Amazon.com
carries many items separately, or you can look out for US/Canadian flags on our product listings for direct links.
If ordering from a UK store, please note that you are in Region 1 (DVD)/Region A (Blu-ray), whilst the UK is in Region 2/B, respectively. This means that many - but by no means all - may fail to play. Look for products marked "Region free", "All regions", "Region 0" or "Multi-region". Blu-rays may also be marked "Region A/B/C", or variations thereof. You may also check whether your DVD/Blu-ray player supports multi-region playback (also referred to as "region free"), or whether it can be set to do so. There should, of course, be no problems with books, CDs, or other physical items.
More advice & help on importing
See also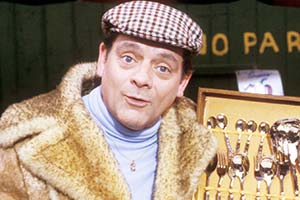 Saturday 14th July 2018
A second book written as the character Del Boy from Only Fools And Horses is to be released. Lessons From The Derek Trotter School of Business (And Life) will be released in November.