The Only An Excuse? team are ready for their annual Hogmanay sketch show...
Jonathan Watson
How's this year's show looking?
I usually get along to the audience screening of the programme but this year is the first time I've ever missed it. The screening coincided with the press night of the panto I'm in this year, Jack and the Beanstalk at the King's Theatre, so I couldn't get along to the cinema. But the production team have told me there was a very positive response and we're very happy with the content, so hopefully it'll go down a treat with audiences again on Hogmanay.
There are some familiar faces from Scottish comedy this year. Louise McCarthy has been part of the team for a few years and Alex Norton, Joy McAvoy and Mark Cox are on board for the 2019 show. How did the newcomers fit in?
Louise has been a valued member of the Only An Excuse? squad for a number of years and obviously I know Alex and Joy from Two Doors Down. It was the first time I've ever worked with Mark and he fitted in perfectly too. It was a really good group this year and everybody brought something new and fresh to the sketches.
In this year's show there's a mash-up between two iconic cop shows, Taggart and Line Of Duty. How did that come about?
For a couple of years there's been talk of us doing a Line Of Duty sketch. It's such a big show and of course one of the main characters - DS Arnott - is played by Martin Compston. I was only keen on doing it if there was a really strong hook or we could play it in a novel way. Having Alex in the cast and with him being up for reprising his Taggart role gave us the perfect opportunity.
I don't want to give too much away but let's just say there's a bit of the tough questioning that Line Of Duty is famous for when Taggart comes face-to-face with DS Arnott. It seems to have gone down well in the audience screening so hopefully people will enjoy it on the night.
I'm a huge fan of Line Of Duty - but I don't expect to be offered a part after this! I think it's the first time Alex has been in a send-up of Taggart and he was really up for it.
Jurgen Klopp is one of the new characters this year. What were the qualities that secured him a place in the OAE? line-up?
He's a larger-than-life figure in the game. I really like him - he's entertaining as well as being brilliant at his job. We've done our own take on him and his analysis includes a wee observation on what's happening on the pitch with our national team. The hardest part about doing the Klopp impression was keeping the teeth in!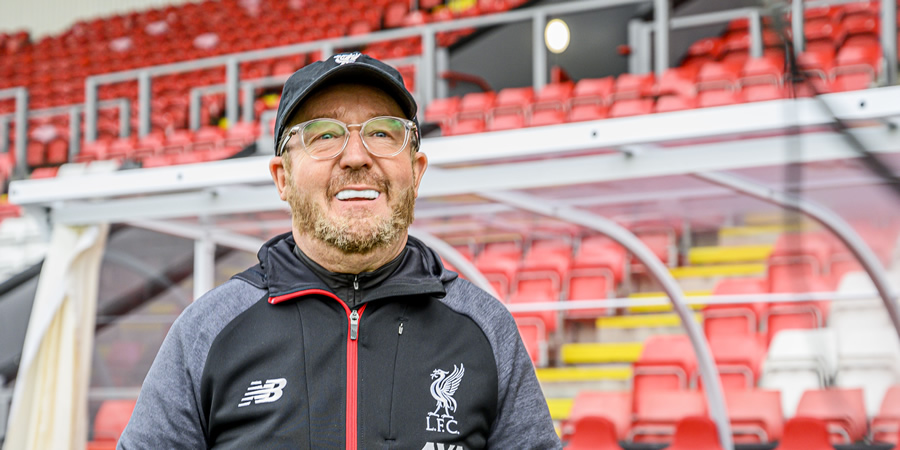 Who else is new?
Ian Blackford makes an appearance for the first time this year as he's been quite prominent in Parliament with all the big political stories that have been happening. The election result no doubt means he'll be in the news in the coming months too. I went back into the edit after the election because a few more lines were added to the script to bring the political story bang up to date. Although the show will always have its roots in football in the last few years we've been encouraged to add more political satire and spoofs from entertainment into the mix.
What have been the highlights of 2019 and what's coming up next year?
It has been a good year - I've had a variety of roles which I've really enjoyed. One which stands out for me was being part of the cast of Fibres by Frances Poet which was a Stellar Quines/Citizens Theatre co-production about the impact that asbestosis had on the shipbuilding community. It toured Glasgow and the West of Scotland throughout autumn. It's also been great getting to work with Annie Griffin again on the comedy pilot Group, which goes out early in the New Year on BBC One Scotland. It's about a group of addicts and has been written by Annie and Denise Mina. I've worked with Annie on a number of projects and I love her approach, using improvisation and workshops, so I'm looking forward to that going out.
Alex Norton
What did you make of the Only An Excuse? experience?
It was terrific. Johnnie asked me whether I would be interested in joining the cast when we were doing the most recent series of Two Doors Down. I'm an admirer of Johnnie's comic talent so I said yes - but that I wasn't sure what I could contribute in terms of football stuff as I've never been a fan of the game or any team. That was the main reason I had to leave Glasgow when I was younger - it was the embarrassment and shame of not being either a Celtic or Rangers man!
So, not being a footie fan didn't hold you back?
Not at all, because Only An Excuse? is a very funny sketch show about football but other things as well. It's always been a disappointment of mine that I'd never been in one of the big sketch shows from Scotland before. There have been plenty made in Scotland down the years and there was always a little bit of jealousy that I'd never been in them, because I loved them. I was a regular cast member of the kids series Playaway for several years, which was very much in the sketch show tradition - so I was well used to working in that style. What was great about doing Johnnie's show was remembering how much I loved working in the sketch show format and having the opportunity to become part of an iconic show that's a fixture of Hogmanay.
How was the team?
They were very welcoming and open to ideas and discussions about how to do the scenes. It was collaborative and I love working like that. I said to Johnnie I hadn't enjoyed anything as much as this in a long time.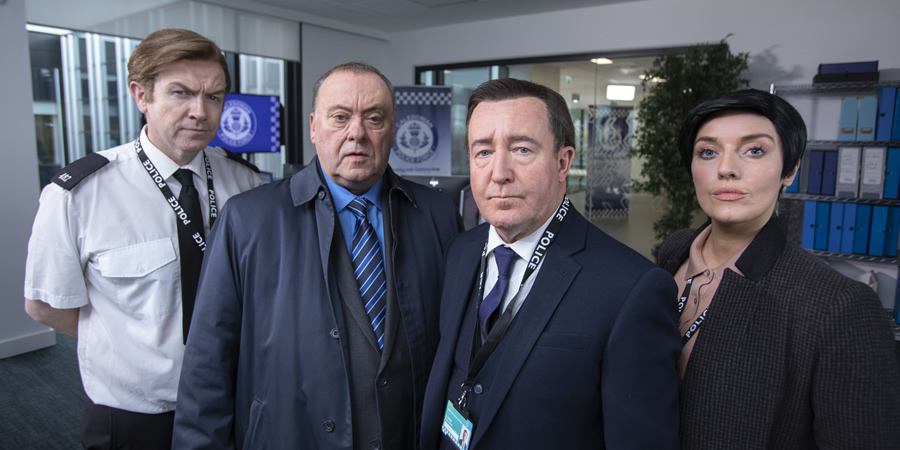 How did you feel about getting back into Taggart mode for the Line Of Duty sketch?
It was wonderful - I really enjoyed it. It was a bit strange at first when they got me the gear - the coat, the dark shirt - and I looked in the dressing room mirror to see that character emerge again after so long. I have to say there was a bit of a thrill. I played it straight again, but this time DI Matt Burke finds himself in a different police series!
What's your normal Hogmanay?
We've had a house in the south of France for a few years and we normally go down there after spending Christmas in London. I actually wasn't that familiar with Only An Excuse? as I usually missed it because we were down south or out of the country at New Year, but I'll be able to catch up now we're all digital.
How has 2019 been?
It's been fairly quiet as we didn't film Two Doors Down during the year. But I don't mind that as I'm never short of things to do and it means my wife and I were able to spend more time in France.
What's coming up for next year?
I've been doing a lot of voice work including for video games so that will continue. My son is just back from Japan where he has been teaching English for a year and a half to 12 to 14 year-old kids. The video games scene is huge out there and when he told them his dad plays the king in one of their favourite games they went absolutely wild! They couldn't believe it.
Louise McCarthy
This is your fifth year on OAE?. What do you like about working on the show?
I love working with Johnnie. To be working with someone who is so at the top of their game is a total pleasure. You can learn so much from Johnnie during the Only An Excuse? shoot. He's always very generous with his time, very supportive. I first worked with him in National Theatre of Scotland production, Yer Granny, six years ago and that's when he first mentioned the possibility of working on the show. It has been the same crew for years as well - it's like going for a day out with your pals.
Have you previously worked with the other cast who are in this year's show?
I was actually on the first day of filming for Two Doors Down. I played a nurse examining Alex Norton's character Eric who had come in to have his testicles checked out! But it was my first time working with Joy and Mark and that was fabulous. It was nice to be working with a load of folk with well-kent faces.
Have you any favourites among the characters and sketches that you've done?
There have been so many but a few years ago I did Michelle Mone when she became Baroness of Mayfair. We had a bit of fun, mixing up her posh side with the fact that she's from the East End. But I actually enjoying watching other people's stuff more than my own!
You're also Shelley Kerr this year?
Yes, she was iconic to play because of what she has done for women's football. The thing about Only An Excuse? is that it's a compliment if you're portrayed on the show. We're saying that you've done something so great that we want to showcase it - in our own way. We do the sketches with respect and with good humour.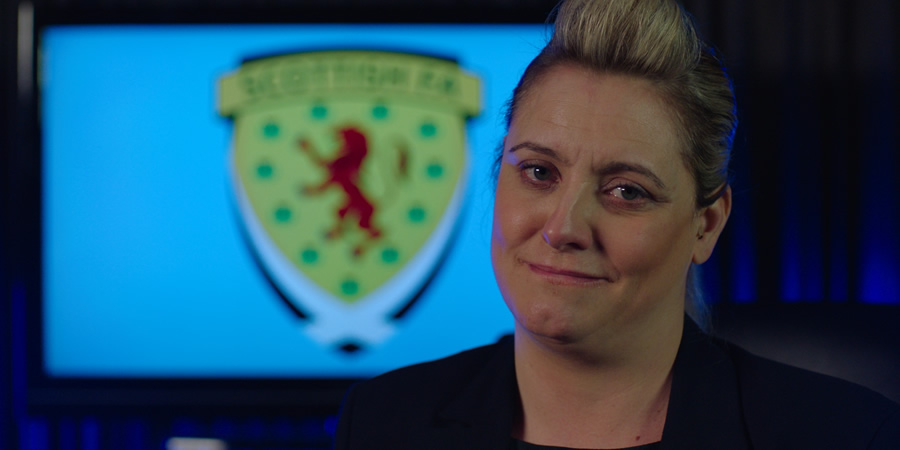 Are you a football fan?
Not really, but if I were to follow a team I suppose it would be Partick Thistle because I'm from Maryhill. I'd keep it neutral and stick with my home town. I stay up to date with the latest football news as part of my research for the show, though.
What do you think of the mix of sketches?
It's great that there's a variety from politics and entertainment to what's happening on social media. The football will always be a big part of the show, but you can get your teeth into other subjects as well.
How will you celebrate New Year?
I used to watch the Steamie at Hogmanay, but I don't need to this year because I'll be in it! I'm playing Magrit in The Steamie at the Hydro and that finishes with an afternoon show on Hogmanay. But I won't be going out partying this year. We've had a wee boy, Danny, this year so we're just going to have a quiet one in the house. I've told my pals and some of the cast to come around and I'll make them steak pies before they go off to the dancing.
Will you get to watch Only An Excuse? as it goes out?
I don't want to be the one to say 'can we watch it?' because that's a bit of a riddy. Normally my mum and dad come around so they'll want to watch it. My dad is a big football fan so he'll definitely find the remote. I don't like watching myself but I like to see how other people respond to it.
What do you have lined up for 2020?
We'll film the new series of Scot Squad in January and I've also done a comedy pilot, The Scotts, written by Rab Florence and Iain Connell, which will go out in the next few weeks on BBC One Scotland. I loved doing it and I'm excited to see the reaction.
Mark Cox
Is this the first time you've worked with Johnnie and other members of the OAE? cast?
My very first time - and I was made very welcome. I had a great time with Johnnie, Joy, Lou and Alex and everyone else involved. It was good to see director Noddy Davidson and producer Rab Christie from the Chewin' The Fat days. It was a treat to work with producer Phil Differ too - good man, Big Phil.
How did it come about?
My agent got in touch, sent the scripts over and I jumped at the chance to be on the show. It's a fixture of Hogmanay and I thought the material lined up for this year was great.
Have you always been a fan of the show?
Yes. I haven't seen it every year live as I'm generally oot when it's on, but I'll always catch up to make sure I haven't missed out.
Are you a big follower of the footie?
I wouldn't say I was a big fan but I do enjoy watching the Glasgow Celtic. These days I don't get to many games though - weans and all that. One of the great things about the show is that the material is not all football related. There's plenty of funny stuff about wider society - politics, entertainment, advertising and culture. It does much more than just send up football in Scotland - comical though that is.
Can you tell us about any of the big talking points from the world of football that the show will tackle?
Well, there's been a lot of chat about VAR this season so that's a topic that will be getting the OAE? scrutiny. It hasn't arrived up here yet, but it's an issue that the fans are talking about. In one sketch I'm the ref with a big decision to make and I have a particular take on how the VAR works. I hope it'll be a valuable contribution to the debate about whether it should be brought in...
Will you be watching the show at home as it goes out this year?
We're generally out and about with the family but I'll be making the time to watch it during the party-going. It'll be a good laugh and will set up the rest of the night's celebrations nicely. There's always a party to be found - and I'll go whether I'm invited or not.
How has 2019 been?
It's been a great year, wrapping up Still Game on television and on stage with the live show in Glasgow for 150,000 people. I am presently doing panto down at the Beacon Arts Centre Greenock with Jane 'Isa' McCarry which runs until Hogmanay.
And what's in store for 2020?
We will be touring 'an audience with' show in the Autumn. Still Gaun! will be myself, Jane and Paul Riley on the road all over Scotland, sharing memories of Still Game. We'll be releasing the schedule soon - keep yer eyes peeled!
Any New Year resolutions?
Ask me on the 1st January - I'll cram them into that day.
Joy McAvoy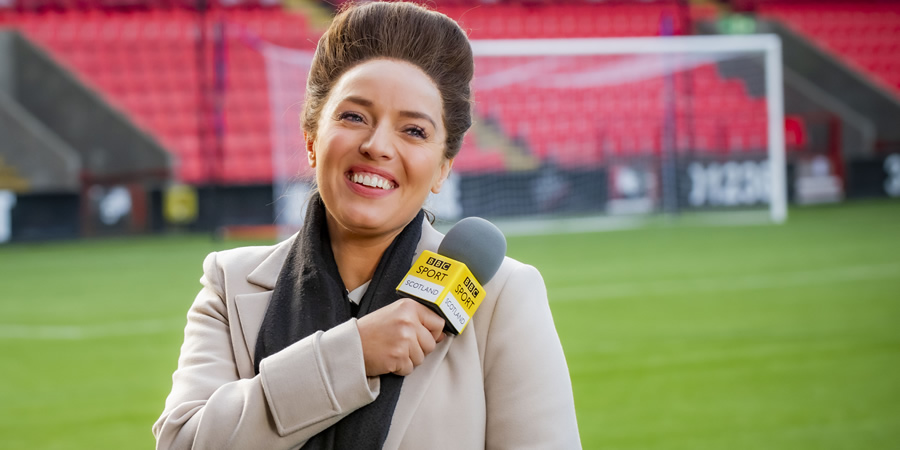 How did find working on Only An Excuse?
I loved it. I'm a huge fan of Only An Excuse?, I watch it every Hogmanay. To get to work on Johnnie's show was a total pleasure and it was great to have the experience of appearing in a sketch show, which was a first for me. Working with Alex again and Mark and Louise was a real treat, too.
Do you follow football?
Yes, when I was studying to become an actress at Langside College I got a job in the hospitality boxes at Celtic so I could watch the games for free! It was a nice job, looking after a few guests then getting to see the match.
What can you say about appearing as Leanne Crichton with Johnnie as Steven Thompson, presenters of live football on the BBC Scotland channel?
I really like them as presenters, I've watched them quite a bit and I think they're really good together. I love that Leanne is doing it, I think it's really good for women in football. I hope they're not put out by featuring in the show! It's just a bit of a giggle with them really and hopefully they'll enjoy it.
You're part of the Line Of Duty/Taggart sketch too. How was that?
I think that was my favourite one to do because I love Line Of Duty so much. Vicky McClure and Martin Compston are brilliant together, both incredible actors. Definitely a highlight to be in a version of Line Of Duty. I think fans of both shows will enjoy that one. It was great that Alex Norton was up for it, too.
What have been your highlights from 2019?
I've had a couple of incredible highlights but, work wise, I'd have to say getting asked to present an award at the Scottish Baftas was a lovely moment. I've been a few times with my brother but being asked along on my own merit was really special for me. I presented the best entertainment award with Johnnie and we presented it to the Last Commanders.
I'm really proud of Two Doors Down. The fan base that's gathering for the show is incredible, people don't just watch the show and enjoy it, they really talk about it and quote the episodes all the time, the writing is fantastic. I'm loving Cinderella, the panto I'm doing in Aberdeen, and I've also done some Holby City which will come out next year. I play an agency nurse who's from Glasgow, a funny, loud character who you hear before you see. She's also a little bit flirty - she was loads of fun to play. Obviously getting asked to be in Only An Excuse? was definitely a highlight!
Will you get to watch Only An Excuse? on Hogmanay?
I'm going to curl up on the couch, maybe open some fizz, get some mince pies on the go, and sit in and watch the show. I'll still be doing panto so I'll be taking it easy and have a night in front of the telly.