Here is an exclusive interview with the star and writer of Not Going Out, the very charming Mr Lee Mack. This was written before the start of the third series.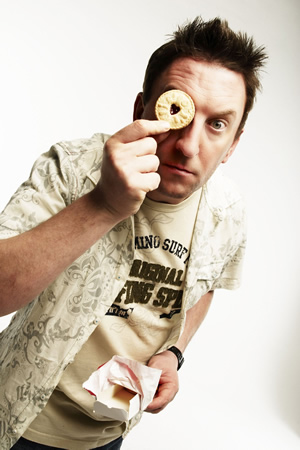 Hi Lee. Thanks very much for talking to us. Can we start off by saying on behalf of all our visitors: congratulations, and also thank you, for creating such a funny comedy and helping to show that the audience sitcom genre is actually far from dead.
Thanks for saying that. Andrew Collins, who I know does his podcast via your website, drew my attention to the site a while back when we were writing the other series, and so I have been checked it out... and it's great! It really is great. On your website, even the people who don't like my show are a bit more, I dunno, clued up. If they don't like something, they will say so in an intelligent way.
Well, we think it safe to say the majority of British Comedy Guide members are actually huge fans of Not Going Out. There's definitely a high level of anticipation for the new series... what can we expect in these next eight weeks?
Well, hand on heart, it is definitely the best of the three series, if I do say so myself. I'm convinced of it. The last series we had to bring in a new lead girl, as well as introduce some new characters, so it was sort of like starting again. And people don't like change, especially people who like your show. Starting again was very hard. So, in some respects, this new series is actually as almost our 'Series 2'. We've found our feet now, and know what we're doing.
Managing that change between series one and two must have been hard?
Kate, the American girl in series one... some people, rightly or wrongly - actually wrongly - don't like Americans being in British sitcoms. I think that's a mistake myself, but they don't like it. The amount of people that have said to me, "I didn't like the American girl at first, but by the end, I really loved her - she got better and better". Well, do you know, we didn't film the episodes in order...
Megan Dodds was brilliant from day one, it's just that viewers need a while to get used to something different. She's an American, so people took a while to get used to that. Likewise in series two, some people didn't like the changes straight away.
Do you know, people actually said it about me in series one too. They said my acting wasn't very good in episode one, but by episode five it was much better. Then I'd point out to them that five was filmed first, and they'd go... "oh".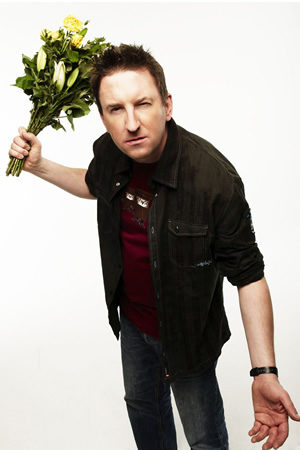 Ha ha. So, going backwards a bit... when you were at uni, trying out stand-up for the first time; getting fired from Pontin's for trying out a blue routine; and things like that... did you ever think you might one day be starring in a prime-time BBC One sitcom? And not only that, but one which you'd created?
Not at all! My ambition was that I wanted to be a stand-up.
From the age of about fifteen I said I wanted to be a comedian. I didn't really know what that meant back then - I didn't think too hard about whether I wanted to be a stand-up comedian, or sitcom comedian - I just wanted to be a comedian. But when I went to the Comedy Store in about 1990, and I suppose I was about 22 then, I thought "right, this is definitely what I want to do - I will be a stand-up comedian, this is the thing I will do".
Sitcom was never a major great plan. It sort of came about by accident. In 1998 I did my first solo Edinburgh show, and I didn't have a great time doing it. I remember thinking, "if I'm going to have to struggle next year, I want someone stood either side of me as I do"... so, next year, I got Catherine Tate and Dan Antopolski on board and we did a sketch show together. This was pre Catherine being big and famous. There was a ten minute sketch in our show... and it was that that eventually evolved into the sitcom pilot... So it was more about evolving things rather than me saying "I'm going to write a sitcom".
So, now you've done sketch, sitcom and stand-up; which would you say you prefer? Or is that a bit of a hard question to answer?
I'm a bit of a whinger. If I'm doing stand-up I prefer sitcom, and visa-versa. What I would say is, sitcom is unique in that it is different from all the others. There's a lot in common between sketch shows, stand-up and panel games for example. If you're good at stand-up, you can probably do panel games and you can probably get involved in sketch writing, because they're a similar sort of thing. But with sitcom it's unique in that you have to do a lot more boring work to do with structure of episodes, and how to tell stories and it becomes more detailed in terms of the academic side of things.
Sitcom takes a lot longer too. To write, perform and do everything for a series of Not Going Out takes about ten months! Whereas a sketch show is a lot quicker, stand-up is even quicker... and then there's panel games, they couldn't be any quicker. Ha ha.
So sitcom is definitely the hardest.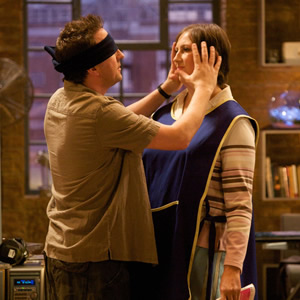 British Comedy Guide editors went to see one of the episodes of the new series being filmed and, we have to say, we were very impressed by the legwork that had clearly been put in during the writing stage. With some sitcoms, you see the writers desperately re-scripting in the wings because some of their gags are under-written; but with Not Going Out the scripts were clearly very 'polished' - every gag on the page guaranteed funny. As you say, to achieve that, you had to spend a long time writing the show. What are your feelings about this long writing stage?
Without sounding too arty farty about it, I am currently training to do the Paris marathon. With me, writing comedy is a bit like training for that. I hate the training for the marathon, every minute of it. But, the one thing that's keeping me going is that when I go and run it, I want to enjoy it. I want the crowds to cheer me along and I want to cross the line and finish it. And, if I haven't trained, I know I won't enjoy it.
Sitcom is exactly the same as that unfortunately. I sit in my office for seven months writing it, and the only thing that keeps me going is knowing that, at the end, performing it is going to be great fun. Performing it is brilliant. But it's only brilliant because you're happy with the way it's written.
The nights we record Not Going Out are superb. They're exciting, you're in a TV studio, you've made your own fictional world, and you're in it. Who wouldn't want to do that as a kid?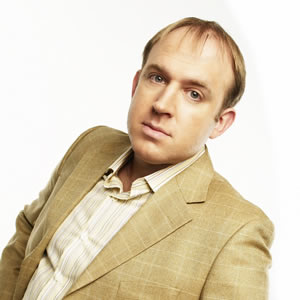 Absolutely. Could we talk about your co-star Tim Vine for a moment? It's always a pleasure to see the two of you on screen together, there's a real natural chemistry between you. Did you have Tim in mind when you were creating the show?
It's a weird one with Tim, because I've worked with him for years on The Sketch Show and on the stand-up circuit, and it was the obvious thing to have him in Not Going Out... and yet I didn't really think about him at first. He certainly wasn't written for in the un-broadcast pilot.
The character was called Colin in the pilot. You see, because Catherine Tate was in it and playing quite a tough cookie, we needed someone equally tough to play her ex-boyfriend. That character was a city boy with stubble and a leather jacket.
When it came to the full series we tried out lots of people and did lots of auditions, and during that phase I just casually rang Tim and said, "look, do you want to come to this audition as well?". Tim can sometimes be phenomenally laid back and he sort-of went, "well, I'm a bit busy tomorrow, but go on then". He came in, he read it, and it immediately made sense. Obviously we re-wrote the show then to make the character more of a middle-class twit.
Ha ha. So how did that conversation with Tim go... when you told him he'd be playing a slightly effeminate, weedy mummy's boy?
Well, I think Tim just likes playing that anyway. He's good at playing that. It just made sense. Of course, by then, we also had a new lead girl in the form of Megan Dodds so it all evolved into something different. The character of Kate was obviously more of a Californian hippy type, and she probably would go for a sort-of Hugh Grant type.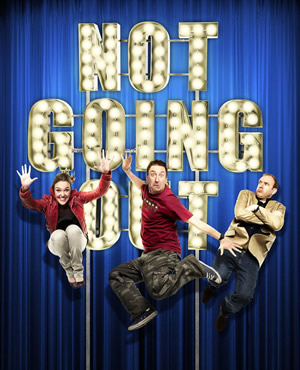 So, we guess it goes without saying that you'd be up for doing a fourth series of Not Going Out if the BBC will let you?
Yeah, absolutely. I love it. It's got its downsides, but on the whole, yeah I'd love to do another series. I say 'downsides', there's only one downside actually - all the hard-work that goes into the show means I don't have time to do stand-up too. There's not enough time to write a new stand-up show and a new sitcom series in a year.
Can I also just say, the Not Going Out cast are fantastic. We all get on brilliantly. Any actor or comedian will say that if you get five people together for two months there's usually one variable which causes a problem. Of the five main cast members - Tim, Sally Bretton, Miranda Hart, Katy Wix and me - there's genuinely not one relationship that's wrong in that five. It's brilliant. I couldn't be working with nicer people to be honest with you... and that makes a lot of difference, because I wouldn't be able to do it otherwise.
Ah, that is good to hear. Talking of the next series, do you think you can stretch the premise over another run of episodes? Because, surely Lee and Lucy can't not 'not go out' for ever can they? Or can they?
Um... that's a very interesting question. It's something I've often asked myself. The general rule of thumb of sitcom is that if it's working don't change it... I'm sure I wasn't the only one who didn't want Del and Rodders to become millionaires.
However, with our show, I've always questioned about how much it is about me and her 'not going out'? Some weeks it is about that, but some weeks I think it is more about me and Tim being a couple of blokes in a scrape.
We've concentrated on both this year and so, depending on how it is received, we'll decide at the end of the series what to do. Without wanting to give too much away, we've left ourselves with a choice... put it that way. Part of me wants to keep it the same but, I'm married with two kids now, so part of me would love to write a sitcom where I'm married with kids. Do you know what I mean? Maybe we could develop it over the years into that, who knows?
Well, our favourite episode so far is the one where Lee and Tim get into that adventure with the baby they are looking after. That's more about you and Tim... rather than the will-they, won't-they relationship...
Absolutely. Absolutely. And that's always been my favourite episode too if I'm going to be honest. That's a good choice. But, I have to say, three of four of my favourite episodes all come from the new series. And they contain both; scrape and relationship.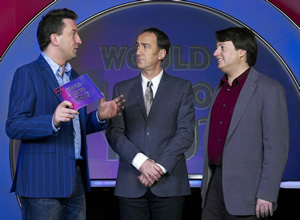 Cool. It sounds a great series! So, apart from potentially working on a fourth series of Not Going Out, what else is in the pipeline for you Lee?
I think there's another Would I Lie To You? coming up in the next few months. You never quite know with these things, but I'm pretty sure that's the case. That's a real joy to do, it's the best fun I ever have. We have a right laugh.
Oh fantastic. David Mitchell caught you out a few times last series, so have you been practicing at home, lying to your kids etcetera?
Yeah. But it's much easier to lie to a two year old than an academic from Oxford! Putting your hand behind your back and saying you've made your hand disappear doesn't really work with David.
Ha ha! Our final question then Lee - something we ask everyone we interview. Past and present, and excluding your own, what are your favourite comedies?
Well I've always been a massive Morecambe and Wise fan. Sitcom changes all the time but currently I'm really getting into some American sitcoms. From an academic point of view, trying to make my show better, I think Everybody Loves Raymond is high up there for me. I'm just interested in shows that are critically acceptable but also very big and, to want for a better word, have hit the 'mainstream'. The last episode of Everybody Loves Raymond was watched by 33 million viewers!
It's like Eddie Izzard once said, "anyone can be surreal, but taking surreal to a wider audience is much harder". I'm not saying we're surreal, but taking something to a big audience is often a lot harder than keeping it niche. That's the kind of challenge I'm interested in!
Brilliant. Thanks for all your time Lee. It's been a pleasure chatting to you!