Only Fools And Horses USA project axed
Only Fools And Horses USA project axed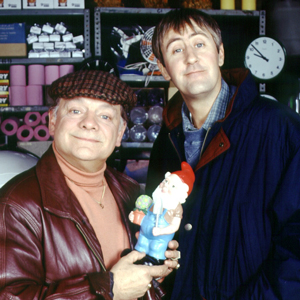 A plan to re-make Only Fools And Horses in America has been halted, with bosses at TV network ABC declining to order a series.
Titled Kings Of Van Nuys, the studio sitcom has been through two pilots this year. It was first developed in January but 'missed the cut', however ABC chief Paul Lee, reportedly a big fan of the British series, liked it enough to give it a second chance and provided the budget for a 'retooling' this autumn. However, Deadline magazine reports that, having viewed the second pilot, the network's executives have now decided to go no further with the project.
Like the British original (pictured), the pilot episodes focused on the misadventures of two brothers who live with their ageing grandfather. The comedy observes as the duo concoct morally questionable get-rich-quick schemes.
Both Kings Of Van Nuys pilots starred John Leguizamo, a stand-up comedian and voice actor (Ice Age), as Del; with comedian Dustin Ybarra as younger brother Donnie. Back To The Future star Christopher Lloyd played Granddad. The show was being adapted by MADtv and Scrubs writers Steven Cragg and Brian Bradley, with Two And A Half Men, Rules Of Engagement and 2 Broke Girls director Ted Wass overseeing the filming.
Speaking at the start of the year when news of the first pilot was announced, David Jason - the star of the original series - said: "They can do brilliant comedy [in America] but I don't see that they can bring off Fools and Horses."
He added: "It might work but you've got to change it so much that, in the change, in order to Americanise it, do you lose the whole concept of the piece? The language will have to change so much and there will be so many parts of the storyline you have to change." He concluded: "I have no idea what the American equivalent of 'plonker' is, for example. Or 'dipstick'."
Only Fools And Horses was named Britain's favourite sitcom in a nationwide BBC Two poll in 2004. The programme ran from 1981 to 2003, and led to the spin-off The Green Green Grass and prequel Rock & Chips.
Creator John Sullivan died in April last year. His son Dan Sullivan has compiled a new book of jokes taken from the show for this Christmas, called The Wit And Wisdom Of Only Fools And Horses.
It was recently announced that the American version of The Inbetweeners would not be getting a second series on MTV, however US networks are still working to develop remakes of numerous other British comedies. Programmes known to be in development include adaptations of Spy, Getting On, White Van Man, Rev, Misfits, Whites and Feel The Force. Additionally, a US pilot of Have I Got News For You was filmed recently, and it has been announced that Rob Brydon and Stephen Merchant are both working on pilots for HBO.
The remake of White Van Man, entitled Family Tools, is also a project of the Disney-owned ABC network, and recently completed production of its first season. It is scheduled to begin broadcasting on the 1st of May 2013.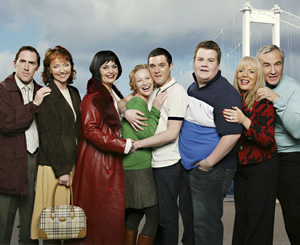 Gavin & Stacey (pictured) is another British sitcom currently being adapted in America, although co-creator Ruth Jones told Radio 1 Newsbeat yesterday that fans shouldn't get too excited.
She said: "I want to stamp out this idea that there's going to be this American Gavin & Stacey. All they've done is commission a script, they might not even make a pilot."
Talking about the hype, she said: "It's the third time it's happened and I have no idea why all of a sudden it's all over the press. NBC had a script made of it, ABC had a script and it was going to go to a pilot and then they dropped it, and now Fox have commissioned a script and that is all that has happened."
She also joked: "I read in the press that apparently I'm making £5 million? Can I just go on record as saying I am not making £5 million? So to all my family and friends who think they may be getting a really nice Christmas present this year, sorry... isn't gonna happen!"
Share this page