Sarah Millican gets 3rd series of her BBC Two show
Sarah Millican gets 3rd series of her BBC Two show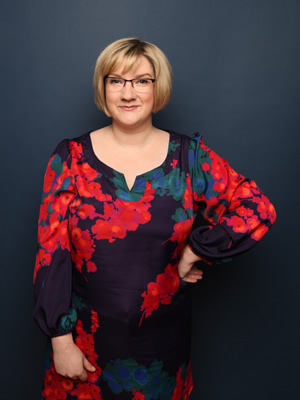 The BBC has ordered a third series of Sarah Millican's hit TV series, before the second series has even been aired.
Filmed in front of a live audience, The Sarah Millican Television Programme involves the popular comedian presenting a series of stand-up monologues, inspired by what she has seen on television. The multi award-winning comic also chats with stars of some of her favourite TV shows, using "an interview technique that is all her own."
The commission has been triggered by the success of the first series of the show, which aired on Thursday nights in March and April this year. The six-part run attracted an average audience of approximately two million viewers each week, a 9% audience share - both statistics being higher than the channel's average for that slot.
The second series of the show has just completed filming in Manchester and is currently in post-production in Glasgow. A Christmas special will air later this month, with the six-part series then following in January and February.
Sarah Millican says: "It is so exciting to be invited back for a third time! The show is a joy to make with such a creative and fun production team."
The new series has been commissioned by BBC Two controller Janice Hadlow, BBC Entertainment commissioner Mark Linsey, and BBC Executive Editor Alan Tyler. It will again be a co-production between So Scotland, the Scottish arm of So Television - a company co-founded by Graham Norton and recently sold to ITV Studios - and Millican's own production company, Chopsy Productions.
Alan Tyler comments: "Sarah is a genuine star and a joy to work with. We are delighted to be commissioning a third run of her show for the BBC Two audience. So Scotland and Chopsy have put together a terrific team and we look forward to seeing where they take the series."
Graham Stuart, the Executive Producer for So Television, adds: "'More' and 'Millican', my two favourite Television words together in one sentence. Thank you BBC."
The news comes the day after it was announced that Sarah Millican has been nominated in the Best Female Television Comic category at the British Comedy Awards for her TV show. She is also nominated in the public vote category, where she is defending her Queen Of British Comedy title (full story).
Below is a clip from the first series of The Sarah Millican Television Programme in which Simon Callow teaches the comedian to project her voice:
Share this page