Filming begins on Inside No. 9, new show from Psychoville creators
Filming begins on Inside No. 9, new show from Psychoville creators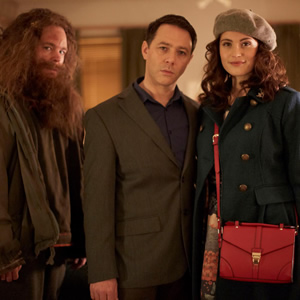 BBC Two announced today that filming has started on Inside No. 9, an "anthology of comedies stuffed with dark humour and unexpected twists". Created by League Of Gentlemen and Psychoville stars Steve Pemberton and Reece Shearsmith, the show will feature an all-star cast.
As previously revealed, Inside No. 9 (currently a working title) will consist of six separate 30-minute stories. Further details have now been announced about the plots of these episodes.
The channel says: "Steve Pemberton and Reece Shearsmith follow up the multi-award-winning Psychoville with an anthology of tales of the genuinely unexpected, under the working title Inside No. 9. What goes on behind closed doors on the street where you live?
"Inside No. 9 invites you into six very different No. 9s, where the ordinary and mundane rub shoulders with the extraordinary and macabre. From a grand country house where a game of 'sardines' leads to some chilling revelations in a wardrobe; to a very oddly haunted house; to the flat of an apparently happy primary school teacher who becomes the victim of a good deed; these unpredictable tales feature high comedy and claustrophobic horror by turns."
The first three episodes are now being filmed in TV studios and on location in London, with the second block due to be filmed next summer. Created in-house by the BBC, the series is being produced by Adam Tandy (The Thick Of It, A Touch Of Cloth), with David Kerr (Fresh Meat, That Mitchell & Webb Look) as director. Top BBC producer Jon Plowman (Ab Fab, Twenty Twelve, Psychoville) has been named as the Executive Producer.
The creators say: "We wanted to explore the sense of claustrophobia and intensity that is brought about by limiting the action to one location in each story. We're thrilled to have our own anthology series of devilish delights, and can't wait to throw the doors of our various number 9s open to the nation."
An impressive cast has been assembled to take part in the series. Actors include Gemma Arterton (Tamara Drewe), Katherine Parkinson (The IT Crowd), Anna Chancellor (Pramface), Anne Reid (The Last Tango In Halifax, dinnerladies), Tamsin Greig (Friday Night Dinner, Episodes), Julian Rhind-Tutt (Green Wing, A Touch Of Cloth), Ben Willbond (The Thick Of It, Horrible Histories), Marc Wootton (Way To Go, La La Land), Timothy West (Brass, Terry Pratchett's Going Postal), Sophie Thompson (Lee Evans - So What Now?, David Bedella (Jerry Springer - The Opera), Adam Deacon (Kidulthood), Tim Key (Cowards) and Conleth Hill (Game Of Thrones). The BBC also indicates more names are due to be announced later.
BBC Two controller Janice Hadlow says: "Once again Steve and Reece bring us a comedy series that stands out from the rest. I hope these six dark little tales will be as enjoyed and talked about as their highly acclaimed work to date. That, combined with the stellar cast, will make an exciting addition to BBC Two's comedy offering next year."
Jon Plowman adds: "It feels good to be back in the dark places and sunny uplands of Horror Com, a genre that Reece and Steve have really made their own, and I am really glad that our casts are testament to the quality of the scripts."
Inside No. 9 will be shown on BBC Two towards the end of 2013.
Share this page