BBC orders full series of Jason Byrne Father Figure sitcom
BBC orders full series of Jason Byrne Father Figure sitcom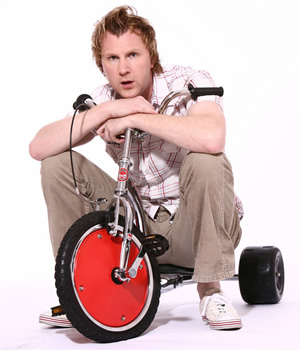 BBC One has announced it has ordered a full series of Father Figure, a comedy written by and starring Irish stand-up comic Jason Byrne.
The sitcom, which will be filmed in front of a studio audience next year, focuses on the life of Tom (played by Byrne). Tom is married with two sons and tries to be the best dad he can, but bad luck and his extended family are always upsetting his plans.
The series has already run for a 4-part series on Radio 2 and Byrne will be joined on screen by the cast of the radio show - Pauline McLynn, Michael Smiley and Dermot Crowley.
Father Figure will be produced in-house by Julia McKenzie, who also looked after the radio show. Stephen McCrum, whose CV includes Two Pints Of Lager and Mrs. Brown's Boys, has been named as the Executive Producer of the project.
It was announced in August that the BBC had ordered a pilot episode, but it is not till now the full series has been confirmed. Speaking in August, Byrne said: "It's been a big dream of mine and I'd never have thought I would get the chance to join the ranks of the television sitcom world. The characters all come from real life and the outrageous situations Tom gets into have, more often than not, actually happened to me. The people in my life will never realise that it's them I'm writing about, unless my wife and two sons, mother, father and best mate ever watch it. So thank you very much BBC and let's hope that by this time next year, the words 'Father Figure' rolls off the tongues of thousands."
Father Figure is not the first Radio 2 sitcom to transfer to TV. The last, Miranda Hart's Joke Shop, is now one of the BBC's most successful sitcoms - although its radio series was written and aired after the TV series was ordered, but before it was able to be produced.
The commission was announced by BBC One controller Danny Cohen. He also confirmed that the next series of Miranda and Mrs. Brown's Boys will launch shortly. He said: "With the line-up of comic talent appearing on and writing for the channel in 2013, this will be a big year for Comedy on BBC One.
"BBC One kicks off the year with a blockbuster combination of Miranda and Mrs. Brown's Boys, two incredibly successful series both with outstanding writer/performers at their heart. Exciting brand-new sitcoms from two masters of British comedy Ben Elton [Slings And Arrows] and David Walliams [Autumn Leaves] are also coming up later in the year. The return of Lee Mack in Not Going Out, a new series of Outnumbered and a second series of Asian sitcom Citizen Khan will play alongside a new comedy piece starring Sue Johnston based on last year's Christmas special Lapland."
Father Figure is one of two TV projects Jason Byrne is working on. As previously reported, he is also acting as a team captain on ITV panel show Photoshop.
Below is a video clip from the recording of the Father Figure radio show. It's a scene set in a car, in which Dermot Crowley, who plays Pat, struggles to say his line without laughing:
Share this page