ITV2 to pilot late-night panel show format 'Would You Rather...?'
ITV2 to pilot late-night panel show format 'Would You Rather...?'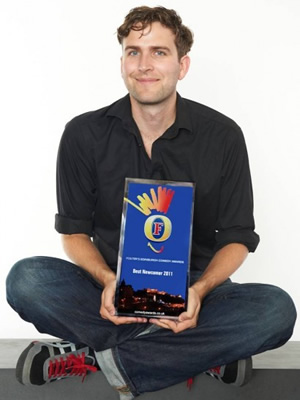 ITV2 is to pilot Would You Rather...?, a panel show in which guests are asked to "muse over a series of perplexing predicaments, ranging from the philosophical to the preposterous."
The format, devised by British writers Ali Crockatt and David Scott, whose previous credits include Genius, has already been made in the USA. Graham Norton presented a 13-episode series on BBC America in December 2011, one of the channel's first original commissions.
A pilot will be recorded at ITV's London Studios tomorrow (Friday 30th November 2012) with Humphrey Ker acting as host. The comedian, who won Best Newcomer at the Edinburgh Comedy Awards 2011 (pictured), is a stand-up comic and member of the sketch comedy troupe The Penny Dreadfuls. He has previously been seen on TV in shows like improv format Fast And Loose and sketch showcase Live At The Electric. He also hosts Radio 4's Sketchorama, which is due to return for a second series next year.
Would You Rather...? is made by Graham Norton's production company So Television, which was bought by ITV Studios in August in a deal worth up to £17m.
Producers say: "'Would you rather?' It's the age old question that's instantly recognisable to the entire population of the world. Award winning comedian Humphrey Ker will be asking a host of celebrity guests and comedians searching questions in a pilot panel show based round the three innocuous words. Their unique take on each extraordinary scenario will give us a hilarious insight into the depths of their comedy brains."
A previous pilot, filmed in London in June 2011, featured example questions including: "Would you rather be attacked by one horse sized duck or 20 duck sized horses?", and "Would you rather sleep with Angelina Jolie and not be able to tell a soul, or not sleep with Angelina Jolie but have everyone think you did?".
Broadcast reports that the humour in the ITV2 pilot will be much more adult than the American version, with a source telling the magazine: "It is extremely risqué and quite adult - they get asked a lot of things of a sexual nature."
The new pilot is not intended for broadcast, but should bosses at the digital channel approve, a series will be ordered for 2013.
Below is a trailer for the American version of Would You Rather...?:
Share this page