Lee Mack to host Sky1 panel show pilot
Lee Mack to host Sky1 panel show pilot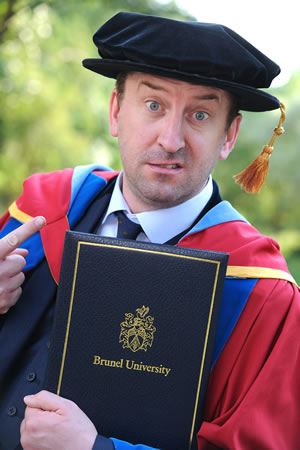 Lee Mack, comedian and star of Not Going Out, is to host the pilot episode of a brand new panel show for Sky1.
Made by Magnum Media, the company behind Hit The Road Jack and Chris Moyles Quiz Night, the new show - Duck Quacks Don't Echo - will focus on weird and wonderful facts and trivia.
Producers say: "Lee will be joined by four celebrity guests who will each bring with them an incredible fact, such as 'it is possible to start a fire by rapidly rubbing together two cool Ranch Doritos' or 'you can make diamonds from peanut butter'. But whose fact is the best?
"All the celebs believe that their fact is absolutely true and they'll argue passionately for why it should win. In a series of incredible experiments and funny stunts, we'll find out whether the facts are true or just urban myths."
Duck Quacks Don't Echo's commission was originally announced in June, but it has not been known until now who would host the show. The pilot is expected to be broadcast early in 2013, alongside fellow pilot Help Me I'm Human, and if successful a series is likely to be ordered for broadcast during Autumn 2013.
Tickets for the recording, to take place on the 19th of December at Teddington Studios, are now available via our free tickets page
On BBC One, Mack has to date appeared as team captain in six series of the hit panel show Would I Lie To You?, and has recently finished filming a sixth series of his hit sitcom, Not Going Out. A venture into Saturday night variety in summer 2011 with Lee Mack's All Star Cast was met with a lukewarm response, and does not look likely to be recommissioned.
Below is a short Not Going Out sketch made for Children In Need 2012:
Share this page