Ofcom receives complaints about Full English
Ofcom receives complaints about Full English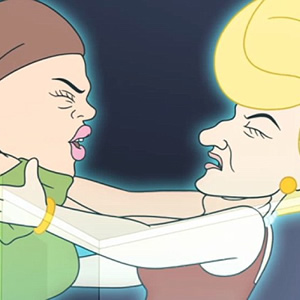 Ofcom, the TV regulatory body, has revealed that it has received complaints about the content of Full English, the new animated Channel 4 sitcom.
The Daily Mail, under the headline "Is this the sickest cartoon ever?", reports that several viewers have written to Ofcom to complain about a scene broadcast in this week's episode, the second of the new series.
Broadcast on Monday night during the programme, at approximately 10:55pm, a séance scene - split into three parts - showed depictions of the ghosts of Princess Diana and Jade Goody (pictured), with the two ending up fighting each other. The characters are shown arguing over who is the "real people's princess", with dialogue including Princess Diana saying: "Sorry I'm late everyone. Had some car trouble. Traffic was absolute murder."
Below is a full transcript of the main part of the scenes in question, which readers should be aware contains strong language. It starts with Eve, a moody teenage goth character, summoning a "great woman" via a Ouija board.
Jade: "I am the ghost of Jade Goody from Big Brother... and stuff."
Eve: "Why did they send you?"
Jade: "I'm proof that someone with no qualifications and no skills can make it. I got me tits out, I got famous, done an autobigeography [sic], done a perfume then called someone a poppadum and everyone hated me, then I got public cancer and everyone loved me again... which goes to show racism is unacceptable... unless you've got terminal illness, in which case who fucking cares?"
Eve: "I dunno."
Jade: "Neither do I, but look I got me tits out again."
[CUT. LATER...]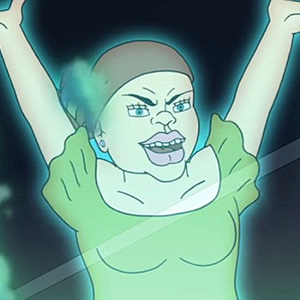 Jade, talking to Eve: "Yeah, it's a shame about Jack's rape charges, but he got off.... in both senses."
Diana: "Princess Diana in the house. Sorry I'm late everyone... had some car trouble. Traffic was absolute murder. Get it? Never mind. Someone called for a great woman?"
Jade: "Bit late love, I've got this one."
Diana: "But I'm the People's Princess."
Jade: "Nah, I'm the People's Princess. Fuck you, you poncey bulimic slut."
Diana: "Fuck you back baldy."
The scene ends with the two spirit characters trying to strangle each other. The plot strand resumed 15 minutes into the episode, after the advert break, with the Virgin Mary appearing:
Mary: "You wanted to meet a great woman, Eve. I am the Virgin Mary. The most famous woman in the Western world. Not bad for a frigid Jew, eh? The quest for fame will lead you nowhere, you'll end up like these two: fighting like animals. You can't try and be somewhere you're not. Just be yourself."
Eve: "Thank you Virgin Mary."
Mary: "... also, bigger tits never hurt anyone. Am I right girls?"
Princess Diana was killed in a car crash in 1997 aged 36, whilst Jade Goody died from cervical cancer in 2009 at the age of 27.
Reaction to the episode has been mixed on Twitter. One user of the microblogging website posted "Not cool, cancer isn't funny", another commented "Quite disgusted the way Channel 4's Full English took the piss of the late Jade Goody", and a third said: "I was never a fan of Jade Goody... But taking the piss out of her is a bit far!"
However, other users commented that they had found the scenes amusing.
Charlie Brooker, Bear Grylls and the Top Gear presenters were amongst other recognisable faces drawn in the episode, which also featured scenes involving full frontal nudity and gay sex.
Full English is written by Jack Williams and Harry Williams and voiced by a cast including Kayvan Novak, Rosie Cavaliero and Richard Ayoade. Aside from the controversy, the comedy content of the show has been by mixed opinions from both the public and press.
A Channel 4 spokesperson responding to the Daily Mail, said: "Full English is a late night animated sitcom that takes a satirical swipe at popular culture, celebrities and every other aspect of modern British life. Appropriate warnings flagged that the show contained humour of an adult nature and the content was within viewers' expectations of those tuning in to a comedy at this time."
A spokesman for Ofcom said: "I can confirm we have received a number of complaints. We are assessing them at the moment."
Below is a 30 second clip of the scene, focusing on when Princess Diana arrives:
A longer version of the clip was uploaded by Channel 4 onto its YouTube channel earlier today, but has been blocked from being embedded in external websites.
Share this page