John Bishop writes and stars in ITV Christmas comedy
John Bishop writes and stars in ITV Christmas comedy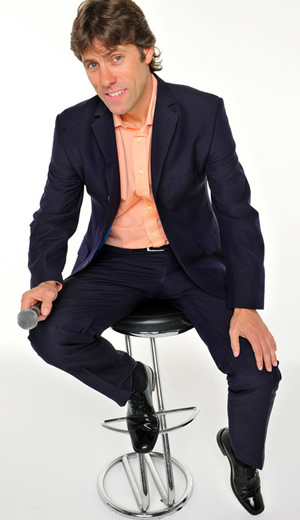 Stand-up comic John Bishop has teamed up with Gimme Gimme Gimme scribe Jonathan Harvey to pen Panto!, a comedy drama for ITV.
To be broadcast over Christmas, the one-off show is inspired by Bishop's own experience in a local pantomime production in 2006.
Bishop will star alongside Samantha Spiro (Grandma's House), Sheridan Smith (Two Pints), Mark Benton (Early Doors) and 1990s pop star Chesney Hawkes in the co-production between Baby Cow Productions and his own Lola Entertainment. His son - Daniel Bishop - will also have a role in the show.
Bishop told trade newspaper The Stage: "In 2006 I left my job - that Christmas I appeared in a local panto. It was there I fell in love with that world and came up with the idea of a comedy drama, which has now evolved into Panto!.
"To be making this six years later for ITV1 is really very exciting. The script I've written with Jonathan Harvey is something I'm immensely proud of, and the cast are all brilliant."
John Bishop joked about his experience on stage in the Christmas special of his stand-up series John Bishop's Britain, broadcast in December last year. See below for a video extract.
The comedy started filming today on location in Lancaster, and is being directed by Christine Gernon, whose credits range from One Foot In The Grave to Gavin & Stacey, Absolutely Fabulous and current BBC Two hit Hebburn, also a Baby Cow co-production.
ITV commissioner Myfanwy Moore, who is overseeing a project to bring comedy back onto ITV1 - other ITV shows in development include sitcoms The Job Lot and Vicious - says: "We're delighted that the very talented John Bishop and company are going to entertain our audience at Christmas with such a glittery and heart warming treat of a show."
Bishop is set to be a regular on television screens over Christmas, with a two-part review of the year show, John Bishop's Big Year, lined up for broadcast on BBC One. He will also be presenting new Sky1 series John Bishop's Only Joking, which sees public and celebrities telling jokes to camera, and is expected to start either later this year or early in 2013.
John Bishop's brand new 2012 stand-up show, Rollercoaster, is released today and available to buy on both DVD and Blu-ray.
Meanwhile, co-writer Jonathan Harvey is also one of the authors behind forthcoming ITV1 comedy drama Great Night Out.
Here Bishop talks about playing Herman the Henchman at Liverpool's Royal Court in Snow White and the Seven Dwarves.
Share this page