Charlie Brooker to front BBC Two Weekly Wipe
Charlie Brooker to front BBC Two Weekly Wipe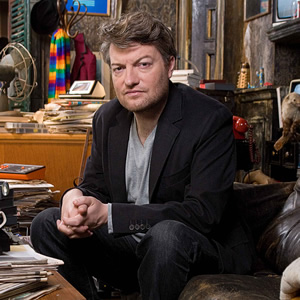 Commentator and satirist Charlie Brooker is to take his popular BBC Four 'Wipe' format to BBC Two next year for a new weekly satire.
Weekly Wipe With Charlie Brooker - a working title - has been commissioned from Zeppotron, the production company that Brooker co-founded. BBC Two bosses have ordered a series of six 30-minute episodes, with broadcast expected early in 2013.
In the new series, Brooker will turn his unique critical eye across current affairs and media, taking in the past week of politics and news events, computer games and advertising, books, films and celebrity.
Producers say: "Each programme will include a sprinkle of studio chat, sketches, VTs and amusing archive. Charlie will be joined in the studio by a couple of celebrity guests and experts for a topical discussion with a difference."
The series will also see the return of American comic Doug Stanhope, and director Al Campbell in the guise of fake TV critic Barry Shitpeas.
The Wipe format began in 2006 as Charlie Brooker's Screenwipe, with five series on BBC Four commentating on recent television programming, and various individual aspects of the TV industry.
Screenwipe was retired in 2008, with Brooker turning his attention to news coverage in 2009 and 2010 in Newswipe With Charlie Brooker. 2009 also saw a single special - Charlie Brooker's Gameswipe - focusing on video games.
Also in 2011, Brooker presented a 6-part BBC Two series entitled How TV Ruined Your Life, exposing more of the apparent idiocies of television and the ever-widening gulf between real life and the ideal presented on the screen. The comic presenter also signed up to appear on Channel 4's live topical comedy show 10 O'Clock Live. This latter format has now run for two series and is expected to return again early in 2013.
Since 2010, there have been yearly news and media round-ups, with Charlie Brooker's 2010 Wipe, Charlie Brooker's 2011 Wipe, and the forthcoming 2012 special. Producers describe the new Christmas special as "an hour-long round-up of the events that have happened in the world of news, television, games and film over the past 12 months. From the London Olympics to the Diamond Jubilee, the US election to Hurricane Sandy, there'll be plenty to talk about."
Talking about the new series, Charlie Brooker says: "Every week we'll be looking at TV, games, 'things in the ether', the online world, and anything and everything in-between. And if we need to pad the show out a bit, we'll probably review egg whisks too."
Executive Producer Chris Sussman adds: "Charlie Brooker's 2011 Wipe was BAFTA-nominated. More has happened in 2012, so this time we'll definitely win."
Here's Charlie Brooker's 2011 Wipe, taking a look back across the whole year.
Share this page