Greg Davies to write and star in Channel 4 sitcom
Greg Davies to write and star in Channel 4 sitcom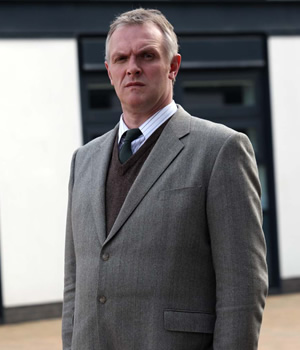 Channel 4 have given Greg Davies his own comedy series. The stand-up comic and actor will write and star in Man Down, a single-camera sitcom about a frustrated teacher.
A pilot episode of the show was filmed in the summer, on the back of which Channel 4's Acting Head of Comedy, Nerys Evans, has now greenlit a series.
In Man Down, Davies will play Dan, a childish idiot trapped in an adult's life. The channel says: "Crushing character flaws, an unwanted teaching job, uniquely dysfunctional friends and a wilfully insane Dad conspire to keep this man down."
Davies is perhaps best known as playing Mr Gilbert (pictured), the angry teacher in The Inbetweeners. However, prior to entering comedy, he was a drama teacher in real life, a subject he subsequently joked about in his first stand-up show, Firing Cheeseballs At A Dog.
Man Down will not be Greg Davies' first foray into writing a school-based sitcom. Alongside Chris Corcoran, he has written and starred in three series of Those That Can't, a BBC Radio Wales sitcom set in a comprehensive secondary school deep in the Welsh valleys.
The comedian says: "It is a dream come true that Channel 4 have commissioned my sitcom, I promise that all of the characters will be humiliated at every turn, regularly physically attacked and, at some point, fully naked in every episode."
Channel 4's Nerys Evans adds: "We're really delighted to work with Greg on a series of Man Down, he's created a brilliantly observed world which is laugh out loud funny and a perfect fit for Channel 4 comedy. It's thrilling to have this exceptional comedian's first solo project on the channel."
Man Down is being filmed by Avalon Television, the production company behind other current hit shows such as Not Going Out and Russell Howard's Good News.
Matt Lipsey, who has previously worked on comedies including Psychoville and Starlings, has signed up to direct the show. It is not yet known who will produce the series, but Charlie Hanson (Derek, Whites, Chef!) oversaw the pilot episode.
The cast for Man Down is expected to be announced at a later date. British Comedy Guide is not able to report on who else took part in the pilot, but can say that a very famous British comic actor was involved.
Other current sitcoms set around a school include Jack Whitehall's Bad Education, which will return for a second series next year; Autumn Leaves, a new BBC One sitcom starring David Walliams; and Some Girls, a new sitcom due to start on BBC Three next week.
Man Down will be shown on Channel 4 in 2013. Cuckoo, a sitcom starring Davies as a frustrated father, has just finished on BBC Three, and the comedian is now embarking on a new stand-up tour called The Back Of My Mum's Head.
Below is a video in which Davies talks about Mr Gilbert, his character from The Inbetweeners:
Share this page