Dawn French says The Vicar Of Dibley could return
Dawn French says The Vicar Of Dibley could return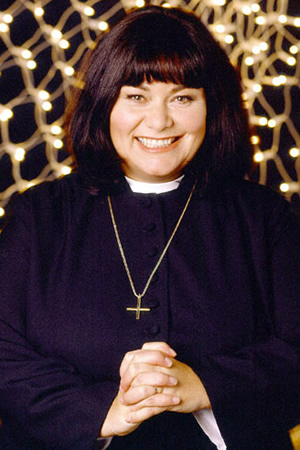 Dawn French has hinted that The Vicar Of Dibley, one of the BBC's biggest sitcom hits, could return to screens.
The sitcom was believed to have finished for good in 2007 when its creator Richard Curtis said he wasn't going to write any more episodes. However, during an interview this morning, Dawn French revealed that Curtis may have secret plans for a revival that would see her return as Geraldine Granger.
Speaking on ITV's Daybreak she said: "We had 13 happy years. When we got to the end I said to Richard, 'You have to say it's finished because people keep asking about it'. So he said, 'OK, it's finished'. We had the wrap party, we had a few tears and on the way out, the producer said to me, 'He's asked us to store the set'."
French added: "I think he's probably waiting for women to be officially made bishops."
The Church of England is currently considering allowing women to become bishops, with the Archbishop of Canterbury Rowan Williams vocally supporting the idea. The issue will be voted on by the General Synod next month.
It should be stressed that Dawn French's comments are speculative and neither the BBC nor Richard Curtis have made any firm indications that any further episodes of the sitcom are under consideration. The last time The Vicar Of Dibley appeared on TV was in March 2007 for a short Wife Swap sketch for Comic Relief.
Commercially, The Vicar Of Dibley is very successful for the BBC. The series remains popular around the world and is regularly repeated on channels such as GOLD. The series is also likely considered a sure ratings hit, and the corporation is likely to jump at the chance of further episodes were Curtis to offer them. In a 2004 TV poll the series, which began in 1994, was named Britain's third favourite sitcom just behind Blackadder and Only Fools And Horses.
French was appearing on Daybreak to promote her second novel, Oh Dear Sylvia, which was released in shops earlier this week. The comic actress has appeared in the papers recently as The Sun published paparazzi pictures of her kissing new boyfriend Mark Bignell in a car park. She has since revealed to Now Magazine that he has never seen her act on screen, saying: "I'm not boasting, but you'd actually have to have not watched television for the past 20 years to have avoided me, and he'd managed to do just that."
Since The Vicar Of Dibley, French has worked on TV shows including Lark Rise To Candleford, Roger & Val Have Just Got In, Jam & Jerusalem and Psychoville.
Her next acting role will see the comic appear in Heading Out, a new sitcom written by Sue Perkins about a 40 year-old vet who is too scared to tell her parents she's gay.
Below is footage from the short special of The Vicar Of Dibley, recorded for Comic Relief in 1999, in which Johnny Depp makes a guest appearance:
Share this page