Church sitcom Rev set for US re-make
Church sitcom Rev set for US re-make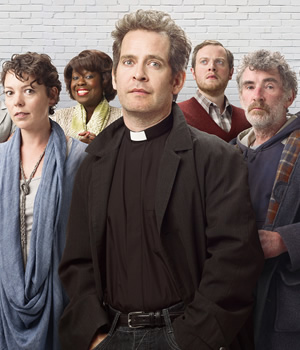 Rev, the award-winning BBC Two sitcom starring Tom Hollander as a vicar running a troubled inner-city church, is to be re-made in the US.
The hit British series, which won a BAFTA last year for best sitcom, is to be re-made by the ABC network. The scripts will be overseen by Frasier and Desperate Housewives producer Bob Daily, with the US set-up centred around an Episcopal priest who leaves a small rural parish in Wisconsin to take over a failing inner-city church in a deprived Chicago neighbourhood. As with the British version, the congregation will include a drug addict and a homeless man.
The British original Rev, which stars Olivia Colman, Steve Evets, Ellen Thomas, Miles Jupp, Simon McBurney and Lucy Liemann alongside Hollander, is already available in America via the streaming website Hulu, where it has proved to be very popular.
Tom Hollander will act as a consultant on the UK version of the show alongside fellow creator and the sitcom's writer, James Wood.
Kenton Allen and Matthew Justice, the Executive Producers for Big Talk Productions, will also work on the American series. A spokesperson for Big Talk says: "Kenton Allen and Matthew Justice can confirm they will executive produce the US version, but stressed that the project was still in the early stages of development and no script was yet available."
Rev, which has won a number of awards, has also been a big hit with viewers - both those with and without faith. Aside from many positive press comments, real-life vicars have made it clear they support the series, despite the fact it often focuses on the fallibility of the central character.
When The Guardian newspaper asked a number of practicing vicars what they thought of the show, it concluded: "What all our Revs agree on is that as a snapshot of a certain area of their work, it's pretty much bang on - from the needy parishioners to the fact that they're just, well, normal men who have a drink sometimes and find their day-to-day jobs rewarding, but hugely challenging."
A third series of the UK version of the show was ordered by BBC Two earlier this year, but won't be on screen until 2014 due to the cast's availability.
Hollander has recently completed filming About Time, a new comedy film about time-travel, created by Richard Curtis.
A number of British comedy series are currently being re-made in America. Other shows currently in development include Gavin & Stacey, Misfits, Getting On, Only Fools And Horses, Spy and White Van Man.
Here's a clip from the last series of Rev, which was broadcast in November and December 2011. It observes the sinister Archdeacon Robert acting quite out of character:
Share this page