Frankie Boyle wins substantial libel damages
Frankie Boyle wins substantial libel damages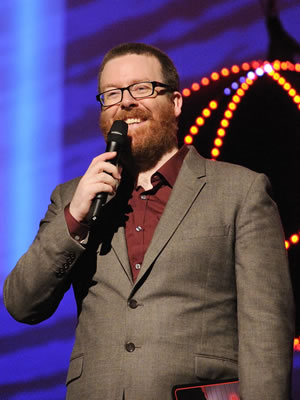 Frankie Boyle, the controversial Scottish comedian famed for his appearances on BBC Two panel show Mock The Week, has won almost £55,000 in a libel pay-out.
A jury at the High Court today found that the left-wing tabloid had libelled Frankie Boyle in branding him a "racist comedian" in a July 2011 article.
Over the past few weeks, the court has heard detailed argument over Boyle's career, including testimony that he walked rather than being pushed from Mock The Week in 2009 - another contested assertion in the Mirror's article was that Boyle had been "forced to quit" the show after making a widely reported quip concerning the appearance of swimmer Rebecca Adlington.
The comic was awarded £50,400 for the paper's allegations of racism, and a further £4,250 for defamation regarding his exit from Mock The Week.
Last week fellow comic Miles Jupp took to the stand as a character witness for Boyle, as did his agent Hannah Chambers, telling the court: "I remember Frankie being unhappy and wanting to leave [Mock The Week], I was persuading him to stay for commercial reasons, it was a high profile show.

"Frankie felt that the topics were becoming banal and uninteresting. He likes political satire and the topics were becoming more showbiz and celebrity in nature."
Frankie Boyle's lawyer, David Sherborne, explained to the jury last week that Boyle's use of racist language in routines was satirical, to demonstrate particular anti-racism messages: "If you want to attack the racist in society don't you need to point out what those views are and hold them up for the nonsense that they are? Obvious, you might expect."
Taking the stand on Wednesday to answer defence questioning, Boyle himself told the jury: "[I use] phrases that a racist will use. There is no way they are an endorsement of racist terminology. It is the absolute opposite of that.
"If I dressed up as Godzilla, people would not accuse me of wanting to crush Tokyo myself."
The following clip shows Boyle's original joke about swimmer Rebecca Adlington after the 2008 Beijing Olympics:
Here, another one of Boyle's gags from Mock The Week is raised with then BBC Director General Mark Thompson on Newsnight:
Such Small Portions has reported directly from court, and indicates Boyle will donate the proceeds of the trial to charity.
Share this page