Prank show fools media into reporting fake sperm bank story
Prank show fools media into reporting fake sperm bank story
Update: Channel 4 entertainment pilot The Anti Social Network has now claimed responsibility for the stunt, explaining that it intends to "highlight the sometimes detrimental impact of social media on our news culture".
---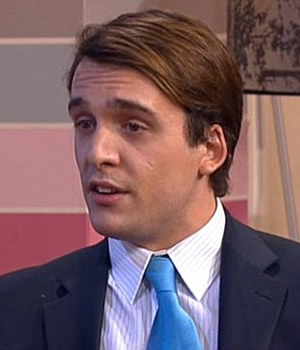 A new TV prank show has managed to pull off an audacious stunt in which a number of high profile and respected media outlets have been fooled into reporting a story about a fictitious celebrity sperm bank.
Although the name of the show behind the stunt is not yet known, ITV has apologised after daytime TV magazine show This Morning interviewed an actor from the programme who was pretending to be the Marketing Director of Fame Daddy, a company claiming to be 'the first celebrity sperm donor service'. The fake company has been boasting that it has sperm samples from "a top-flight client list of celebrity donors from the worlds of sport, entertainment and finance - all leaders in their fields, with a proven track record of success."
ITV has launched an investigation following Tuesday's interview, and issued an apology to any viewers "misled by this stunt", confirming in the process that guest 'Dan Richards' (pictured) was actually "an actor working for a TV production company".
The network added that those behind the stunt "clearly went to great lengths to pull the wool over the eyes of the programme and our audience".
In a statement released today, ITV added it makes every effort to ensure the authenticity of all guests and carried out "a range of checks, which in this case included verifying that this company was legally registered."
It wasn't just This Morning that was fooled into believing the fake story. The Sun, The Telegraph and publications as far afield as New York Magazine also carried articles about the launch of the new company. Most of the outlets fooled have now taken down their stories, but at the time of writing The Mirror is still running the headline Shocking website offers 'celebrity sperm' for £15k
It seems those behind the stunt have spent a long time preparing a credible back story, to the extent of registering a company called Fame Daddy Ltd at Companies House on the 2nd of October. An accountant's office in Somerset has been used as the Registered Address to avoid anyone tracing the company back to the production team.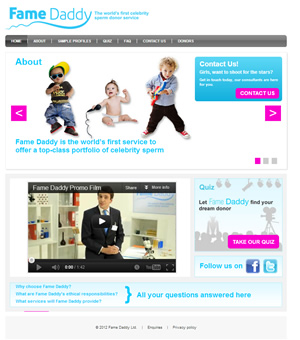 A website address matching the company name was registered in July using privacy tools to hide any personal details, and a Fame Daddy website is now live. A @FameDaddy Twitter account has been active since September, featuring a mix of tweets to media organisations asking for coverage and hoax marketing messages.
The Fame Daddy Twitter account has also occasionally been talking to other Twitter users, for example responding to one user who said "Is it just me or is this a bit sick" with the statement "Nothing sick about wanting the very best genes for your child, Jose. We're providing a lawful, helpful service."
A video uploaded to YouTube today (which can be viewed below) gives more of a clue that the company is fake, featuring an 'over the top' presenting style and montage footage including a doctor appearing to drink a test tube sample.
Additionally, Dr Gabriel Pawlak appears to be Mike Wozniak, a comic actor who has previously appeared in the TV sketch shows Dawson Bros. Funtime, Happy Finish and Live At The Electric.
Wozniak's CV lists his current TV roles as being 'Brian' in Greg Davies' forthcoming new sitcom pilot Man Down and as an ensemble performer on Richard Hammond's Secret Service. The latter is a new BBC One prank show which has previously been labelled as "looking for people who need to be pranked, wound up, or tricked into believing something utterly ridiculous whilst being secretly filmed."
However, there is yet to be any confirmation that Secret Service is behind the Fame Daddy stunt, and another as-yet unannounced programme may still be responsible.
Share this page