America to attempt second Gavin & Stacey re-make
America to attempt second Gavin & Stacey re-make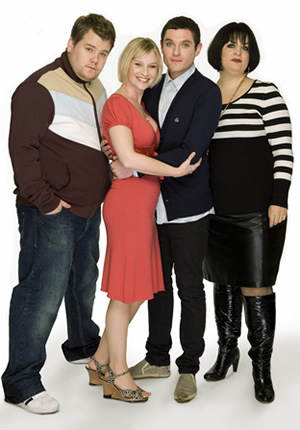 A second attempt to re-make hit BBC sitcom Gavin & Stacey for American audiences is underway.
According to The Hollywood Reporter, the Fox network has signed a deal to develop a new version of Gavin & Stacey. Original creators James Corden and Ruth Jones will act as Executive Producers on the project, but will not appear on screen. Henry Normal, from Baby Cow Productions, the company that made the UK series, will also help oversee the remake.
The series is to be adapted by David Rosen, who recently wrote I Just Want My Pants Back, an MTV comedy drama about a group of twenty-somethings living in Brooklyn.
Much like the UK series, the new version of Gavin & Stacey will focus on the key life moments of the title characters as they try to maintain a long-distance relationship and manage the interactions between their polarising families. It is not yet known whether the title and characters will be changed to use more Americanised names.
This will be the second time a project has been launched to re-make the sitcom for US audiences. In 2009, just as the UK series was coming to an end, the Disney-owned ABC network attempted an adaption in conjunction with BBC Worldwide. However, the project didn't make it past the pilot stage.
The Sun newspaper reports that Corden & Jones could be in line for £5 million each if the US version of the show takes off. They will net £20,000 each for the pilot episode, and £175,000 each if Fox commissions a series. The millions will come as a bonus if a second series is ordered.
Gavin & Stacey ran for three series on the BBC between 2007 and 2009, making stars of James Corden, Ruth Jones, Mathew Horne and Joanna Page in the process. Ronnie Corbett and David Cameron are amongst the famous names who are on record as being fans of the series.
There have been persistent stories in the press about the show coming back ever since it ended, however earlier this month Joanna Page told the Daily Mail: "There definitely isn't going to be any more, well not that I know of," and in August Ruth Jones put a dampener on talk of a revival, saying there were no plans to make another British series as the cast were very busy.
Ruth Jones has just finished filming a second series of Sky comedy drama Stella with a third to follow, whilst James Corden has been filming a new series of Sky panel show A League Of Their Own. Corden was pictured in Venice on Sunday filming One Chance, a comic movie about the life of Britian's Got Talent winner Paul Potts, and it was confirmed last week that next year he will also write and star in new BBC comedy thriller The Wrong Mans.
Meanwhile Joanna Page, who announced recently she is expecting her first child, has been working on comedy film Nativity 2; Rob Brydon is working on an HBO show called The Valleys; and Mathew Horne is signed up to various comedy shows, including a second series of Jack Whitehall's sitcom Bad Education and Way To Go, a new BBC Three comedy about two brothers who attempt to improve their lot in life but end up assisting a suicide.
Gavin & Stacey is one of a number of UK sitcoms currently being re-made in America. Other British comedy shows being piloted stateside include Spy, Getting On and Only Fools And Horses, whilst a full series of White Van Man is due to begin shortly.
Share this page