Micky Flanagan to record another Channel 4 pilot
Micky Flanagan to record another Channel 4 pilot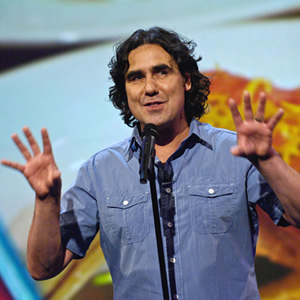 Stand-up comic Micky Flanagan is to host a new Channel 4 comedy pilot called Micky Flanagan: The Man From Uncool. The trial episode, which is not intended for broadcast, will involve the comedian and celebrity guests "chatting about the most embarrassing and awkward things that have ever happened to them."
Producers say: "From cringe-worthy dates to painful family gatherings, Micky and his guests will share their stories in a battle to top each other. Micky will also be chatting to the members of the audience about their own embarrassing anecdotes."
The trial episode of Micky Flanagan: The Man From Uncool will be recorded at TV Centre in London on Friday 2nd November 2012. To apply to be in the audience see our free tickets page.
The format has been created by Angst Productions, the company behind hit BBC Two panel show Mock The Week, on which Flanagan has been a guest a number of times.
The production team are currently looking for "lively, chatty people with great stories to take part". They explain: "Micky and his celebrity guests will be talking about cringe-worthy episodes in their lives when they suffered failure, humiliation and embarrassment - and they want to hear your stories too. If you've ever had a disastrous date, been shamed by an embarrassing parent, had a toe-curling incident at school or sat through a dire job interview - you'd be perfect for Micky's new show. Or maybe you've got a job, a hobby or an interest that other people just consider weird, dull or embarrassing? They'd like to talk to you too. If you are interested in getting involved and telling the producers your embarrassing stories, then please e-mail micky@angstproductions.tv and state your contact numbers so that a producer can call you back."
Micky Flanagan: The Man From Uncool will be the second pilot that Flanagan has recorded for Channel 4 recently. At the end of August he also hosted a trial episode of Micky Flanagan's Awkward Family Show, in which he took an "affectionate look at family life" via people's clips and photographs.
Flanagan is currently in a development deal with Channel 4, but the network has yet to find him a successful format. To date, his only significant role for the channel is as one of the team captains on The Mad Bad Ad Show, a format that flopped to the extent it was delayed mid-run before being moved to a graveyard slot. However, Channel 4 did broadcast his stand-up show, Micky Flanagan's Out Out Tour, in August.
Share this page