Citizen Khan gets a second series
Citizen Khan gets a second series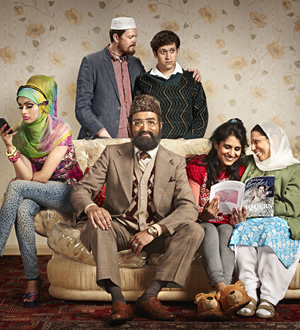 BBC One has today announced that it has commissioned a second series of family-based sitcom Citizen Khan.
Channel controller Danny Cohen has ordered seven more episodes of the studio sitcom, which will go into production next year.
Set in Birmingham's Sparkhill area, Citizen Khan stars Adil Ray as Mr Khan, a larger-than-life self-appointed Muslim community leader. The sitcom observes the actions of this pompous character and those of his long-suffering family.
The series initially sparked controversy when it launched in August, with over 700 people complaining to the BBC that the show stereotyped Muslims and was 'disrespectful to the Koran'. The star of the show responded in a radio interview saying: "Citizen Khan is not a Muslim comedy. It is a family comedy with universal themes of hypocrisy, deceit, and relationships that we can all connect to. It is a great opportunity for Muslims to be seen as like everybody else. To say, 'Look we have the same human flaws as everyone else but we just have a different religion'."
Complaints have since died down, but the programme has not yet won over the press. Most newspaper reviews to date have criticised the sitcom for being a sitcom, claiming that the humour feels dated and predictable.
However, the programme has found a sizeable audience, performing consistently well in the ratings over the last five weeks. Broadcast after the 10 O'Clock News, the series has won its time slot for each episode, with an average over 3 million viewers (18% audience share).
Mark Freeland, the BBC's Head of Comedy, says: "With sitcom to grab attention all you can ask is laugh out loud funny distinctiveness, authenticity and great characters. I think we've certainly grabbed people's attention."
BBC One controller Danny Cohen adds: "BBC One has a long tradition of laugh-out-loud family comedy for all generations. Citizen Khan has delivered this whilst bringing new comic talent and a fresh flavour to the channel. I can't wait for the second series."
Adil Ray comments: "I am thrilled. This is testament to the hard work of the cast, my co-writers and the entire crew. I have been touched to hear from families nationwide who have already taken this cuddly bearded Pakistani Muslim from Birmingham into their hearts and living rooms. Above all, I thank Community Leaders who continue to spring up everywhere who provide the inspiration."
Like the first, the second series will be produced and filmed in front of a live studio audience in Salford's MediaCity. All the main cast have signed up to return, with Shobu Kapoor as Mrs Khan; Maya Sondhi and Bhavna Limbachia as daughters Shazia and Alia; and Abdullah Afzal as Shazia's dim fiancé Amjad. My Family star Kris Marshall will reprise his role of Dave the mosque manager, with regulars Nish Nathwani (Riaz), Felix Dexter (Omar) and Harvey Virdi (Mrs Malik) also returning for the new run next year.
The final episode of Citizen Khan Series 1 is due to broadcast on Monday. Below is a preview clip:
You can now pre-order Series 1 of Citizen Khan on DVD, due to be released next month.
Share this page