New BBC Two series to look at the business of comedy
New BBC Two series to look at the business of comedy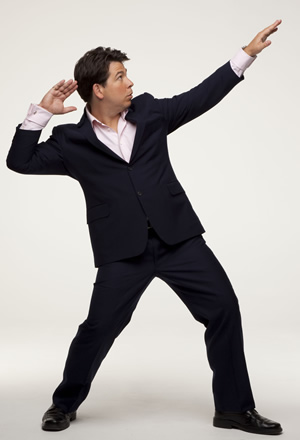 A new BBC Two series is aiming to lift the lid on the "multi-million pound business surrounding the comedy industry".
The Stage newspaper reports that the channel is working on a series provisionally titled The Business Of Comedy.
The programmes will reportedly talk to agents, promoters, and "those who have found innovative ways of jumping on the comedy rocket as it has exploded into the earnings stratosphere".
Additionally, the programme will interview "ingenious entrepreneurs have made a business out of the business of comedy". The series will also involve stars including Eddie Izzard, Nicholas Parsons and Sandi Toksvig, who will shed light on the industry from the point of view of the performer.
BBC Executive Anne Gilchrist told The Stage: "It's easy to see how a man with a microphone telling jokes can make money, but what people don't realise is there is a whole industry surrounding the funny people that is really interesting. We are looking at lots of different people who are using talent to become successful.
"It's looking at the power behind the throne if you like - the movers and shakers in the world of comedy that people have not necessarily heard of, but who have huge amounts of power. Sometimes they might be a name on the bottom of a poster, but you never see them interviewed. It's sort of lifting the lid on the comedy world".
It is understood that each episode will explore a different aspect of the comedy industry. Topics will include the agents who dominate the genre, the corporate and advertising worlds, and the importance of comedy to entertainment provided aboard cruise ships.
Comedians looking to break into the industry via the open mic circuit perform for free and have to pay their own travel money, with many racking up huge debts at the Edinburgh Festival, however for those that break through huge riches can await. Michael McIntyre (pictured) has talked previously about how he was £40,000 in debt in the mid-2000s. However, according to news reports, the comedian could be personally earning up to £20 million for his latest stand-up arena tour.
A small handful of companies dominate the live and TV comedy business. Open Mike Productions, the TV production company linked to the Off The Kerb agency (with clients including Jack Dee, Lee Evans and Jonathan Ross), which makes shows such as Live At The Apollo, made pre-tax profits of £4m for the financial year ending 31st January according to reports. Meanwhile, fellow talent and TV production company Avalon Productions, who make shows including Not Going Out and Russell Howard's Good News, banked £4.7m profit last year according to analysis of company accounts.
The Business Of Comedy will be shown on BBC Two in 2013.
Share this page