Universal order Mrs. Brown's Boys movie
Universal order Mrs. Brown's Boys movie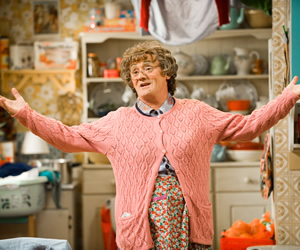 Hit BBC One sitcom Mrs. Brown's Boys is to have a silver-screen equivalent, it has been announced today.
Under the working title Mrs Brown D, the £3,700,000 movie ($6m) will be funded by Universal Pictures, who also brought the smash-hit film version of Mr. Bean to cinema screens in the late 1990s.
It is not yet known what form the Mrs. Brown movie will take, nor how closely linked to or based upon the smash-hit BBC sitcom it may be.
However, this will not be the first movie to feature the popular characters. Mrs Brown was first revealed to the world on Irish radio in 1992, and creator Brendan O'Carroll soon began penning a number of books based upon the character and her family. The first book, The Mammy, was turned into a film in 2000 starring Anjelica Huston and Ray Winstone, called Agnes Browne.
The success of the film inspired O'Carroll to adapt the original novels further, writing a number of stage shows based around the characters that have toured Ireland, Scotland, and northern England for a number of years. Their success caught the attention of BBC and RTÉ commissioners in the late 2000s, with the first series of the now far more well-known sitcom adaptation appearing on screen in 2011.
A third series is currently in pre-production and expected to broadcast from early in 2013, whilst a cartoon series is also in development. Last week, O'Carroll recorded a game show pilot described as being similar to Blankety Blank, hosted in character as Agnes Brown.
The new movie is expected to begin filming during Summer next year on location in Dublin, and is likely to be released in Spring or Summer 2014.
The following video demonstrates Mrs. Brown's Boys' audience-winning mix of riotous adult and family-friendly humour:
Share this page