Cardinal Burns to return for second series
Cardinal Burns to return for second series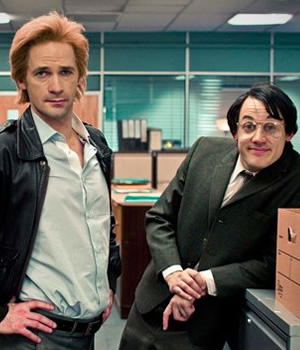 Cult-hit E4 sketch show Cardinal Burns is to get a second series, British Comedy Guide has learned.
The BCG understands the new run is being eyed up for a likely move from E4, where it launched earlier this summer, to a more prominent schedule slot on Channel 4 itself.
Starring charismatic comedy duo Seb Cardinal and Dustin Demri-Burns, the first series of Cardinal Burns ran between May and June 2012. It premiered to a small audience of 160,000 viewers but picked up enough of a following and positive press across the six episodes that Channel 4 are now understood to be giving the show another outing.
Running sketches created by the sketch duo include Office Flirt and New Guy (pictured); a middle-class, middle-aged portrayal of street artist Banksy; and Young Dreams, a parody of The Hills featuring three young girls on a fashion internship.
A source close to the project who wished to remain unnamed, told British Comedy Guide: "It's great that Channel 4 is giving Dustin and Seb another series - they've got so many great ideas. The fact it looks like they might put Series 2 straight onto the main channel is a fantastic boost for the show too."
If the move is realised, Cardinal Burns will become one of just a few shows to have migrated from digital channel E4 direct to the network's main station. Fonejacker launched as a series on E4 before ending up on the network's primary station for sequel series Facejacker; meanwhile each run of hit sitcom The Inbetweeners premiered on E4, but by the final series it was enjoying high-rating repeats on Channel 4 the same week.
The recommission has not yet been confirmed by either the network or the duo, but it is expected that the second series of Cardinal Burns will be broadcast in 2013.
Below is a clip from the first series in which 'Banksy' introduces himself:
And here is a video in which the duo discuss the programme:
Share this page