Comedy ordered for new lads' mag Loaded TV channel
Comedy ordered for new lads' mag Loaded TV channel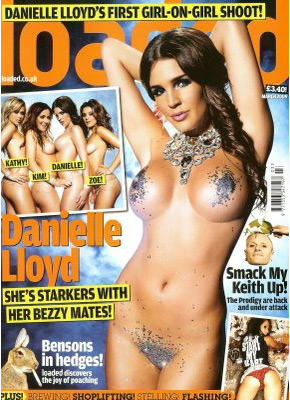 Men's magazine Loaded is set to launch its first TV channel later this year - with a number of original comedy commissions already announced.
The magazine - once one of the most popular titles on the market, with a circulation of half a million copies before the turn of the millennium - saw its heyday in the 1990s as a torch-bearer for the 'lad' image. However, the magazine has suffered in recent times and was saved from closure by new owner, Paul Baxendale-Walker, in 2010.
Baxendale-Walker, a Burnley-born, Oxford-educated former lawyer, businessman, and erstwhile director and star of pornographic films, is changing the magazine's editorial to become more mainstream and has now committed to launching Loaded TV, expected to launch on 1st November on Sky channel 200.
His company, Blue Media Group, has ambitions to launch a distinctly adult second station, Loaded Babes TV, at a later date. Earlier in the year, Baxendale-Walker explained his vision of the first, more mainstream channel, as "like 1970s ITV on a Saturday night".
According to television trade magazine Broadcast, one of the channel's first commissions is a sitcom called Marshal Law, mixing scripted and real-life elements.
Starring and co-produced by Jason Attar, the 12-part series will "involve ordinary people on the street" and focus on Lesland Marshal, a community support officer, and his "criminally minded" twin, Donny. Attair told Broadcast: "It will be quite visual and physical. The tone is Cops With Cameras meets Only Fools And Horses with a splash of Fonejacker."
Loaded TV has also ordered 12 weeks of live shows from Jongleurs comedy venues, and is said to be working on a sketch show "in the vein of Benny Hill or Kenny Everett".
However, one of the channel's most interesting commissions for comedy fans is a sitcom based on hit 1980s BBC series Open All Hours - but set in a sex shop.
The original, distinctly family-friendly comedy ran between 1973 and 1985 on BBC1, starring Ronnie Barker as corner shopkeeper Albert Arkwright, and David Jason as his nephew and dogsbody, Granville. It is not yet known what the new adult take of the show will be called, or how closely it will take inspiration from the original series.
Loaded TV's commercial director, Gary Dingwall, told Broadcast that the company intends to spend £2.5 million on content over the next year, 90% of which will be original commissions.
Paul Baxendale-Walker, who also goes by the surname Chaplin, said recently: "This represents a serious commitment to creating high quality content that's both original and fun. Loaded TV will feature must-see shows that will set the agenda for the 18-30 age group."
An interview with and profile of Mr Baxendale-Walker is available on Loaded's own website.
Share this page