BBC orders full series of new Ben Elton sitcom
BBC orders full series of new Ben Elton sitcom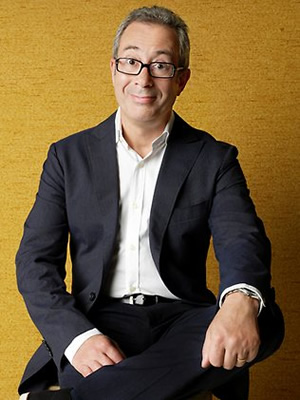 BBC One has ordered a new studio-based sitcom series written by Ben Elton.
Speaking at the Edinburgh International Television Conference today, channel controller Danny Cohen confirmed that six episodes of Slings And Arrows had been commissioned.
The sitcom, which will be filmed in front of a live studio audience, is set in a local council's health and safety department. The BBC describes the premise as follows: "Few Council Officers take their commitment to the health and safety of the public more seriously than Gerald B Meakin. A man dedicated to the minimisation of risk, even where no actual risk exists.
"If only Gerald were able to control his own life with the same benevolent despotism with which he regulates other peoples'. Sadly he can't. A recent divorcee and new single dad, Gerald's personal life is just one long struggle against the petty irritations and inconvenience which bedevil all our lives. Those 21st century slings and arrows of outrageous fortune against which Gerald's lengthy rule book is no defence at all."
Slings And Arrows is Ben Elton's first sitcom for a number of years. After rising to fame with his left-wing politically motivated stand-up routines on series such as Saturday Live, he wrote for some of the most popular comedies of the 1980s and 1990s, including Mr Bean, Blackadder and The Young Ones. However, recent forays into comedy have not been so successful. Blessed, his last sitcom in 2005, was critically panned, and topical ITV series Get A Grip in 2007 was quickly deserted by audiences.
Elton will be reunited with David Haig for this new project. The pair previously worked together on Elton's hit 1995-96 sitcom The Thin Blue Line, in which Haig co-starred alongside Rowan Atkinson as the officious DI Grim.
Further casting has yet to be announced, but a pilot recorded earlier this month also featured Love Soup's Montserrat Lombard and The Thin Blue Line's Mina Anwar. The pilot was directed by studio sitcom veteran Dewi Humphreys, whose CV includes hits such as Absolutely Fabulous and The Vicar Of Dibley.
Ben Elton says: "All my happiest television memories concern BBC comedy and in particular BBC sitcoms. It's an honour and a privilege to get the chance to be a part of that tradition again and I'm as excited today as I was when The Young Ones was commissioned 30 years ago."
Slings And Arrows will be produced by Phil McIntyre Entertainment, the production company that previously worked with Elton on Blessed, and one of the biggest promoters and producers of theatrical and live comedy productions in the country. Its other TV shows include Early Doors and the forthcoming Bottom sequel, Hooligan's Island.
News of the commission of Slings And Arrows comes shortly after it was confirmed that Channel 4 had not ordered a similar project entitled The Fun Police. Also a studio-based sitcom set in a health and safety office, a pilot was broadcast in September last year, starring Rhys Darby and Vic Reeves. In an interview this week, producer Ash Atalla revealed that Channel 4 had declined to order a series, and said he was now looking to take the format to America.
Studio recording dates for Slings And Arrows have not yet been announced, but the series is not expected to broadcast until 2013.
It looks set to be a busy few months for David Haig as he is also starring in a highly anticipated new Yes, Prime Minister series, which is being made for digital channel GOLD. The episodes are currently being recorded at BBC TV Centre on Sunday evenings.
Here is a compilation of DI Grim (David Haig) scenes from The Thin Blue Line:
Share this page