Channel 4 announces autumn comedy line-up
Channel 4 announces autumn comedy line-up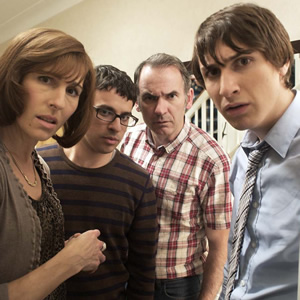 Channel 4 has revealed details of its autumn comedy line-up.
Top of the pile are returning sitcoms Friday Night Dinner (pictured), starring Simon Bird and Tom Rosenthal, and an eighth outing for cult hit Peep Show. Also as previously announced, comedy documentary series The Unseen will return with an episode focussing on camp comedy legend Frankie Howerd.
The channel will also one again play host to the British Comedy Awards, and at Christmas there will be not one but three separate The Big Fat Quiz Of The Year specials - one for each decade: the 1980s, 1990s, and 2000s.
Family-based improvised prank-come-reality comedy show Meet The Parents will also return to E4, for a second series, whilst main station Channel 4 will be launching its first original cartoon series since 2005, Full English - previously announced in May 2011 as Happy Families.
Following the success of Funny Fortnight, C4 will also be presenting a week of programming dedicated to fighting the disease and highlighting its dangers.
The broadcaster says: "Stand Up To Cancer will see television, music and film stars will come together for a new national fundraising event to galvanise the public in the fight against cancer. The on-air season will build over a whole week on Channel 4, culminating in a live fundraising entertainment extravaganza in collaboration with Cancer Research UK."
Share this page