Mitchell & Webb to star in embassy comedy drama
Mitchell & Webb to star in embassy comedy drama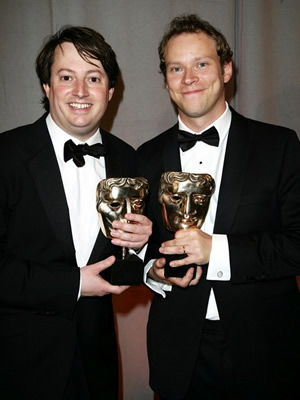 BBC Two has announced that David Mitchell and Robert Webb will star in a new comedy drama about the lives and loves of a British Embassy team.
Our Men, which will go into production in January 2013, follows the adventures of the British in the fictional Tazbekistan, a newly oil rich, corrupt country ruled over by President Kairat.
Mitchell will play Keith Davis, the newly appointed British Ambassador, who is ambitious and intends to make his mark in the posting. Webb will play Neil Tilly, the Deputy Head of Mission whose job it is to put the Ambassador's plans into action. While Davis is out representing Britain, Neil is in the Embassy pulling the levers and managing the staff.
The BBC says: "The Embassy team are a small but appealing gang - a mixture of Brits and locals who regularly flirt or fight with each other. They are all trying to advance British prosperity and values, despite an ever-decreasing budget. But it's not easy to convince the local Dictator to give UK plc a major helicopter contract - while also criticising him for his appalling human rights record. And almost as tricky are other embassies - the French and Americans are big players here - sometimes they are allies, sometimes rivals. Sometimes they are both, simultaneously. And all this compounds the tendency for embassies to become hotbeds for lust and rivalry."
Other characters, for which the casting hasn't yet been announced, include Caitlin, the no-messing Scottish Head of Consular Affairs; Natalie, a beautiful local employee who is Head of Communications; and Will, the super smart Political Secretary who is advancing up the career ladder quickly. Will is in love with Natalie.
The BBC adds: "The additional presence of wives, husbands and children means that diplomacy is also a family business. The Residence is in the same compound as the Embassy - the 'flat above the shop.' And it's a tough posting. Tazbekistan is not a country wives, husbands or children tend to rush to. Unless they like cheap carpets, ex-Soviet plumbing and Human Rights abuses. And the Residence itself is that uniquely Tazbek combination: unfinished and yet already decaying.
"Jennifer Davis - The Ambassador's long-suffering wife - has an impressive career as a doctor she wants to pursue. Instead, she spends a lot of time talking to tedious men from the EU, or local despots, while also making sure that - against the odds - they all get a nice British dinner. That's not easy given the resources in Tazbekistan. This place is far more survival course than holiday jaunt. Our diplomat heroes are far more likely to be drinking lethal vodka in the President's hunting yurt than having G&Ts on the lawn. And none of them have seen a Ferrero Rocher for years..."
Our Men will be the latest in a long line of projects for double-act Mitchell & Webb. Before filming this new comedy drama they are due on screen in the next series of the long-running hit sitcom Peep Show, which has now been filmed and will be shown on Channel 4 this autumn.
Discussing the new show, David Mitchell said: "There comes a time in the life of every youngish actor when he knows he will never play James Bond. This is not that time. We're still holding out for that, but Our Men might be good to practice on."
Robert Webb added: "It's sort of Yes, Prime Minister meets Spooks at a bad disco and Yes, Prime Minister is a bit sick on Spooks, but Spooks doesn't mind. It's like that."
Our Men is being written by James Wood, the co-writer of church-based sitcom Rev, and Rupert Walters, who has previously worked on Spooks.
The show is being produced by Big Talk Productions, the company behind a number of hit comedies. The company is also currently working on Chickens for Sky1, Friday Night Dinner for Channel 4, Him & Her for BBC Three, Rev for BBC Two, The Job Lot for ITV1, Threesome for Comedy Central, and Cuban Fury, the new feature film starring Nick Frost.
Kenton Allen, Big Talk's Chief Executive, says: "We're thrilled to announce our first Mitchell and Webb commission, launched with the brilliant writing of James Wood and Rupert Walters. It was always our ambition to move David and Robert into a 60-minute comedy drama so this is a wonderful start to our adventures together."
Our Men is not the only comedy set around politics in development. Hit BBC Two series The Thick Of It is back for a new series in September, and digital channel GOLD is currently filming a new series of Yes, Prime Minister.
Previous British comedies set around the premise of an Embassy include 1980s ITV sitcom Farrington Of The F.O. and Radio 4's Cold War-era set Flying The Flag.
Below is a sketch from That Mitchell And Webb Look, a series that ran on BBC Two from 2006 to 2010.
Share this page