Mayall & Edmondson writing Hooligan's Island TV series
Mayall & Edmondson writing Hooligan's Island TV series
Story update, 23rd August: BBC Two confirms a six-part series for 2013. Rik Mayall says: "How much am I getting paid? Are there any birds in it? And that horrific arse-brained Edmondson's not in it again is he? Oh, God help me... no, no, alright then, I'll do it. That useless, foul smelling waste of space and oxygen is really going to get it this time. This is the big one. Tell the audience to brace themselves."[/i]
Ade Edmondson adds: "It's been a while since I last worked with that complete b****** Rik Mayall and I'm very much looking forward to bashing him about the head with various blunt objects. It's the only language he understands."
OCTOBER UPDATE - PROJECT CANCELLED. This project will now not go ahead Full Story
---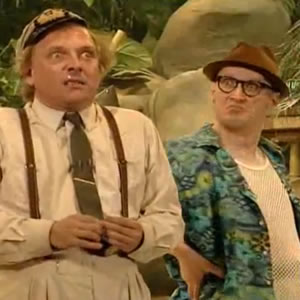 Rik Mayall and Adrian Edmondson are attempting to turn Hooligan's Island, their 1997 stage show, into a TV series.
Hooligan's Island was the third of five live spin-off show from the duo's hit BBC TV sitcom Bottom. The stars toured the 100 minute show around the country in 1997, and it was also filmed for a popular VHS (and subsequently DVD) release.
The premise of the show sees Bottom characters Richie (Mayall) and Eddie (Edmondson) marooned on a desert island in the middle of the Pacific. The characters initially aim to escape, but end up bickering and fighting instead.
The show, much like the TV series that came before it, was noted for its crude jokes and slapstick routines involving significant violence. The five live shows also saw the double act breaking the fourth wall to address the theatre audience, an action that was met with delight by those watching.
It looks like the duo are now attempting to turn the show into a sitcom series suitable for TV. It is not known whether a broadcaster has commissioned the pair to produce scripts, or whether they're doing it in the hope of subsequently picking up an order.
Edmondson posted on his verified @AdrianEdmondson Twitter account this afternoon a picture of Mayall alongside the caption "Writing with this complete bastard today..."
Following a number of enquiries from his 77,000 followers, Edmondson then further clarified with the statement: "We are trying to write a series of 'Hooligan's Island' - basically Richie & Eddie marooned on a desert island..."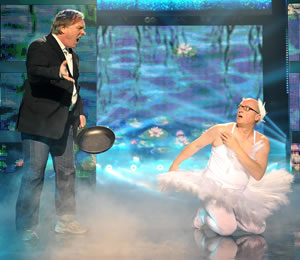 The last live Bottom show - dubbed Weapons Grade Y-Fronts Tour - concluded in December 2003. The duo have since undertaken their own projects, with Edmondson most recently presenting an ITV documentary tour of the UK called Ade In Britain, whilst Mayall's more recent major TV role was last October, in The Hunt For Tony Blair, a revival of The Comic Strip.
It was revealed in June that another new Comic Strip film is being made, this time for UKTV GOLD and with Edmondson involved again (he was missing from the Hunt For Tony Blair special). The duo will join Dawn French, Jennifer Saunders and Peter Richardson to film Five Go To Rehab - a sequel to Five Go Mad In Dorset, the first ever Comic Strip, which was shown on Channel 4 in 1982.
In April 2011, it was rumoured that the pair were working together to develop a comedy set in a retirement home, but nothing further has been heard of the project. In March of the same year, the duo performed together on charity dancing programme Let's Dance For Comic Relief (pictured).
Below is the first part of the recording of Hooligan's Island, with subsequent parts available to watch on YouTube. All the Bottom Live shows can be purchased in The Big Bottom DVD Box.
And here is Rik & Ade on Let's Dance For Comic Relief:
Share this page