Chris O'Dowd to star in new BBC Two comedy Family Tree
Chris O'Dowd to star in new BBC Two comedy Family Tree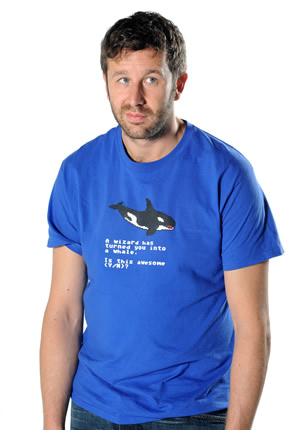 Chris O'Dowd, the Irish actor best known for appearing in The IT Crowd and hit Hollywood movie Bridesmaids, has signed up to star in a new 8-part BBC Two comedy series.
Family Tree focuses on 30-year-old Tom Chadwick, who is down in the dumps having lost his girlfriend and job. The character then stumbles upon a box of belongings from a great aunt that he's never met, spurring him to discover more about his family's history.
The show will be shot in a mockumentary (spoof documentary) style, with a camera crew following Chadwick has he attempts to uncover the unusual stories and characters that make up his family tree. The series is likely to be positioned as a spoof of the BBC's own popular Who Do You Think You Are? format.
Family Tree has been devised by Christopher Guest, who created the hit film This Is Spinal Tap in 1984, and has since produced other mockumentaries including dog-based comedy Best In Show. Guest, who lives in America with wife Jamie Lee Curtis and holds dual UK-US citizenship, is in fact a minor aristocrat and sat in the House of Lords as an hereditary peer from 1996 to 1999.
BBC executive Chris Sussman says: "We are all ludicrously excited about the opportunity to work with Christopher Guest. He has British roots but this is his first ever project over here, and we are very pleased to have it on the BBC."
Family Tree will adopt the transatlantic business model of increasing prevalence, in that the programme is a co-production with an American network. Subscription cable channel HBO will screen the series in the States. A recent series to adopt this funding model was BBC Two's Episodes.
The comedy will be made by NBCUniversal-owned British production company Lucky Giant, whose head of comedy is Mario Stylianides - an executive who has previously worked on shows including The Armstrong & Miller Show and Facejacker. He says: "We are thrilled to be working with Christopher Guest; it is an incredibly exciting first project for Lucky Giant. Family Tree will feature Christopher's signature style in a humorous look at the ties that bind our families."
Family Tree will be on BBC Two in 2013.
Chris O'Dowd will next be seen starring in Sky1 comedy series Moone Boy. The sitcom, which is due to start shortly, has already been given a second series by the channel. He's also currently filming new movie Cuban Fury with Nick Frost.
Below is a video blog from the set of Cuban Fury presented by O'Dowd:
Share this page