BBC Four's Getting On to be adapted for America
BBC Four's Getting On to be adapted for America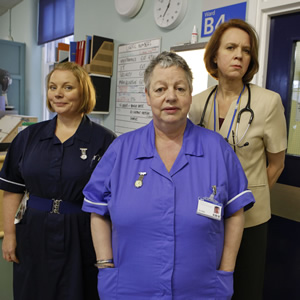 HBO, the up-market American cable channel, is set to pilot its own version of Getting On, the BBC Four comedy drama series written by and starring Jo Brand, Joanna Scanlan and Vicki Pepperdine.
The US network has ordered a pilot episode of the BAFTA-winning hospital based comedy drama, to test whether the show would work in America.
Brand, Scanlan and Pepperdine created Getting On in 2009, with The Thick Of It's Peter Capaldi acting as director. The show has since run for nine episodes across two series, with a third due later this year.
The downbeat and naturalistic comedy is set on Ward B4, a backwater in an NHS trust hospital. It observes four members of the geriatric unit's staff who are just 'getting on with it' in an overlooked corner of the health service.
Deadline reports that Mark Olsen and Will Scheffer, the creators of HBO series Big Love, are adapting the UK scripts for an American setting, in conjunction with BBC Worldwide.
Scheffer says: "When we proposed the reformat to BBC Worldwide and HBO, the issues in elder care were very personal to both of us - Mark's and my mother were in their 90s and attending to their care had come to be a big part of our lives. Getting On nailed that world with its deadpan humour and deep humanity."
HBO has been involved in a number of UK-US productions. Notably, the subscription network produces The Ricky Gervais Show, the animated programme based on the podcasts hosted by Ricky Gervais.
The network is also working with Stephen Merchant on a sitcom called Hello Ladies, and produces Veep with Armando Iannucci and the creative team behind The Thick Of It.
Here's a clip from the last series of Getting On, in which the staff are trying to identify an unknown female on the ward:
And here is a montage tribute to the show, created by the editors of the programme:
Share this page