Room 101 recommissioned for 13th series
Room 101 recommissioned for 13th series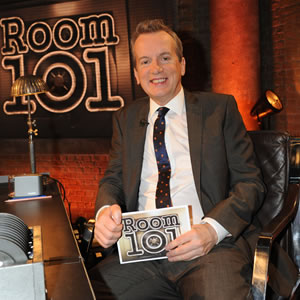 The new panel format for comic chat show Room 101 will return to BBC One for a second run.
Frank Skinner will be back in the host's chair in what will be Series 13 of the show, which was relaunched with multiple guests and a contest element for its 12th series earlier this year.
Originally hosted by Nick Hancock and then most famously by Paul Merton, the format saw the host in conversation with a celebrity guest each week, nominating and chewing over the merits of a number of individual items, hoping to banish them to the hellish depths of 'Room 101' forever.
Having run under that guise from 1994 to 2007, the show returned in January 2012 with Frank Skinner as host. An altered format saw three guests per episode nominating one item each for banishment to Room 101 in each of a number of categories. The guests would then present their arguments for their chosen object in turn, before Skinner as host decided who had put forward the most convincing case.
The 8-part 13th series will be recorded in October and is expected to broadcast on BBC One early in 2013. Tickets are not yet available.
In the following Series 12 clip, stand-up comedian Micky Flanagan argues to banish celebrity chefs to Room 101:
Share this page