James Corden says Gavin & Stacey will return
James Corden says Gavin & Stacey will return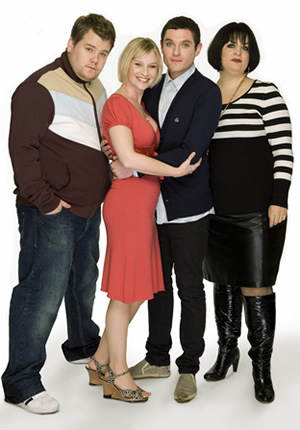 James Corden has given the strongest indication yet that Gavin & Stacey, the hit sitcom he co-created with Ruth Jones, will return to TV in the future.
The comedian discussed the BBC sitcom as part of an interview with The Daily Mail, linked to his award-winning success in the West End play One Man, Two Guvnors, which has now transferred to Broadway.
The comic actor said he definitely wants to make more. He told the paper: "It would be a crime not to. It's a great show; writing with Ruth is a gift. I definitely plan on doing some more."
The last episode - broadcast on the 1st January 2010 - saw Nessa, who Smithy still loved, preparing to get married to Dave, with Smithy wondering whether he should try and stop the wedding. Meanwhile the title characters revealed they were expecting their first child.
Most of the stars of the show have indicated they'd like to make more episodes of Gavin & Stacey, with Joanna Page - who plays Stacey - telling OK magazine earlier this month: "I think I can see the show coming back. I'd love to do a special abroad, somewhere hot."
Ruth Jones had previously suggested in an interview with The Radio Times that a spin-off musical could be made. "The characters are big enough to work in a musical setting and James Corden and I both like a bit of a song" she said. However, Rob Brydon - who plays Bryn - said, when asked at an awards ceremony, "It sounds a bit pants. It was perfect, leave it like that." He later admitted he would be keen to reprise his role in a new TV special though.
In this new Daily Mail interview, Corden also quashed rumours he was no longer friends with Mat Horne. In 2009 the duo starred in BBC Three sketch show Horne & Corden, a series which was very heavily criticised in the press. He told the paper he didn't regret doing the series. "It was my equivalent of other people's university years. You act like an arse, you get a slap. It's a process. You start off thinking, 'This is really cool; these people are really cool', then you realise maybe it's not so cool and then you want to walk away. Hopefully you learn a lot."
Corden said he had been invited to Horne's wedding in September. "He's still a really good mate."
The actor is now working on Can a Song Save Your Life?, a new Hollywood movie in which he plays Keira Knightley's best friend. Following that he will take the lead role in One Chance - a big budget movie from producer Harvey Weinstein which is based on the story of Britain's Got Talent winner Paul Potts.
Share this page